At the core of Radiation City are couple Cameron Spies and Lizzy Ellison. Following two much praised EPs, it came time to record their third full-length album. But there was trouble in Rad City, as they've nicknamed it; the couple was on the verge of breaking up. But in spite of this, they decided to get together to come up with some "new, urgent and semi-spontaneous songs" and, luckily, the magic was still there. So, they came up with a new tracklist for the album, half new songs and half old ones. Then they hired Unknown Mortal Orchestra's Riley Geare to be their studio drummer and found a great producer in John Vanderslice (Spoon, Death Cab For Cutie) of Tiny Telephone Studios. Suffice to say, everything seemed to be falling into place. On the contrary, Spies and Ellison broke up (temporarily) and called off their wedding. Meanwhile, one member of the band was let go and just half of the group went to San Francisco to record the new album. And they were determined not to polish up their old sound for Synesthetica. After recording with Vanderslice, they headed back to Portland and finished their studio sessions with Jeremy Sherrer (Modest Mouse, Gossip) at the helm. If all of that sounds confusing, well, it is. Fortunately, the album is not.
Synesthetica is a place where multi-sensory experiences are commonplace. Synesthesia is a condition where a person's mind links one sensual experience with another. Ellison has this condition, which in her case means that she sees specific colors when she hears different musical sounds. One of the reasons the band named their album after this is because they view the album as being equal parts sensual and synthetic, which I would say they've accomplished because you're hearing it, which is using a sense, and it was created with lots of synthesizers and electronic sounds, which one could call synthetic.
I do not have synesthesia, but I do see lots of colors when I listen to the album. It's fitting that they're called Radiation City because the synthesizers radiate all sorts of bright colors. So much so that when I listen to it I sometimes feel like I'm looking into a kaleidoscope. At the very least, the glowing "Fancy Cherries" will have you seeing red. And the funky, electronic beat driven "Milky White" will probably have you seeing just that.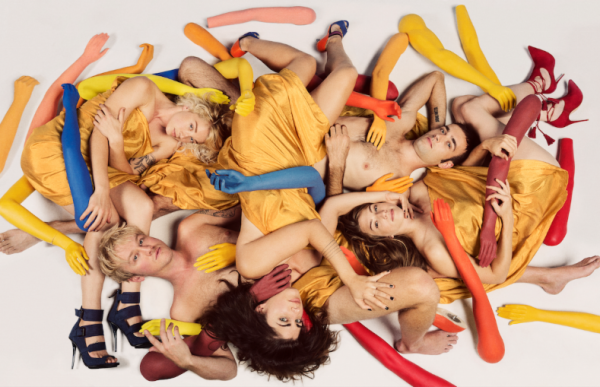 I don't know if the band was striving to write a Bond movie theme when they wrote "Butter," but it does have that general vibe. I'd go one step further and say that it sounds like a Bond theme from the '60's with its thick bass guitar propelling the song as much as the beats. The synthesized strings give it a nice orchestral feel, too. I also find the song reminiscent of '60's French pop. Serge Gainsbourg surely used a similar bass guitar part for one of the 100+ songs he made with Jane Birkin. He was all about that bass.
While Ellison sings lead on most of the songs, the vocal duties on "Come and Go" are shared with Spies, whose voice is almost as pretty as hers. Interestingly, the song sounds like it was made of old sci-fi movie score bits. You'd swear you can hear UFOs flying around in the background. It's quite the trip.
One of the things I like best about this album is how busy the songs are. The devil is definitely in the details here, the tracks consisting of layers and layers of sounds, so much so that every time you listen to it you'll probably notice something different. Well, at least the first 5 or so times you play it. I suspect you'll play it more often than that though. You'd have a very hard time finding a better indie pop album out there right now. So, unless you're turned off by the site of a Crayola 64 pack, I would highly recommend it. It's tasty!
Label: Polyvinyl
Released: 2/12/16
Stream the entire album on KEXP: http://blog.kexp.org/2016/02/09/album-preview-radiation-city-synesthetica/
TOUR DATES:
02/15 – Redding, CA – The Dip Bar *
02/16 – San Francisco, CA – Rickshaw Stop *
02/17 – Los Angeles, CA – Echo *
02/19 – San Diego, CA – Casbah *
02/20 – Phoenix, AZ – Valley Bar *
02/21 – El Paso, TX – Lowbrow [LATE SHOW]*
02/23 – San Antonio, TX – Limelight *
02/24 – Dallas, TX – Three Links *
02/25 – Austin, TX – Sidewinder *
02/26 – New Orleans, LA – Gasa Gasa *
02/27 – Atlanta, GA – The Earl *
02/29 – Washington, DC – DC9 *
03/01 – Philadelphia, PA – Boot & Saddle *
03/03 – Brooklyn, NY – Rough Trade *
03/04 – Boston, MA – Great Scott *
03/05 – Montreal, Quebec – Casa Del Popolo *
03/06 – Toronto, Ontario – The Drake Hotel *
03/07 – Detroit, MI – Marble Bar *
03/08 – Cleveland, OH – Beachland *
03/09 – Chicago, IL – Subterranean *
03/11 – Minneapolis, MN – 7th St Entry *
03/12 – Fargo, ND – Aquarium *
03/14 – Missoula, MT – Stage 112 *
03/15 – Spokane, WA – Bartlett *
03/16 – Seattle, WA – Neumos *
03/17 – Vancouver, BC – Biltmore *
03/19 – Portland, OR – Mississippi Studios [EARLY AA]
03/19 – Portland, OR – Mississippi Studios [LATE 21+]
4/20 Hamburg (DE), Aalhaus
4/21 Berlin (DE), Kantine am Berghain
4/22 Leipzig (DE), Baustelle
4/23 Schorndorf (DE), Manufaktur
4/25 Munich (DE), Café Muffathalle
4/27 Duedingen (CH), Bad Bonn
4/28 Heidelberg (DE), Karlstorbahnhof
4/29 Namur (BE), Belvedere
4/30 Brighton (UK), Green Door Store
5/02 Glasgow (UK), The Hug & Pint
5/04 London (UK), The Victoria
5/05 Paris (FR), Espace B
5/06 Duisburg (DE), Grammatikoff
5/07 Groningen (NL), Vera
* = w/ Deep Sea Diver
https://www.facebook.com/radiationcity
http://radiationcity.net/