PHASES. Remember that name. Because, simply put, they're the best new synthy pop band to come along since CHVRCHES. In fact, they're easily as brilliant as CHVRCHES. No kidding or exaggerating. Perhaps that shouldn't be a surprise, though, being that they're essentially a supergroup, as three of their members have previously found fame elsewhere. First of all, on lead vocals, we have Z Berg from The Like, that marvelous, Mark Ronson-produced girl group that everyone was talking about back in 2010. Also contributing an occasional lead vocal is Phantom Planet singer Alex Greenwald, who uses his mad multi-instrumentalist skills here. Meanwhile, on drums we have Jason Boesel of Rilo Kiley and Bright Eyes fame. Rounding out the band is newcomer Michael Runion. (When you get this much talent writing songs together, well, you're bound to have something special, that's for sure.) The album's producer? None other than the great Mike Elizondo, who helped get them their record deal with Warner Bros. after being mighty impressed by their six song demo.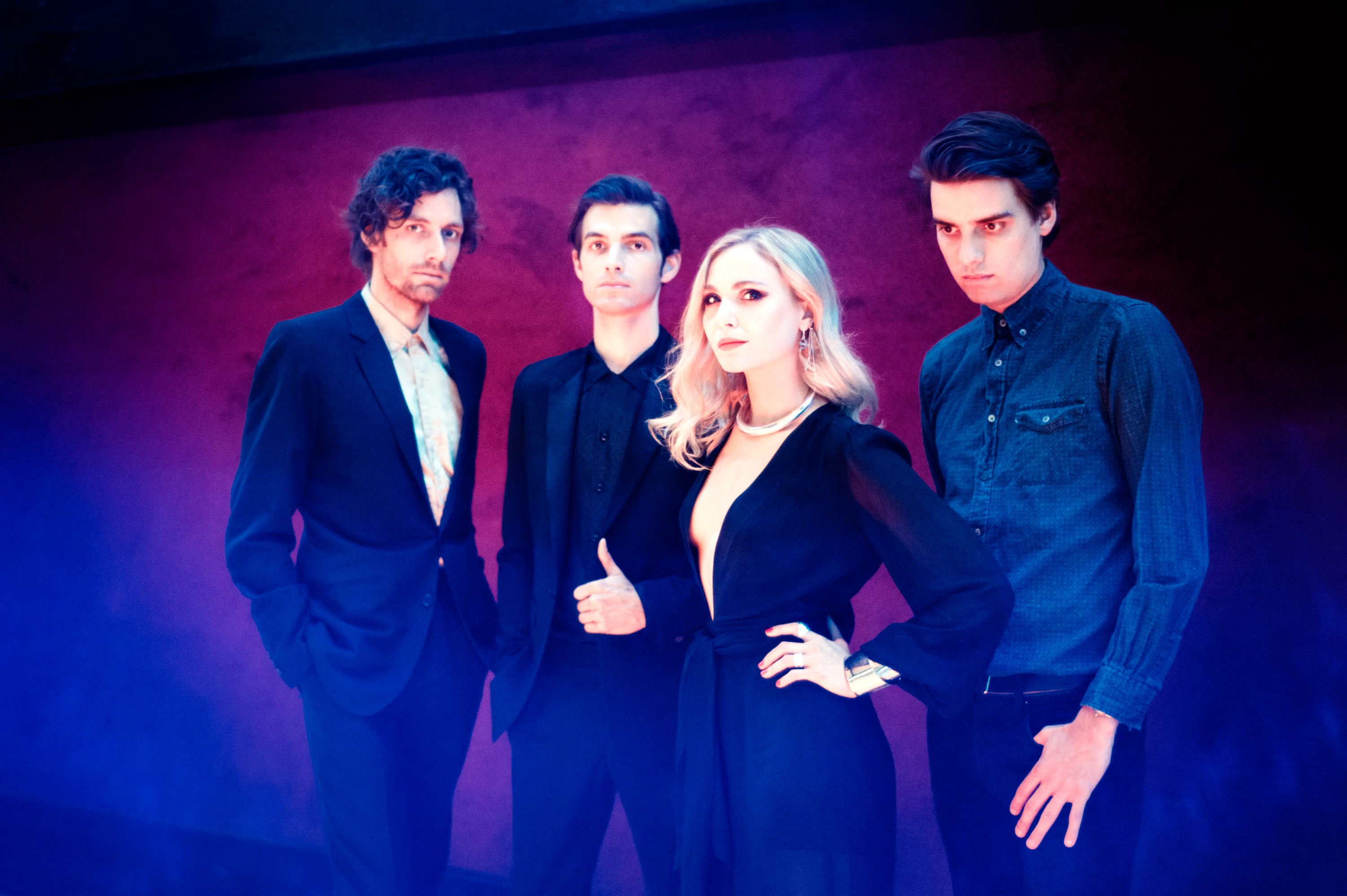 In a way, For Life is PHASES second album, as they previously released one called Suicide Pact under the moniker JJAMZ back in 2012. Back then, they had another famous member: James Valentine of Maroon 5. But since Maroon 5 is his primary commitment and takes up the bulk of his time, they had to move forward without him when they realized they could make PHASES a full-time gig. Aside from these changes, the biggest difference between JJAMZ and PHASES is that PHASES is heavier on the synth, whereas JJAMZ was more guitar-oriented. Also, For Life is a very focused album, an album by a band who've clearly found their sound. Suicide Pact was more eclectic but felt like a band still trying to find their identity. Don't get me wrong — it's a fantastic album. But I'd give JJAMZ a B, whereas PHASES would get an A+ (if I gave out letter grades).
"Now the one I loved / I can't remember / Though you told me once / This was forever," Z sings longingly during the sparkling chorus of album-opener "Silhouette," which reminds me of the music to old Nintendo games like Bubble Bobble. Although I could be thinking of that particular game because PHASES sound has a wonderful bubbly element to it. In any case, I'm not saying that PHASES sound outdated, as they certainly do not, just that there's a resemblance there. To that end, sure, you're bound to hear various influences all over For Life — like Blondie and a whole host of new wave bands — but PHASES are one of those rare synth pop groups that sound considerably more modern than they do retro. It's not an easy thing to pull off, as most people immediately think of '80's music when they hear beaming synth like that heard during "Betty Blue," "Spark" or "I Don't Know What's Right," but accomplishing that feat is part of the magic of PHASES.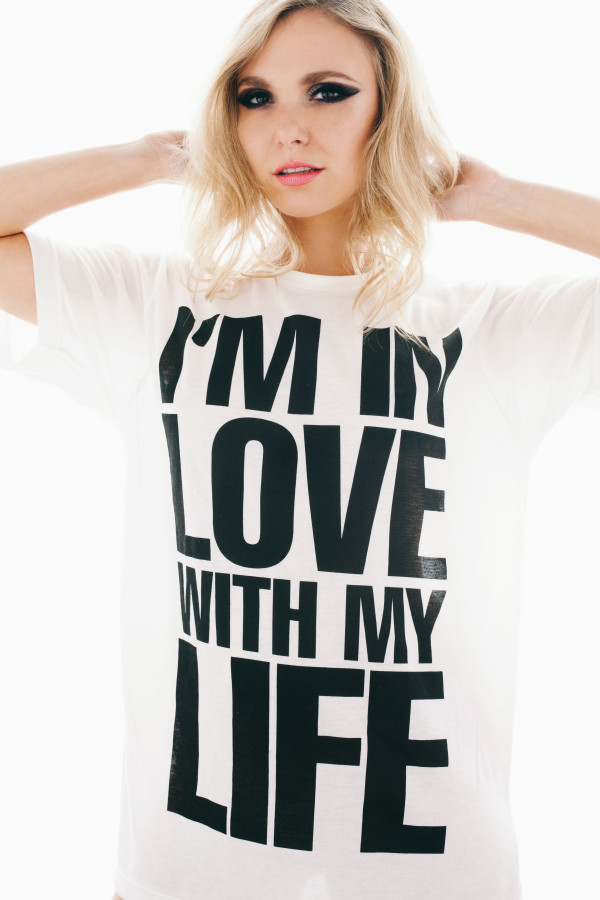 One of For Life's very best cuts is the funk monster "I'm In Love With My Life," which has one hell of an infectious bass guitar line. Every time I listen to this one, it tickles my brain like a good sugar high, perhaps because it's so damn sweet. Also noteworthy is the fact that this song doesn't exactly have any verses to speak of. Where the verses would be, we have Alex mostly just singing the title lyric over and over, with a couple of other lines thrown in occasionally. It feels like it could be a chorus, but, oh no, PHASES has something even catchier in mind for that. "Come and lose yourself a little while / Take a chance and let your body move," Z sings, bursting with enthusiasm. "Feeling good ain't going out of style. / All right, all night / I'm in love with my, I'm in love with my life." (Talk about a positive anthem, eh?) If you're a fan of Alphabeat and/or The Ting Tings, you'll be having eargasms over this one.
Another choice cut is "Lonely Nights," which features bits of electric guitar on top of sonorous bass and punchy beats. Of all the tracks on For Life, this one sounds most like it could've been a JJAMZ song. (It calls to mind Rilo Kiley's stellar final album, Under The Blacklight, as well.) It's also its least synthy cut, though the bass could be synthesized. But it's not that brand of glimmering synth the band uses on 95% of the album. The following track, the final song on the standard version of the album, is called "Take Me There," and it has a different sort of synth, too; it's more Gary Numan than Spandau Ballet. "Keep it moving, feel the rhythm / Something human I've been missing all this time," Z sings with an air of melancholy about her voice.
Other highlights included "Cooler" and its invigorating bursts synth, the oh-so throbbing "Part Of Me, " and the bonus track "Paradise," which sounds like a lost Kim Wilde tune circa 1984. I must also point out the brisk "Tell Me" where Z invokes Blondie's Debbie Harry. Ultimately, though, I could gush about any song on this album. Each of them are like unique diamonds that make you see rainbows and sunshine when you look at them in the light. If you had the option of, say, getting sixteen of them for 12 bucks or just grabbing a couple for $1.29, you would want to scoop up them all, wouldn't you? Because you'd kind of be a fool not to. And, yes, I'm saying you're an idiot if you just nab a single or two from this record. You want them all, trust me. This one will be on virtually every critic's best of 2015 lists.