Mystery Skulls is the stage name of Luis Dubuc, an insanely-talented, self-taught electronic artist from Dallas — currently based in LA — who writes, produces and sings his own songs. At the moment, he's the electronic artist du jour with his song "Ghost" having skyrocketed to number eight on the iTunes electronic music chart at the time of this writing. Meanwhile, another track, "Paralyzed," has entered the chart, currently sitting at 137 and sure to be rising very soon.
Dubuc's album is called Forever and it's so pristine that you'd swear he'd been making his slick brand of electro-pop for many years. In reality, when he first moved to LA he was a multi-instrumentalist who worked at School of Rock, teaching kids to play music. It was during this time that he discovered he had a voice. Previously, he didn't think he could sing, but once he realized that he could, he knew it was time for him to make an album. He signed his record deal with Warner Bros a year to the day he moved to LA.
The album opens with the futuristic title track, "Forever," which undoubtedly sports as many soaring strings as some classical compositions and these strings ride his massive beats beautifully. It's a wonder that it's not currently residing at number one on the iTunes electronic music chart, being that it's one of the strongest songs on the stellar album. But, Dubuc's wonderful production aside, it's his edgy but clear voice that immediately makes you warm up to the song.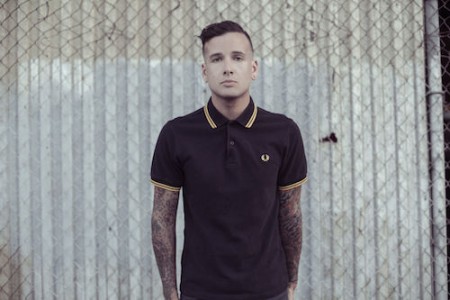 As the album goes on, Dubuc's R&B influences show. "The Future," for example, starts off with simple piano and an R&B style vocal before the sticky, thumping beats and slick bass break loose and turn things into what you might call a banger. To that end, if The Weeknd set out to make a banger, it might sound something like this. Curiously, Dubuc duets with a highly processed voice that you probably won't be able to understand here. You'd think that would make the song off-putting, but the way he uses the voice like just an another instrument makes it somehow inviting, resulting in a rather accessible song after all.
One of Dubuc's earliest influences was a Michael Jackson bootleg he obtained while living in Venezuela and "Paralyzed" was clearly influenced by Off The Wall era Jackson with its funky, synthesized bass, soulful vocals and infectious hooks. In spite of its title, it's the sort of song that commands you to move, practically invented for toe-tapping. And every bite of it is delicous.
"This time I might just disappear," Dubuc sings repeatedly during the current single, "Ghost," which finds him doing some of his best vocal acrobatics, particularly with his falsetto. Here, modern influences like Daft Punk and Justice are audible, but that's part of the song's charm. It's very original, yet it has shades of things we've heard before, which quickly makes the listener fall in love with it.
Dubuc's love for music of the '70's, '80's and '90's is expressed during two tracks featuring Brandy and Nile Rodgers. The first, "Magic," is a disco delight featuring a healthy dose of Rodgers' trademark jangly guitar which finds Dubuc soulfully singing with the always charming Brandy. The first time one listens to this, you might expect to hear Brandy singing all of the vocals, since the guests on electronic albums like this usually sing the entire songs they appear on. But here Dubuc does much of the singing, Brandy more or less being used as a background vocalist. Clearly, he has beaucoup faith in his singing abilities today to have sung on the track alongside her and, you know what? That's a very good thing because his voice is one of the things that makes Forever such a thrilling album.
The second track featuring Brandy and Rodgers is the slick, danceable "Number 1" and here Brandy sings much of the song, including the repetitious earworm of a hook. Dubuc could have tried to concoct his own version of Daft Punk's "Get Lucky" with these songs featuring Rodgers and Brandy but instead he concocted wholly original numbers with the two. "Number 1" is the more disco-friendly and Rodgers' funky guitars are here in full force, guiding the song through punchy beats, groovy bass guitar, flourishes of strings and more. As for Brandy's vocals, she's like Dubuc's not so secret weapon, call her his Donna Summer.
Ultimately, Forever is one of today's very best electronic music albums. In fact, it's one of the freshest albums of the genre to be released this year. As artists like Disclosure and Die Antwoord's songs get old and eventually begin to fade away, Dubuc's tunes are undoubtedly going to take their places high up on the electronic charts. And with songs this catchy, you can fully expect some of them to be breakthrough hits and dominate the pop charts as well.