Marilyn Manson, the self-proclaimed God of Fuck, has returned with his ninth studio album, The Pale Emperor, and it's a very good thing. A very good thing indeed. Or it's a bad thing, depending on who you ask. I'm sure extreme right wing zealots are interpreting its release as a sign of the apocalypse, but they do that every time Manson releases an album, so that's to be taken with a grain of salt. And a shot of absinthe, the supposedly hallucinogenic alcohol of which Manson has his own brand. (Although, in recent interviews Manson has admitted that he's stopped drinking it.)
The Pale Emperor is Manson's first collaboration with Tyler Bates, who is a film, television and video game composer. He and Manson collaborated on the theme song to the series Salem, "Cupid Carries a Gun," which appears here on the new album,  all of which was co-produced by the two. Manson has said that much of the album was made with Bates writing music and Manson then writing lyrics and recording vocals. Their vision, it would seem, was to inject Manson's classic sound with a healthy dose of the blues. Yes, the blues. It's not something you would expect Manson to experiment with, but he's done so with intoxicating results here, crafting one of his best albums to date.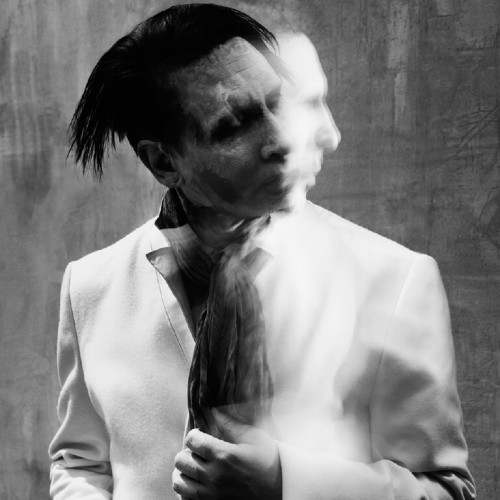 The album begins with "Killing Strangers," one of the tracks where you can clearly hear the blues, both in terms of the sparse guitars and the slow, thumping beat, which is accompanied by some deep bass grooves courtesy of Twiggy. It's one of the slower songs on the album, making it a bit of an unusual track to open with, but it also prepares you for what they're in store for immediately, dosing you with a strong hit of the blues.  "We're killing strangers so we don't kill the ones that we love," Manson sings, his tongue still razor sharp and witty.
"Deep Six" follows and plunges the listener down the proverbial rabbit hole with its fast tempo, and the catchiest chorus on the album, which also happens to be one of Manson's most infectious choruses ever. "Deep six, six, six, six, six feet deep," he sings. It's simple, yes, but the way he sings it, putting the emphasis on that final "six," makes it plunge into your ears and beat your eardrums in a most pleasant way. Plus, it is clever how he meshes "six, six, six" — supposedly the devil's number — with "six feet deep," managing to sound evil and menacing all at once.
Another highlight is "Third Day of a Seven-Day Binge," the first track from the album to be released in full. To my ears, it sounds like something that could have been on Manson's Mechanical Animals album, which happens to be my favorite. It has a funky bassline and a surprisingly danceable beat and that was apparently intended as Manson has stated that strippers will "really likely to dance to this song." It also packs one of the record's best lyrics as Manson sings, rather deadpan: "We've only reached the third day of our seven-day binge / And I can already see your name disintegrating from my lips."
"The Mephistopheles of Los Angeles" is another song that could be described as catchy with its slithering guitars, boisterous heavy metal chorus and overall cinematic quality. It takes the listener on a devilish, hallucinatory journey where Manson has made a pact with the devil, presumably to rule Los Angeles. At least if you believe the German folklore about Faust, who allegedly made such a pact with Mephistopheles (Satan) because he was bored with mediocrity and craved greater power, riches and acumen.
Elsewhere, "Slave Only Dreams To Be King" has a keen yet unsettling — however enticing — sense of melody. Utter darkness envelopes the listener as Manson sings lines like "you are what you beat." Here, he likens himself to the genius Fibonacci, proclaiming "Take my money like an ugly bee / Covered in honey, too dumb to see / My Fibonacci blinded by your jealousy." Meaning, of course, that people are too jealous to recognize him as the genius he is. And, you know what? Listening to this album, it's obvious that Manson truly is a genius. Even if you hated his last few records, you're sure to think this one is brilliant.
Stream the album on Genius: