Kairos is the ancient Greek word for "the defining moment," so it's no surprise that Seattle's Lena Simon has not only taken the word as her performing name but as the name of her new EP, which is, in fact, her defining moment du jour. What is a performing name? It's what St. Vincent is for Annie Clark and what Bat For Lashes is for Natasha Khan. Or what El Perro Del Mar is for Sarah Assbring. Now that we've gotten that out of the way, here's some info about Kairos: she's a classically trained clarinetist and a native of Los Angeles who moved to Seattle in 2008. She's also a multi-instrumentalist who plays drums, bass and guitar. And, of course, she writes all of her own songs. The only thing she doesn't do is produce. Production duties on her EP were handled by Charlie Smith (Throw Me the Statue).
The first Kairos track we were privy to was her gorgeous cover of Kanye West's "Street Lights" and her original material is just as majestic. The next song of hers we were sent was "Dirt & Grit," of which we wrote, "it packs some massive, insane beats that are sure to delight your inner pop junkie. Meanwhile, it's got plenty of razor-sharp rock guitars to please those who like their music on the heavier side of things. Tying it all together splendidly are Kairos' beautiful and spirited vocals." Definitely words we stand by.
The first official single from Kairos' EP is a swirling pop number called "Can/Cannot," for which she cites St. Vincent and Jon Brion as influences. And you can easily hear that in the song. Her vocals and lyrics are very St. Vincent, though the melody calls to mind old '70's AM radio classics, not any specific songs but a general easy breezy and cool vibe. She's said that the lyrics "detail the heartbreak of love's betrayal and it's struggles," though she points out, "this isn't the story of a spurned lover, it's the story of an empowered character moving on."
The album opens with "Casanova," a dreamy tune that would have made John Lennon envious. In all seriousness, this woman is brilliant. This track is crafted with the sort of wall of sound everyone wanted to have during the peak of producer Phil Spector's reign. It also sounds like something Brian Wilson would make today. Listening to it makes your insides feel warm and fuzzy. It's like the electric blanket you bring out on a below zero day when the heat in your house just isn't enough.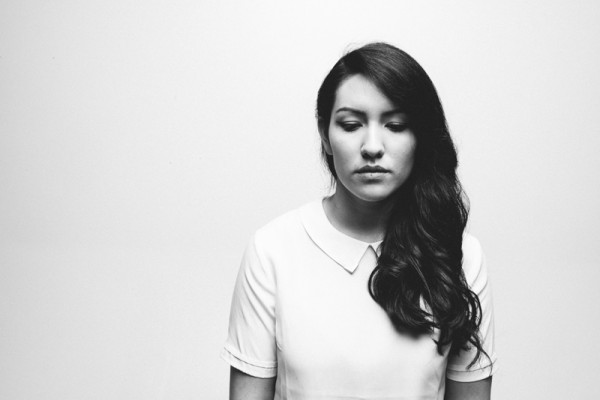 The guitars sparkle and dazzle during "Cold Habits," a melancholic song that would seem to be about addiction. It begins, "It's all right if you wander down that darkened road so long as you can come right back." The drum beats are especially interesting and complex during this one and they take you on one trippy ride during the verses in particular.
"Sister" pairs sometimes wobbling and sometimes mesmerizing synth with punchy drums and an inviting melody that tickles your soul. She also makes wonderful use of a vocoder, giving emphasis to some of her vocals and lyrics. It sounds as though it's been informed by Bat For Lashes and Imogen Heap.
Perhaps the most guitar-centric song on the EP is "November," which features layers and layers of guitars along with some sonorous drum beats that will surely leave you feeling like you've been kicked in the head. But in a good way; they invigorate. The whole track grows progressively louder as it goes on. "Humans do as humans do and yes we must do wrong / What is wrong if right exists and what if right is wrong," she sings during the rather thought-provoking tune. It's like El Perro Del Mar as produced by Jon Brion with guitars by Yann Tiersen. And it has an air of psychedelic rock about it as well.
This is definitely an EP where you'll want to buy every track. Although they all function superbly when taken individually, they're all so wonderful that you'd be missing out on some real gems if you only bought one or two songs. But don't look at this review as a sales pitch. It's more like a love letter to work of art that truly deserves it.
For More KAIROS:
For More Fin Records: