Meliora is the third full-length album by Swedish rockers Ghost. The title is the Latin adjective meaning "better," so it should come as no surprise that this is Ghost's best album to date.
Recently, Ghost unveiled their new frontman Papa Emeritus III, who just so happens to sound like Papa Emeritus II and Papa Emeritus I. Which is undoubtedly because they are the same person. Ghost just uses this gimmick to poke fun at the Catholic church's Pope, which they also do with their Satanic garb, which is like an evil version of what Catholic priests wear. The ironic thing about Ghost is that they look like the evilest band you've ever seen — even more so than King Diamond — yet their music is more like classic rock than black metal, a contrast that would seem to be working for them as they're already far more popular than even the more well-known black metal bands. In fact, they're so popular that their entire North American tour — roughly 40 dates — is completely sold out.
The album cover for Meliora was created renowned Polish artist Zbigniew Bielak, who also did the art for their previous album, Infestissumam. (Previously, he's done art for such artists as Watain, Behemoth, Sólstafir, and Vader.) Here, he brilliantly uses negative space to create a haunting portrait of Papa Emertitus. It's such a fantastic cover that it immediately makes one want to love the album before even listening to it.
Meliora opens with "Spirit," a song that begins with evil-sounding organ and choir in the vein of Goblin's famous Dario Argento film soundtracks. It's perfect horror movie music, ripe for a scene during which the slasher guts the virgin. As it continues, they pour on some serious guitar wizardry reminiscent of Black Sabbath along with their heaviest drums to date.
The cleverly-titled "From the Pinnacle To the Pit" follows and packs some mean downright fierce bass guitar playing that frequently overpowers the guitars, but this is not a bad thing at all, its chords highly addictive. "It is a long way down from the pinnacle to the pit," declares Papa in a sinister fashion.
"Cirice" follows with hypnotic guitars that split the difference between Danzig and Styx. There's something wonderful about the song that makes it seem instantly familiar even though its one of the band's most creative tracks to date.
I googled "Spöksonat," the title of the one minute acoustic guitar interlude — the first of two interludes on the album — but could only find "Spöksonaten," which appears on a Wikipedia Sweden page that mentions August Strindberg and Beethoven in its opening sentences. To that end, the brief piece does have a classical music vibe. It leads into "He Is," a track about "the beast with many names," which features acoustic guitars throughout most of the song, though they're most audible during the beginning before it hits the massive chorus.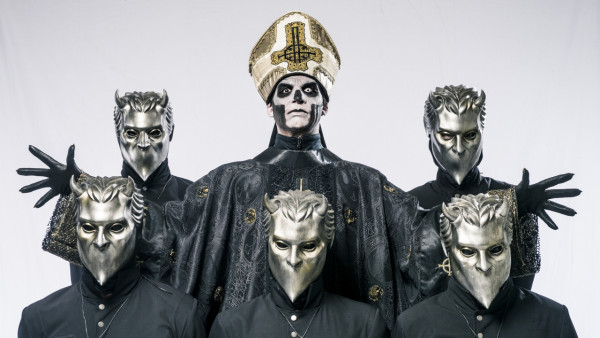 "Mummy Dust" clearly has a horror movie influence and sounds especially malevolent, though its title is more amusing that scary. Next, raw guitars begin "Majesty," which calls to mind Deep Purple as it throbs and crunches along. The interlude "Devil Church" starts off with organ and would seem to feature the harp as well. Soon, guitars, bass and drums kick in and it feels like a song is about to begin, so it's appropriate that it crashes right into "Absolution," which musically sounds like it could've been on King Diamond's Them, but the vocal style of Papa is a far cry from Diamond's vicious high-pitched screams. Finally, the album concludes with "Deus in Absentia," which is basically Latin for "absent God." The band's Blue Oyster Cult influence is strong on Meliora and is especially evident here.
The musicianship and vocals throughout Meliora are stellar, the album grade A in all respects. To that end, it must be said that the production and mixing are a large part of why it's so flawless, so credit must also go to Klas Åhlund, who produced it, and Andy Wallace, who mixed it. They clearly polished this diamond that shines so brightly in the sun.
Cheers to Papa and his Nameless Ghouls (as the other guys in the band are dubbed)!
Unholy/Unplugged Tour:
August 22nd – Sound Garden – Baltimore, MD (5:00 PM)
August 23rd – Rough Trade – Brooklyn, NY (2:00 PM)
Black To The Future Tour:
September 22 – The Fillmore – Washington, DC
September 23 – Newport Music Hall – Columbus, OH
September 25 – Stage AE – Pittsburgh, PA
September 27 – Terminal 5 – New York, NY
September 28 – House of Blues – Boston, MA
September 29 – Union Transfer – Philadelphia, PA*
September 30 – Metropolis – Montreal, QC
October 1 – Sound Academy – Toronto, ON
October 2 – The Majestic Theater – Detroit, MI
October 3 – The Riviera – Chicago, IL
October 5 – Liberty Hall – Lawrence, KS
October 6 – The Pageant – St. Louis, MO
October 8 – The Civic Auditorium – New Orleans, LA
October 9 – The Tabernacle – Atlanta, GA
October 10 – Beacham Theatre – Orlando, FL
October 11 – The Ritz – Tampa, FL
October 13 – House of Blues – Dallas, TX
October 14 – Aztec Theater – San Antonio, TX
October 16 – Sunshine Theater – Albuquerque, NM
October 17 – Sumitt Music Hall – Denver, CO
October 19 – Knitting Factory – Boise, ID
October 20 – El Corazon – Seattle, WA
October 21 – Roseland Theatre – Portland, OR
October 23 – Warfield – San Francisco, CA
October 26 – The Mayan Theater – Los Angeles, CA
October 27 – Knitting Factory – Reno, NV
October 28 – The Depot – Salt Lake City, UT
October 30 – Northside Park Theater – San Diego, CA
October 31 – House of Blues – Las Vegas, NV
November 1 – Monster Mash Festival – Phoenix, AZ
*Rescheduled