The first time I heard Dead Lord from Sweden I was mighty perplexed. This was largely because they're on Century Media Records, who typically release music that's extremely heavy and entirely modern, two things you couldn't exactly accuse Dead Lord of being. But by the time I finished listening to their new album, Heads Held High, they'd won me over with their blend of '70's rock and early metal. If there is another band that's doing what they do right now, it's clearly Ghost (previously Ghost B.C.), the difference being that the four members of Dead Lord don't wear make up or praise Satan in their lyrics. Of course, that difference may very well have a lot to do with why Ghost are so very popular while Dead Lord are relatively unknown, at least here in the States. As for Dead Lord's look, the guys look like bad ass, long-haired classic rockers. The way you'd likely expect Ghost to look sans make up.
When I hear the dual guitar wizardry of Dead Lord's Hakim Krim and Olle Henderstrom, I'm reminded of so many things. The rhythm guitars especially remind me of early KISS, that classic blend of Ace Frehley and Paul Stanley audible on "The Bold Move." But the solos also make me think of early Judas Priest and even early Iron Maiden. ("When History Repeats Itself" even sounds a bit like Maiden's "Running Free.") That said, Dead Lord's sound is also influenced by early Black Sabbath — their blues side, especially — and Blue Öyster Cult, whose song "Burnin' For You" Dead Lord covered for the Digipack version of the album. (I haven't heard it, but from knowing their sound in general I feel confident in saying that it must be truly awesome.)
Getting back to the KISS influence, Krim, who also handles lead vocal duties, especially reminds me of Paul Stanley. At times the similarity there is almost eerie. If Stanley were dead, I'd have to suspect that Krim was channeling his ghost. I dare you to listen to album opener "Farewell" and not think of Paul Stanley by the time the chorus, which opens the song, is over. Granted, you'll probably think of him now because you've read this, but you'll see — even if you hadn't you would have likely thought of him anyway. Seriously, Krim could easily make the bank singing in a KISS cover band.
Of course, all of the above ingredients would not come together so perfectly if it wasn't for a strong rhythm section. To that end, Martin Nordin's bass guitar playing is exemplary and truly shines here, the album's pristine production giving each instrument proper room to breathe. And Adam Lindmark's drumming is fantastic, too. You'd swear the guy was a legitimate '70's rock drummer who was sent here via time machine.
Lyrically, Dead Lord hold up a mirror that says society, reflecting human behavior during "Cold Hearted Madness" and "Don't Give A Damn" especially, the latter being a song that should've been around when I was going through my teenage rebellion years; it would've been my best friend. To that end, Dead Lord might make those of us who grew up with '70's music feel nostalgic, but their music could just as easily sound current to younger listeners who get into the sound by listening to newer bands like this. The album makes me wish I had a teenage son or daughter so I could buy this CD for them. Perhaps that's the biggest compliment I could give a modern band doing a retro sound today.
DEAD LORD festival appearances:
08. 13.2015 Dinkelsbühl (Germany) – Summer Breeze Open Air 
08. 22.2015 Königs Wusterhausen (Germany) – Bergfunk Open Air 
/ http://www.bergfunk-openair.de
08. 29.2015 Stockholm (Sweden) – Geronimo's FGT 
/ Record release show – Free entry!*
09.19.2015 Wiesau (Germany) – Storm Crusher Festival
11.27.2015 Dortmund (Germany) – Leafmeal Festival
/ https://www.facebook.com/leafmealfestival
DEAD LORD on tour with AUDREY HORNE and DEAD CITY RUINS:
Presented by Metal Hammer, Guitar & Piranha
08.31.2015 Copenhagen (Denmark) – KB18
09.01.2015 Berlin (Germany) – Magnet
09.02.2015 Hamburg (Germany) – Headcrash
09.03.2015 Leiden (The Netherlands) – Gebr. De Nobel
09.04.2015 Antwerp (Belgium) – Trix
09.05.2015 Paris (France) – Divan du Monde
09.07.2015 Bilbao (Spain) – Sonora *
09.08.2015 Madrid (Spain) – Sala Caracol
09.09.2015 Barcelona (Spain) – Razzmatazz
09.10.2015 Bordeaux (France) – iBoat
09.11.2015 Marseille (France) – Poste a Galene *
09.13.2015 Pratteln (Switzerland) – MiniZ7
09.14.2015 Milano (Italy) – Lo Fi Club
09.15.2015 Wien (Austria) – Viper Room
09.16.2015 München (Germany) – Backstage
09.17.2015 Stuttgart (Germany) – Kellerklub
09.18.2015 Oberhausen (Germany) – Kulttempel
09.19.2015 Wiesau (Germany) – Storm Crusher Fest (AH/DL only)
* Newly added show!
DEAD LORD Line-Up:
Hakim Krim – Guitar and vocals
Olle Hedenström – Guitar
Martin Nordin – Bass
Adam Lindmark – Drums
DEAD LORD Discography:
No Prayers Can Help You Now – 7″ EP 2012
Goodbye Repentance – CD/LP 2013
Split with Black Trip – 7″ EP 2014
Heads Held High – CD/LP 2015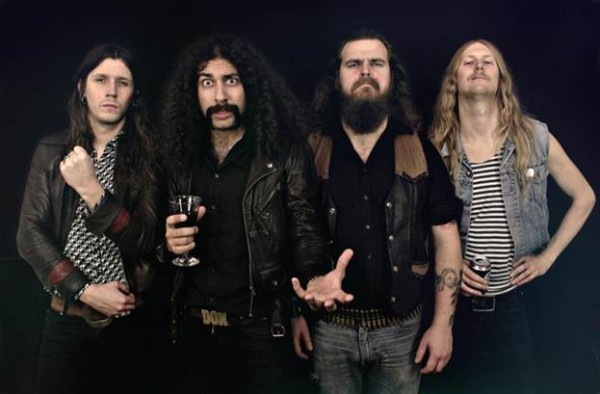 Heads Held High will be released worldwide via Century Media Records on August 21st in the following formats:
Limited CD Digipak (matte cardboard, bonus track, logo patch)
Standard CD
Deluxe LP (180 g vinyl, inside-out print, inlay, double-sided poster)
Digital download / stream
Vinyl color split of the LP version:
Orange vinyl: 100 copies (exclusively available at CM Distro Europe) →SOLD OUT!
Red vinyl: 100 copies (exclusively available at CM Distro US)
Clear vinyl: 200 copies (exclusively available at High Roller Records)
Black vinyl: unlimited
DEAD LORD – "Heads Held High" tracklisting:
Farewell(3:36)

Ruins(5:48)

Mindless(4:57)

No Regrets(4:22)
Cold Hearted Madness(5:02)
Strained Fools(3:58)
When History Repeats Itself(3:30)
The Bold Move(6:35)
Don't Give A Damn(4:06)
With Heads Held High(5:08)
Burnin' For You(4:27) *
* Cover version of Blue Öyster Cult, only available on limited Digipak version!