Dead Letter Circus, who hail from Australia, are one of those bands who are impossible to categorize. In fact, when they first burst onto the scene in the land down under in 2007, people didn't know what to make of them. Were they metal? Were they alt-rock? Prog rock? Nobody was certain and it was surely a topic of debate among music junkies. Fortunately, radio gave them a shot, people liked them and their career took off like wildfire from there. Their debut album, This is the Warning, reached #2 on the national Australian ARIA charts and had not one or two but *six* hit radio singles, including the two crossover hits, "One Step" and "Cage." Meanwhile, the album was certified gold and it was voted into triple j's Hottest Australian Albums of All Time list. It was even released here in the States during May of 2011 and the band has since completed three U.S. tours and wowed audiences at SXSW. Elsewhere, they've done major stadium shows opening for heavyweights like Muse and Linkin Park. They've even played on the main stage at the massive outdoor festivals like Big Day Out.
In August the band released their sophomore album, The Catalyst Fire, in Australia and it's been burning up their charts ever since. And I have a feeling they're about to make a major impact here in the States when it's unleashed here — with bonus tracks — on October 29th via The End Records.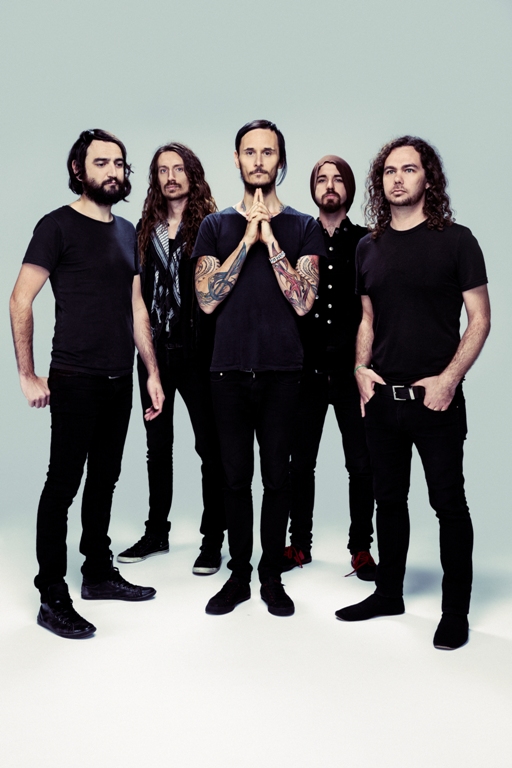 The Catalyst Fire is the fruit of nine months of inspired writing and recording with the band's long-term producer and collaborator Forrester Savell and it's nothing short of astounding. The album opens with "The Cure" and it's a truly propulsive track in every sense of the word. As Stewart Hill's bass guitar thuds and the guitars echo in a jittery fashion, it's clear that this is a forward-thinking band and that they are taking a giant leap with this, jumping right into the very fire they're igniting. Is it proggy? Perhaps, and it does call to mind the fantastic first record by 30 Seconds To Mars, but then Kim Benzie begins singing and his style of vocal delivery is more alt-rock and slightly metal. Clearly, this is a band that defies genre distinctions. But you don't get the feeling that they're trying to do too many things at once, putting too many spices into the proverbial soup. On the contrary, you get the impression that they're just making their songs from the heart, going where their inspiration takes them, without even thinking about whether they'll sound heavy enough or if their time signatures are going to be spell-binding. Both of those things are true, but only because that's how their muse moved them.
Aside from 30 Seconds To Mars, the bands I would compare Dead Letter Circus to would be the prolific and always impressive Madina Lake and the best band to ever come out of Australia, Silverchair. The structure of their songs is more like that of Madina Lake and also has their whimsical vibe, which makes sense because the band has stated that they often finish their songs in the studio, jamming out parts and seeing where inspiration tells them to go. And I name Silverchair because Benzie's consistently emotive vocals and socially conscious lyrics bare a striking resemblance to those of Silverchair frontman Daniel Johns.
Every member of this band constantly fires on all cylinders, hitting one home run after another. Luke Williams' drums leap right out and pummel you over the head during the bouncy "Say Your Prayers" and thunderous "Alone Awake." But he doesn't merely provide energetic beats — he delivers emotion in a way that few drummers can, able to make you feel anxious or inspired, whatever the songs call for. Add to that Hill's dazzling bass wizardry and you have an unbeatable rhythm section. As for the guitars, Clint Vincent and Tom Skerlj lay down mammoth layers off assorted textures and potencies, making the songs beam with rich, kaleidoscopic color. Skerlj also provides keyboards, which help paint the huge wall of sound that each of the songs brilliantly create. And Benzie's vocals are the golden thread that magically binds it all together.
It's hard to believe that this is only the band's second album because they sound as though they've been playing together for 15 years like seasoned pros such as Rush and Iron Maiden, which are both likely among their wide array of influences. And I do mean wide. According to Wiki, the band cites almost as many electronic artists as influences as they do rock bands, the examples given including Massive Attack, Nine Inch Nails and UNKLE. And it's easy to believe that, as their songs often possess an ambience that would seem to stem from other genres like industrial or trip-hop. It might not be noticeable upon first listen, but once you've gotten acquainted with the album it isn't so hard to see. To that end, The Catalyst Fire is definitely one of those gems that rewards multiple listenings. In fact, it's necessary to listen to the album more than once in order to truly hear it all, as it gradually unveils itself. It's like drinking fine wine. You notice certain elements with the first sip and others with the second. And it's only once you've finished a glass that you've entirely experienced it.
TOUR DATES OPENING FOR PERIPHERY:
10/23 – Phoenix, AZ @ Martini Ranch
10/24 – Los Angeles, CA @ The Roxy
10/25 – San Diego, CA @ Soma
10/26 – Santa Ana, CA @ The Observatory
10/27 – San Francisco, CA @ DNA
10/29 – Seattle, WA @ Studio Seven
10/30 – Vancouver, BC @ Tom Lee Music Hall WITHOUT BOO
11/01 – Salt Lake City, UT @ Club Sound
11/02 – Denver, CO @ Summit Music Hall
11/04 – Lawrence, KS @ Granada Theatre
11/07 – Chicago, IL @ Mojoes
11/08 – Minneapolis, MN @ Skyway Theater/Studio B
11/11 – Toronto, ON @ Opera House – WITHOUT BOO
11/12 – Quebec City, QC @ Dagobert – WITHOUT BOO
11/16 – Worcester, MA @ The Palladium
11/20 – New York City, NY @ Gramercy Theatre