If you don't live in Germany then you probably haven't heard of Munich's Claire. Well, they're an extremely talented five member synth pop group who produce some of the most colorful and invigorating pop music you'll ever hear. In fact, their music is so impressive that they've already had the pleasure of opening for everyone from CHVRCHES to Bastille. With the release of their new EP, Broken Promise Land, one gets the feeling that they'll be headlining their own shows very, very soon. If there's any justice in the world, they would seem destined to go viral in the same way that CHVRCHES recently has.
The EP opens with the title track, "Broken Promise Land," which sounds like a cross between Empire of the Sun and Little Boots. Its bubbly beats sound quite lovely while its shimmering synths make it glow beautifully. But Josie-Claire Burkle's airy vocals are what really make the song. At first listen, they might sound too airy, not quite hooking the listener immediately, but with repeated listenings the smooth chorus does prove to be rather infectious.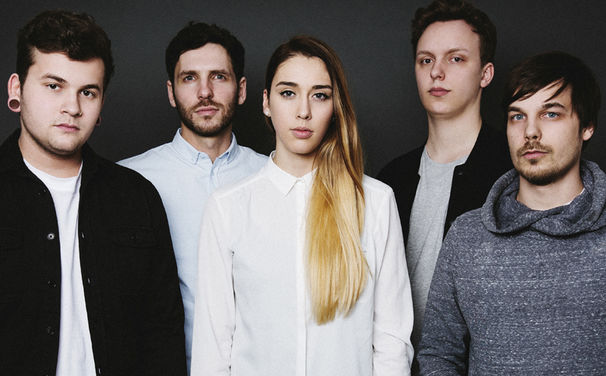 The vocals are considerably louder and less airy during "Games," a playful tune reminiscent of Class Actress and the above-mentioned CHVRCHES. This one, which splits the difference between synth pop and EDM, is immediately rewarding with a chorus that's sure to grab you straight away. One of the guys sings about half of the song, delivering some lower sounding vocals that provide a nice contrast to Josie's higher sounding vocals.
"Pioneers" is a slower, sultry electro-ballad with pulsating synthesized bass, '80's-flavored beats and nearly whispered vocals from Josie. Like the title track, it's a song that you'll like more and more with each listen. Initially, you might feel like it really doesn't go anywhere, which is how I initially felt about it, but with multiple listens it proves to be quite the grower. And sometimes songs that take time to be appreciated actually prove more enjoyable in the long run than immediately catchy tunes that can lose their flavor after a while.
The EP closes with "Set Out With Me," a tune about escaping to nature, and it's easy to see why the band describes their music as "neon pop" while listening to this glimmering gem. It's like the audio equivalent of a bright,shiny disco ball. Josie's breathy vocals here are in the vein of Diana Vickers', particularly the way Diana sang the ballads on her first album. It's ultimately a dreamy, trippy song sure to elevate listener's spirits.
The band will be releasing their full-length debut, The Great Escape, later this year and it should be quite good, especially if the band include a few more hooky songs like "Games." I, for one, will be happy to escape to wherever they want to take me.