At The Gates released their last album, Slaughter of the Soul, way back on November 14th, 1995. That's a long, long time ago, isn't it? Hell, I didn't even know that death metal existed back then. But it did. And at the time there weren't as many sub-genres or styles around. To that end, At The Gates was one of the very first bands to deliver what we now call melodic death metal, something they referred to as "the Gothenburg sound" back then, Gothenburg being where the Swedish metal band was from.
Perhaps one of the reasons why At The Gates was so influential and highly regarded is that they broke up not long after releasing Slaughter of the Soul. Maybe one of the reasons it took them so long to make a new album was because they knew they couldn't possibly live up to the standard they set with their old releases. With so many younger artists looking at them as this mythical beast, the fathers of the music they play, the idea of making a new album had to be a bit frightening. You do an album that people are still talking about 19 years later then you're certainly going to fear making a new album and losing all of that clout if it isn't well-received.
To be perfectly honest, At War With Reality is actually the first At The Gates album I've heard. But, yes, I've heard bands name them as a source of inspiration from time to time. At The Gates were high up on a pedestal along with other unique artists like Venom and Pentagram. Suffice to say, I was excited when their label sent along their new album, which I immediately had to listen to. And, of course, I was immediately impressed. Obviously, I can't compare it to their early releases because I haven't heard them. But I can certainly tell you what I think about it…
The album opens with "El Altar Del Dios Desconocido," which isn't a song but a man speaking in Spanish. To my ears, it sounded like some kind of Satanic prayer and it very well could be, being that some of At The Gates songs in the past were black metal, at least lyrically. In any case, it starts off the album on a creepy note. You find yourself thinking, if they're putting out something this evil as the opening track, this record must be pretty Devil-friendly. In any case, "El Altar Del Dios Desconocido" launches into the album's first song, "Death and the Labyrinth," which comes on like a massive assault, like drummer Adrian Erlandsson is pounding on your head and doing so as fast as humanly possible. Seriously, this song feels like it's trying to win a race, especially during the opening when the brutal drums and raw guitars and intense bass immediately fire on all cylinders. Then Tomas Lindberg starts delivering his half-sung/half-screamed vocals and what you have is some of the heaviest melodic death metal ever. And you can actually understand most if not all of the lyrics since Lindberg doesn't do the routine death metal grunting, his singing being closer to shrieking.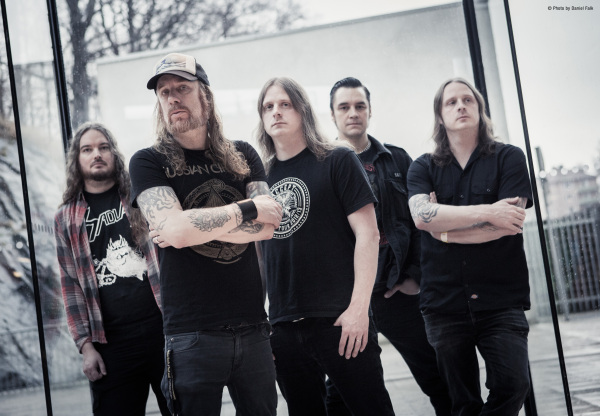 "I'm at war with reality," Lindberg sings angrily during the aggressive title track, "At War with Reality," and by this point you've realized that the whole album is going to rule. The interplay between guitarists Anders Björler and Martin Larsson is fan-fucking-tastic. You'd think they'd been playing together for 25 years; perhaps the reunion tours that began in 2007 have something to do with this, all of that experience of playing live together getting them in synch. And bassist Jonas Björler astounds as well, holding down the rhythm fort along with even Erlandsson's fastest drumming perfectly.
Another noteworthy song is "Heroes and Tombs," which begins simply with a guitar part that almost sounds acoustic. Maybe it even is acoustic. All I know for sure is that it's hypnotic and that part continues once the more sonorous guitars kick in along with the bass and drums. And then Lindberg starts talking. Not singing, but talking. "We are born in darkness," he says and it sounds like another Satanic prayer. (Although it's possible that neither of the tracks that sound like evil prayers actually are Satanic prayers.) Once he starts singing, he lets out a screech that sounds like a wolf howling in anger and it certainly commands your attention. Although the album will certainly have captured your attention already; it bursts with energy that makes you feel as though you've just taken 1000 milligrams of caffeine. It's stimulating like that and it makes you hyper alert, unable to focus on anything else, until you've finished listening to it. So, you probably should not drive your car while you're listening to this one. It captivates your mind so strongly that you might just unknowingly push the gas pedal all the way down and crash into a telephone pole or house, getting yourself decapitated by your windshield in the process.
When At The Gates began recording this album there was an unsaid promise between the band and their fans, a promise that they would create something that would make them proud to be fans, so they could say to their friends, "I told you they were fucking awesome." And the band made good on that promise tenfold. So, go buy or stream the album so you can excitedly tell your friends about it and prove that you were right about At The Gates ruling all along.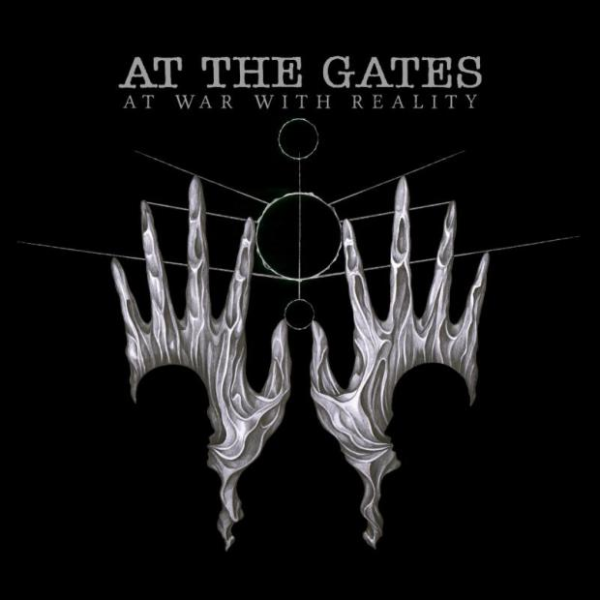 AT THE GATES, TRIPTYKON, MORBUS CHRON:
Presented by Visions, Metal Hammer, Metal.de in Germany and by Rock Tribune in the BeNeLux
04.12.2014 – London (UK) – Forum
05.12.2014 – Manchester (UK) – Academy 2
06.12.2014 – Glasgow (UK) – Garage
07.12.2014 – Birmingham (UK) – The Oobleck
08.12.2014 – Cardiff (UK) – The Globe
10.12.2014 – Essen (Germany) – Turock
11.12.2014 – Hamburg (Germany) – Markthalle
12.12.2014 – Eindhoven (The Netherlands) – Eindhoven Metal Meeting
13.12.2014 – Leipzig (Germany) – Conne Island
14.12.2014 – Wien (Austria) – Arena
16.12.2014 – Aarau (Switzerland) – Kiff
17.12.2014 – Munich (Germany – Backstage Werk
18.12.2014 – Antwerpen (Belgium) – Trix
19.12.2014 – Cologne (Germany) – Essigfabrik
20.12.2014 – Berlin (Germany) – Postbahnhof
AT THE GATES – live 2015:
08.01.2015 – Istanbul (Turkey) – Garajistanbul
09.01.2015 – Athens (Greece) – Stage Volume 1
10.01.2015 – Thessaloniki (Greece) – Principal Club
16.01.2015 – Bologna (Italy) – Estragon
17.01.2015 – Rome (Italy) – Orion
18.01.2015 – Trezzo Sull'Adda / Milano (Italy) – Live Club
31.01.2015 – Dublin (Ireland) – Academy
21.02.2015 – Bergen (Norway) – Blastfest
26.02.2015 – Oslo (Norway) – Vulkan Arena
27.02.2015 – Karlstad (Sweden) – Nöjesfabriken
28.02.2015 – Umeå (Sweden) – House Of Metal
01.05.2015 – Örebro (Sweden) – Ritz * New show!
02.05.2015 – Sundsvall (Sweden) – Pipeline
29.05.2015 – Johannesburg (South Africa) – Carfax
30.05.2015 – Johannesburg (South Africa) – CarfaxA special tour trailer can be seen here: http://youtu.be/bfSyqfhRI2Q
AT THE GATES line-up:
Tomas Lindberg – Vocals
Anders Björler  – Guitars
Martin Larsson – Guitars
Jonas Björler – Bass
Adrian Erlandsson – Drums
AT THE GATES selected discography:
Gardens Of Grief / EP – 1991
The Red In The Sky Is Ours – 1992
With Fear I Kiss The Burning Darkness – 1993
Terminal Spirit Disease – 1994
Slaughter Of The Soul – 1995
Purgatory Unleashed / Live – 2010
At War With Reality – 2014
AT THE GATES online:
http://www.atthegates.se
https://www.facebook.com/AtTheGatesOfficial
https://twitter.com/AtthegatesGBG
http://www.youtube.com/atthegatesofficial