War Eternal is the first album by death metal legends Arch Enemy to feature new vocalist Alissa White-Gluz, former vocalist of the Canadian band The Agonist.  Angela Gossow, who joined the band in 2000, has stepped down from the spotlight in order to focus on being the band's manager.  Meanwhile, Chris Amott has presumably retired from the group and is replaced by the insanely talented Nick Cordle, who's known for his work with the Arch Enemy-influenced band Arsis.
If I understand correctly, the announcement that Alissa White-Gluz was joining the band as its lead vocalist caused quite the internet uproar with fanboys proclaiming themselves "Team Angela" or "Team Alissa."  Which is kind of silly since Angela is still going to be involved with the band as manager, which would seem to be what she's passionate about at this point.  So, it's not as though she's left the picture entirely.  But, I can kind of understand people being upset about this because, well, Arch Enemy is a legendary band which has been around for over 15 years.  In a sense, it's like James Hetfield stepping down as Metallica's vocalist to manage the band while someone new takes his place.  That would be pretty weird, wouldn't it?
But, here's the thing: now that I've heard the album, I would have to proclaim myself "Team Alissa."  That's not to discount all of those mighty fine albums that Angela did with the band.  It's simply to say that I am in love with the new record, which Alissa wrote roughly half of the lyrics for, and think it's one of the band's finest to date. I should also mention that fellow newcomer Nick Cordle co-wrote the music for over half of the songs on the album and they're all fantastic.  I would have to say that having something to prove — possessing the hunger of a new band — has breathed new life into Arch Enemy.  War Eternal bleeds fresh blood and it's salty and sweet and just plain wonderful.
Some fans and critics have argued that Alissa's style isn't close enough to Angela's but I think that's part of why I like the new album so much.  It would have been boring if the band just brought in an Angela clone.  And I think it's admirable that they actually let Alissa have her own style, bringing aboard her own approach.  I think she's injected the band with mega doses of pharmaceutical grade stimulants and painkillers (so to speak), making them more than ready for battle with any angry stans and critics.
The album opens with "Tempore Nihil Sanat (Prelude in F minor)," a classical music style intro complete with some evil-esque chanting, which I believe is in Latin.  The brilliant thing about this is just how much it clashes with the song that follows, the insanely-fast "Never Forgive, Never Forget."  It's like an explosion happens when it kicks into full gear, marching forward with an unstoppable force.  Stylistically, it reminds me of vintage Slayer, being rather thrash-esque but not without a sense of melody.  Here, it's obvious what the biggest difference between Alissa and Angela's vocals is: while Alissa's vocals are pure death metal, the fact that you have a woman singing shines through.  With Angela, you'd have sworn it was a hulking guy singing most of the time.  I mean, to be honest, I thought it was a dude singing the first few times I heard Arch Enemy albums.  Which I suppose is a compliment to Angela in the sense that her vocals were so reliably depraved that you could hardly tell the difference between her and the crop of male death metal vocalists.  But it's also a compliment to Alissa that you can tell that you have a woman singing.  She's got the balls of any male death metaler, but she lets just a tinge of femininity shine through her vocals, as though she's saying, that's right, I'm a woman, and I could rip you to shreds.  Here, she literally screams: "Hate springs eternal / In this black heart of mine / Time heals nothing / I'll never forgive (never forget)."
The title track, "War Eternal," follows.  It's slower than the previous track, but its grinding possesses a mighty evil vibe that makes it no less menacing.  It has a hypnotic quality, due largely to the rhythm section, but the guitars are mesmerizing themselves and show what a valuable asset Nick Cordle is as he and the remaining Amott brother play off of each other brilliantly.  And, lyrically-speaking, it fits perfectly with the previous track as Alissa growls: "It's times like these when lines are drawn / Which side of the fence are you standing on / There will come a day not so far away / When the hunter becomes the prey (and you will pay)."  I wish we had such fierce rebellion anthems when I was in high school!
"No More Regrets" opens with some soloing that comes across like power-prog.  The soloing continues throughout much of the track, the soloing even spiraling through the chorus.  The interesting thing about this track is that if you took away the vocals and played it for someone they'd probably guess that it's Helloween or Dream Theatre.  It really does not sound like death metal much of the time, aside from the meaty, screeching melodic death metal vocals.  Some longtime fans may lament that it's not heavier, but I love the fact that this album finds the band painting with a wider spectrum of colors than they tended to do in the past.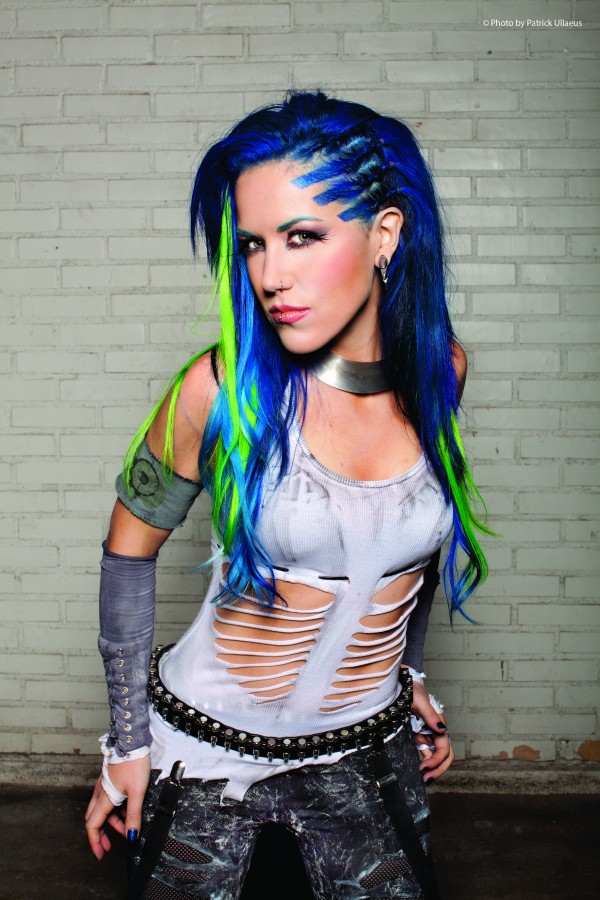 Another impressive track is "You Will Know My Name," one of the more dark and twisted tracks on the album, which calls to mind Mercyful Fate and Testament's recent albums.  The way Alissa sings the venomous chorus is enough to give one chills, "Do you see me now / Do you fear me now / You will know my name."  (It's like Arch Enemy's version of "1,2 Freddy's coming for you" from the Nightmare on Elm Street movies.)  It's followed by a subtle and precious interlude called "Graveyard of Dreams," which features more of the album's impressive soloing over gentle acoustic guitars.  And, to tell you the truth, I think "Graveyard of Dreams" would have been a much better title for the album, since it packs all manner of dreams but always with a funeral doom quality.
"Time is Black" is just one of many tracks on the album that the band has enhanced with symphonic keyboards.  To that end, the keys are never so sonorous as to qualify these songs as symphonic metal, but they do add some of that wonderful color to the album.  Here, they help qualify "Time is Black" as a truly epic tune that is sinisterly beautiful.  Although the lyrics aren't quite so colorful, Alissa belting out, "Time is black! / And nothing will escape / Nothing will remain / Nothing."  Then again, black is made up of every other color, so that would make this the most colorful song on the album if you look at it that way.
If you've been a fan of Arch Enemy in the past then I think you'll really dig this deliciously brutal album.  It's certainly not as though they've taken the entire Arch Enemy formula of old and flipped it completely upside down.  No, they still pack more than enough character — and growl — to warrant a listen from their death metal die-hards.  But with its many colors and flavors, the album is certainly eclectic and accessible enough to attract plenty of newcomers as well.  Plus, people who stayed away because Arch Enemy was so popular might finally take a bite now, too.  All the more power to them.
War Eternal release dates:
SWEDEN / JAPAN (through Trooper Entertainment): Wednesday, June 4
GERMANY / AUSTRIA / SWITZERLAND / FINLAND / AUSTRALIA / NEW ZEALAND: Friday, June 6
UK / BENELUX / FRANCE / GREECE / DENMARK / PORTUGAL / NORWAY / REST OF EUROPE: Monday, June 9
USA / CANADA / ITALY / SPAIN / POLAND: Tuesday, June 10
War Eternal can now be pre-ordered digitally in Europe and North America at iTunes & AmazonMP3 with the tracks "War Eternal", "As The Pages Burn", and "You Will Know My Name" available as instant downloads upon purchase. The album can also be pre-ordered in a variety of physical formats at CM Distro:
–Standard CD
–Ltd. CD Mediabook Europe version (+ bonus track & patch)
–Digipak CD US version (+ bonus track, patch & sticker)
–Deluxe 3CD Artbook (+ bonus track & patch):
–worldwide limited to 2,500 hand-numbered copies
–extended booklet
–"Seeds Of War – The Demos" 5-track bonus CD
–guitar tabs (PDF and Guitar Pro 6 format w/ Guitar Pro 6 Lite Win & Mac versions)
–extra CD with instrumental play-through version of the album
–LP, 180gr, gatefold cover, special vinyl mastering:
–black vinyl: worldwide not limited
–silver vinyl: 300 copies
–red vinyl: 200 copies exclusive at CM Distro USA
–gold Vinyl: 100 copies exclusive at CM Distro Europe
–white vinyl: 200 copies exclusive at Nuclear Blast Europe
–bootleg green vinyl (available June 3): 500 copies exclusive at USA indie retailers
ARCH ENEMY live:
23.05.2014 – Turbohalle – Bucharest, Romania
24.05.2014 – Metal Summer Festival – Istanbul, Turkey
25.05.2014 – Mixtape 5 – Sofia, Bulgaria
27.05.2014 – Majestic Music Club – Bratislava, Slovakia
30.05.2014 – New Age Club – Roncade, Italy
31.05.2014 – Rock and Roll Arena – Romagnano Sesia (Novara), Italy
02.06.2014 – L'Etage – Rénnes, France
03.06.2014 – Le 106 – Rouen, France
04.06.2014 – La Laiterie – Strasbourg, France
05.06.2014 – Rosenhof – Osnabrück, Germany *
07.06.2014 – Sweden Rock Festival – Sölvesborg, Sweden
09.06.2014 – Studio USF – Bergen, Norway
10.06.2014 – John Dee – Oslo, Norway
11.06.2014 – Copenhell – Copenhagen, Denmark
13.06.2014 – Colos-Saal – Aschaffenburg, Germany *
14.06.2014 – Conrad Sohm – Dornbirn, Austria
15.06.2014 – Nova Rock – Nickelsdorf, Austria
27.06.2014 – Rock am Härtsfeldsee – Dischingen, Germany
09.07.2014 – RockMaraton – Pecs, Hungary
11.07.2014 – Rock Harz Open Air – Ballenstedt, Germany
12.07.2014 – Masters Of Rock – Vizovice, Czech Republic
13.07.2014 – Seven Festival – Wegorzewo, Poland
17.07.2014 – Devilstone Festival – Anyksciai, Lithuania
18.07.2014 – American Beauty Car Show – Haapsalu, Estonia
19.07.2014 – Dong Open Air – Neukirchen-Vluyn, Germany
02.08.2014 – Wacken Open Air – Wacken, Germany
07.08.2014 – Getaway Rock – Gävle, Sweden
08.08.2014 – Leyendas Del Rock – Alicante, Spain
09.08.2014 – Alcatraz Metal Festival – Kortrijk, Belgium
14.08.2014 – Summer Breeze – Dinkelsbühl, Germany
17.08.2014 – Alt-Fest – Kettering, UK
17.09.2014 – Kerubi – Joensuu, Finland
18.09.2014 – Pakkahuone – Tampere, Finland
19.09.2014 – The Circus – Helsinki, Finland
20.09.2014 – Lutakko – Jyväskylä, Finland
22.09.2014 – Re:Republic – Minsk, Belarus
23.09.2014 – Yunost' – Kiev, Ukraine
25.09.2014 – Arena Hall – Krasnodar, Russia
27.09.2014 – Glav Club – Moscow, Russia
28.09.2014 – Zal Ozhidaniya – Saint Petersburg, Russia
30.09.2014 – Otdykh Club – Novosibirsk, Russia
01.10.2014 – Angar Club – Omsk, Russia
03.10.2014 – Tele Club – Yekaterinburg, Russia
19.10.2014 – Loudpark 2014 – Saitama City, Japan
26.11.2014 – Le Transbordeur – Lyon, France **
27.11.2014 – L'Usine – Istres, France **
01.12.2014 – Le Bikini – Toulouse, France **
02.12.2014 – Le Bataclan – Paris, France **
04.12.2014 – 013 – Tilburg, Netherlands **
05.12.2014 – MHP Arena – Ludwigsburg, Germany **
06.12.2014 – Turbinenhalle – Oberhausen, Germany **
07.12.2014 – Garage – Saarbrücken, Germany **
08.12.2014 – Docks – Hamburg, Germany **
09.12.2014 – Huxleys – Berlin, Germany **
11.12.2014 – Schlachthof – Wiesbaden, Germany  **
12.12.2014 – Eventhall – Geiselwind, Germany **
13.12.2014 – Tonhalle – München, Germany **
14.12.2014 – Z7 – Pratteln, Switzerland **
16.12.2014 – Institute – Birmingham, UK **
17.12.2014 – O2 Academy – Bristol, UK **
18.12.2014 – The Forum – London, UK **
19.12.2014 – Academy – Manchester, UK **
20.12.2014 – Academy – Dublin, Ireland **
21.12.2014 – QMU – Glasgow, UK **
22.12.2014 – O2 Academy – Newcastle, UK **
*=support by IZEGRIM and DYING GORGEOUS LIES
**=supporting KREATOR
ARCH ENEMY online:
http://www.archenemy.net
http://www.facebook.com/archenemyofficial
http://www.youtube.com/user/archenemyofficial
https://twitter.com/archenemymetal
https://plus.google.com/+ArchEnemy