Singer/songwriter Angéline was originally from Loire Atlantique in France but is now based out of London, which is where she earned her music degree. Although most of her songs are now in English, there's clearly a French folk music influence to her sound. Additionally, she'd just visited Cuba — she loves Salsa dancing — and the country's rich music can be detected in the percussion here on her new EP, Back To Pike Place. The creation of the EP is interesting as well, as she worked out her ideas by making demos using whatever she could find in her room to make sounds, whether tapping rhythms on her guitar or just tapping on her desk. (Of this, she's said, "It was made at home using whatever we had around us. The purpose was not to be limited by money that I don't have, finding a way of creating songs with whatever is around me.") Once she was satisfied with the demos, she sent them to her collaborator, Garry Cosgrove, and he arranged the tracks so that they could be performed with instruments, though his priority was to keep her organic sound. To that end, they certainly achieved their goal, organic being the first word that comes to my mind whenever I listen to the gorgeous EP, something I've been doing rather often since I first heard it a few weeks back.
The first thing you're going to notice when you listen to the EP is obviously Angéline's precious voice, which is light like a warm breeze gently brushing across your face on a cold September's day. It's impossible to resist, really, as endearing and accessible as a singer can possibly be. And while her voice was clearly made for folk and acoustic music, there's a soulful vibe to it as well. This is what makes her stand out among the sea of folk singers swarming the music scene of late.
The EP opens with a track called "Kohly," which is simply fifteen seconds of birds chirping away. It might seem odd when you first listen to the EP, but once you've appreciated its lush, acoustic instrumentation you'll get it; birds chirping are as natural a sound as you can get and natural is exactly how they wanted this to sound. The song that follows is called "Black Butterflies" and there's certainly an earthly quality about it, how it is embodied by live, acoustic instruments. Mostly, it consists of acoustic guitar and a various percussive instruments, but the lush background vocals and snapping fingers are not to be discounted. There's even some piano during the lively chorus.
"Si J'avais La Choix" also features the piano and organic instruments but during its catchy chorus there would seem to be some plugged in instruments as well, namely keyboards and a drum pad, if I'm hearing things correctly. I believe there's even a harp in there; whatever it is, it sounds fantastic. The title of the sweet, sweet song means "if I had the choice."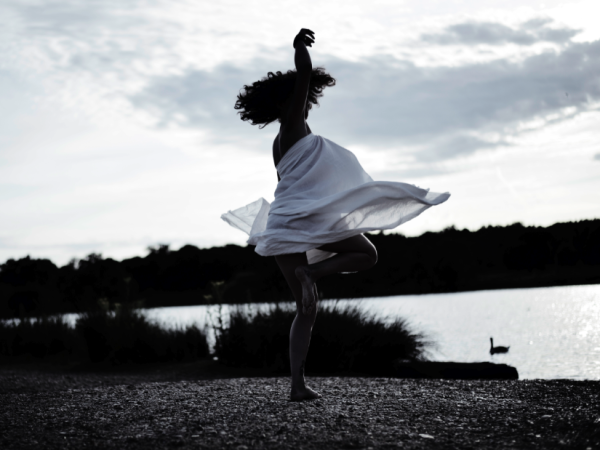 "I was a fool to think that time would sit and wait until I get by," she sings at the beginning of "While I Was Away." It's certainly a theme anyone can relate to. There's something of a reggae vibe to this song in the way the layers of vocals are structured and in the pattern of the percussive sounds. It's not so strong that I would call it a reggae song, though. It's almost like the early work of French signer/songwriter Emilie Simon, the big difference being that Emilie's music back then was largely electronic, whereas this song is composed of live instruments. But the pitter-patter percussion is similar, at least to my ears. It's like an electronica song with reggae elements being covered by a live band, if that makes an iota of sense. I should also mention that I have no doubt that the music she was exposed to in Cuba heavily influenced the beats here.
I don't know if there's such a thing as progressive folk music, but that's what I'm going to call "Aama," a seven and a half minute song that's rather elaborate and impressive at that. (It reminds me of Neneh Cherry's last album, Blank Project.) You really want to hone in on the lyrics, as they tell a vivid story. In addition to that, I am quite fond of the wind instruments. About this song, Angéline has said, "'Aama' is a very special song. I wrote it to pay tribute to Nepal using my Nepalese friend's testimony. Knowing how much suffering the earthquake caused I decided to give away the song in return for donations via justgiving.com. All funds go to the D.E.C charity for Nepal."
The EP ends with a delicate little song called "Ghost Dance," which sounds like it could've been on Corinne Bailey Rae's soul-searching album The Sea, which was about losing her late husband. Here, Angéline evokes the clouds, the earth and lines on her hands in a similar contemplative manner. There's a lullaby-esque quality to it that makes it the perfect closing song.
Back To Pike Place shows us that Angéline is capable of taking parts of each of her many influences and blending them into a unique sound of her own. Her creative fire clearly has mighty high flames and I have no doubt that whatever she does next will be as brilliant as this EP. I just hope she does it quickly because I am dying to hear more music from her.