If there's been one band to emerge during the past decade which has proved impossible to kill it's the Austin, Texas outfit …And You Will Know Us By The Trail Of Dead. Granted, their career has had high points and low points, but regardless of what their status may have been at this point or that, you always had a feeling in the back of your head that they would be back again, that they were good for another killer album. Well, some have accused their last couple of albums of being lackluster but now they're back again with their new release, IX, their ninth album, and it's one triumphant motherfucker of an album if ever there was one. Indeed, multi-instrumentalists and founders Conrad Keely and Jason Reece are back for the attack, once again working with now seasoned members bassist Autry Fullbright II and drummer/guitarist Jamie Miller.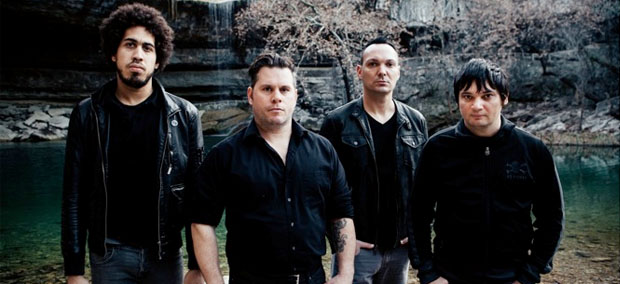 IX gets off to a mighty explosive start with "The Doomsday Book," a thunderous, trail-blazing rocker that sees them riding a horse-drawn carriage around hell, keeping the horses galloping just fast enough so they don't get burned. In other words, it feels like it's racing toward something and racing away from something all at once. It's as though their life depends on it, that they have to play it with maximum intensity or burn. One thing is for certain: Conrad's vocals have never sounded better and Jamie's drumming is so fierce that it seems otherworldly. "Jaded Apostles" follows and is equally heavy, though its tempo is a notch or two slower. With "The Doomsday Book" the band seemed to be having fun first and foremost, but "Jaded Apostles" would seem to be a more serious affair, given the gravity of Conrad's vocals and the lyrics here. Still, it's a rollicking tune that's perfect for blasting while you're driving home from work and feel like waving your middle finger at the world. The same can be said of the four on the floor "A Million Random Digits," which once again finds the band on a mission, zipping away like there's no such thing as tomorrow. More than over-flowing with contagious energy, it's forward thinking and proves that you can have thought-provoking lyrics and kick some major ass. IX isn't exclusively about kicking ass though. "The Dragonfly Queen," for example, is a bit more laid back, the drums further off in the distance, just enough so that all of Conrad's vocals can be understood. It's a different, slightly abstract animal anyway. Granted, I wouldn't call it prog rock, but it almost comes across as Trail of Dead covering Styx.
The instrumental "How To Avoid Huge Ships" is another interesting number, beginning with strings and light percussion, played in such a way that you might think you're in for a classical composition. But, gradually, the drums grow louder and the rock guitars enter the picture and one thing soon becomes clear: this might not be classical, but it is *epic.* And it more than successfully shows off what incredible musicians these cats are.
Much of IX finds the band sporting their metal roots, but occasionally their alternative rock roots show as well, most of "Bus Lines" being a perfect example of this. In fact, the 6:10 song even has something of a grunge vibe. "Feels like torture / Get me off the bus," Conrad sings, channeling Kurt Cobain with the misery he's expressing with his voice. When the song grows explosive during its final third, however, it's less Nirvana and more vintage Trail of Dead, less you come away from the song thinking that they're changing genres on you.
Perhaps the most impressive thing about IX is how much it feels like a stellar debut. These guys are nine albums into their career, but they've still got enough original riffs, stories to tell, and, most of all, passion, to make a record that feels as fresh and vital as anything they've done previously. You could almost argue that their last couple of albums were merely demos for this one, home work they had to complete in order to get to this massive, career re-igniting magnum opus.