Adele's last album, 21, has sold over 30 million copies worldwide. If you didn't buy it, you're probably only a two degrees away from someone who did. Some people even bought it twice, having to own it on CD and vinyl. (I just went with the vinyl.) Billboard dubbed it the "Greatest Album of All Time." How do you follow that up? Talk about being in the pressure cooker. You know there's no way you can top the last album's success, but you want to. More importantly, you don't want to disappoint all of those people who bought your last record. What if you put out another album and people hated it? Then you'd be known for releasing one of the worst follow ups ever. That would make me so anxious I'd get writers block. I'd even consider never releasing another album, to go out on an extremely high note. Well, not surprisingly, both of these things plagued Adele. And when she finally was struck with inspiration again, it was to write an album about motherhood, something she was newly experiencing. But after the album was complete, she decided that it was too "boring" and wanted to go back to the drawing board. Then she had writer's block again. Suffice to say, 25 was much more difficult to make than 19 or 21. She did not give up though. Instead, she tried working with a multitude of writers and producers, which apparently helped because she worked with over a dozen of them; there are as many listed in the album's credits. I suppose some might frown upon that, but you have to remember that Adele has always worked with co-writers. Some songwriters just prefer writing that way. They find that other people's input brings out the best in them, helps get the creative wheels rolling.
Adele might have had her worries about releasing a follow up to 21, but the public apparently did not. The album has already broken sales records. For example, it had the most CDs shipped for a new release since 4.2 million copies of *NSYNC's No Strings Attached shipped in 2000. They're selling like hotcakes, too. It hasn't even be out for a full week at the time of this writing, but chances are you've already bought a copy. Or someone you know has. I bought the Target edition myself, being that it has 3 bonus tracks, which I'm quite enjoying.
The album opens with a ballad called "Hello." Not that you need me to tell you it's a ballad. Because, seriously, If you haven't heard "Hello" yet then you're probably not much of a music fan. I mean, I do have friends who aren't into Adele and even they have gone out of their way to check out her big comeback single, which was written by Adele and Greg Kurstin in two sessions six months apart. But, hey, who cares how long a song takes to write if it's good? And "Hello" is really, really good. Brilliant, even.
One of the reasons 21 was so popular was that it was a classic break up album, something everyone could relate to. People listened to it and felt as though they'd lived through it. They clinged to it during hours when they needed a friend who could relate to what they were experiencing. They listened to it so many times that they came to feel like they truly knew Adele, which makes sense because it was a very personal album where she pulled out her heart and put it on a table for all to see. It felt authentic, too, not like the sort of ballads that are scientifically engineered by robots to tug at your heartstrings. There was no way Adele was making things up, telling tall tales. And anyone who's heard "Hello" can tell you that it's just as honest. Not only that, it's as relatable as anything on 21, being a song about wanting to reach out to somebody you've lost contact with, a lover you broke up with, a friend you really let down, etc. "Hello, can you hear me / I'm in California dreaming about who we used to be," she sings, sounding like she's about to start crying. It gives me chills sometimes.
The second track on the album is my least favorite. It's called "Send My Love (To Your New Lover)" and it's the only song on the album that she wrote with Max Martin and Shellback, who also produced the track. I have nothing against them — I'm a huge fan of Taylor Swift's "I Knew You Were Trouble," for example — but this song feels out of place on the album. It has a peculiar rhythm that I don't find very accessible either. Also, the beats are so heavy that you can't hear Adele's voice as prominently as you're used to. It feels like it's buried in the mix. I really do not like it.
"I Miss You" follows and is much, much better. Adele wrote it with Paul Epworth, who also produced it, and he's one of the people she worked on 21 with. It also features sonorous beats and a different sort of rhythm than we're used to hearing in Adele's songs, but for some reason that works for me here. "I love the way your body moves / Towards me from across the room," she sings and it's enough to make you swoon. It also has an infectious chorus that demands you open your mouth and sing along to it. Even the pre-chorus is great.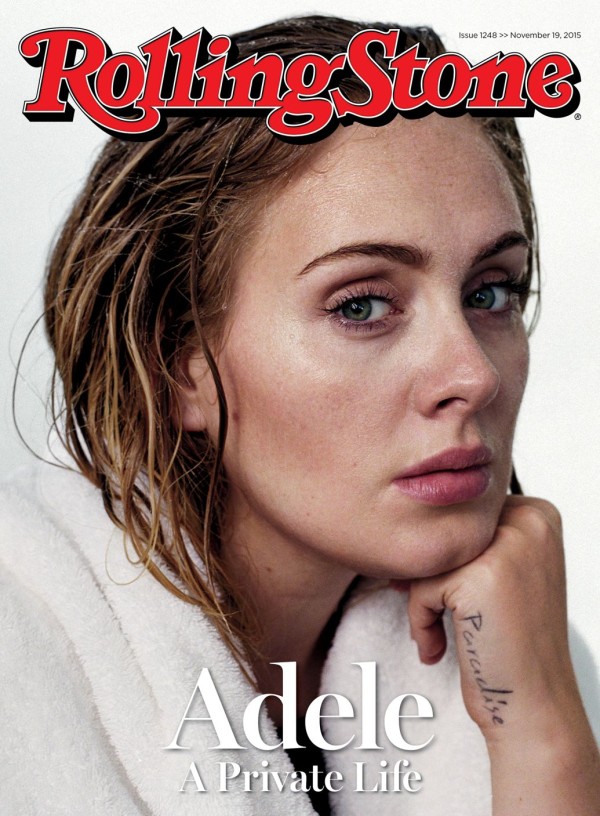 A '70's style mid-tempo ballad co-written by Tobias Jesso Jr. (go listen to his song "Hollywood" on Youtube right now) and produced by Ariel Rechtshaid, "When We Were Young," shimmers and shakes splendidly. When I listen to it, I picture people doing cocaine in the movies, and consequently having their lives fall apart. It should have been on the Boogie Nights movie soundtrack. It would be perfect for a downhill race montage. "You look like a movie / You sound like a song / My God, this reminds me / Of when we were young," goes the pre-chorus and it totally sounds like Adele is going through a major nostalgic moment while she sings it. The sort where you don't know if you feel happy or sad but you certainly feel strongly. When she sings the line "we were sad of getting old" during the chorus she sounds so angry about that, something her older listeners — like myself — can relate to.
"Remedy" is apparently the one song from the scrapped album that appears on 25. Adele has stated that she wrote it about her son, Angelo, but that she sang it "for everyone that I really love." I suppose some might find it too sweet, almost sugary, but I think it's tender and lovely. "But when the pain cuts you deep / When the night keeps you from sleeping / Just look and you will see / That I will be your remedy," she sings. It's not a lullaby, but you can still picture her singing it while looking down at her sleeping son in his crib. Or when he was in a crib; he was born in 2012 so I doubt that he sleeps in a crib anymore.
Many critics are feeling negatively about the second half of the album, but I think some of the album's strongest tracks are there. I suppose it depends on how much time you spend with the album. The first half contains the most immediately memorable songs, so if you only listen to the album a few times then you might find the second half boring. Admittedly, I felt that way the first couple of times I listened to the record. But then I came to love some of its songs.
The second half begins with "Water Under The Bridge," another collaboration with Kurstin. I immediately fell in love with the percussion of this track, which is quite heavy. But that alone doesn't make a great song — not unless we're talking about EDM — but it can help create a very powerful one and that's precisely what it does here. It's especially lively during the killer chorus, which is one of the album's best choruses, being super catchy. "If you're gonna let me down, let me down gently / Don't pretend that you don't want me / Our love ain't water under the bridge," she sings with an air of confrontation about her voice. If you've ever had a lover try to sneak off into the distance after sharing some precious time together and confronted them, this song is for you. You can just see Adele backing a guy into the corner and lecturing him here.
"River Lea" is the sole collaboration with Danger Mouse to make the album; he produced the song, which he co-wrote with Adele. Here, Adele sings about growing up by the River Lea and how it's in her roots and what effect that has had on her. "It's in my blood and I stain every heart that I use to heal the pain," she sings during the pre-chorus. The production reminds me of the Norah Jones album Danger Mouse co-wrote and produced, Little Broken Hearts, which I feel is the strongest album of her career thus far. I'm sure he thought about that album when he was writing this with Adele. I'm not saying that he ripped himself off, just that he aimed for something in that vein, shooting for something with depth in its beats and lots of details — such as flourishes of guitar — but also something that allowed the singer's voice to shine above it all, giving it a true singer/songwriter feel instead of having it sound like his own music.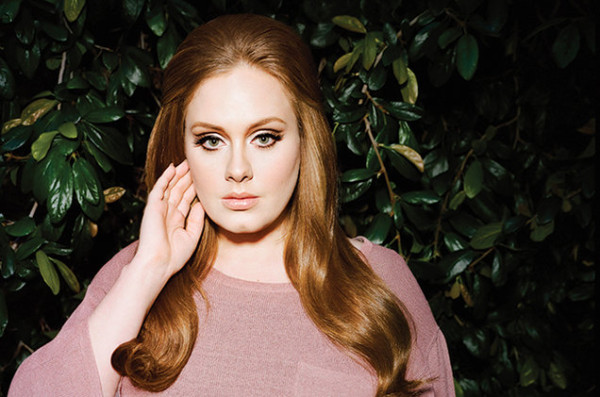 "Love In The Dark" isn't a bad song — it's better than most ballads by other artists for sure — but it doesn't quite reach the bar set by the other songs on the record. Not even with repeat listenings. I must have listened to it eight times before writing this, and I'm listening to it again as I do so, but it just falls short musically. The lyrics, which find Adele being the one to do the heart-breaking for a change, are fantastic. But the magic isn't quite here, which is surprising because it was written with longtime Sia collaborator Samuel Dixon, who also produced it. It simply feels like more of the same. The album has already served up this sort of thing a few times. The same can be said about "All I Ask," which was written by Adele and Bruno Mars with Philip Lawrence and Christopher Brody Brown. It was produced by Mars and Lawrence under the name The Smeezingtons, which is what they call their record producing team. It's too bad Bruno didn't duet with Adele on the song. That would have worked wonders for it, elevating it from its status of being just another piano ballad.
When I listen to "Million Years Ago," I find myself thinking of Led Zeppelin and Robert Plant's recent output. If he did a song with Adele, it would probably sound a lot like this. Except that he would also be singing on it. (Hmm, thinking about this is making me wish they would do an album together like he did with Alison Krauss.) This one pairs Adele's voice with gentle acoustic guitars and is plenty magical. If you liked her cover of The Cure's "Love Song" on 21, you should be swept away by this spell-binding gem. I was quite surprised to learn that Kurstin produced this one as I can't recall him ever doing an acoustic song like this before.
The sole other collaboration with Epworth on hand is "Sweetest Devotion," a very gospel-esque tune. It's a love song, but most of the lyrics could be about God and they would seem to be playing with that idea here, but Adele has stated that it's about being a mother to Angelo, an explanation that makes sense, but if I hadn't read that I would totally think it was about God. You could even say it's about experiencing a loss of faith only to come through on the other side. In any case, if you enjoy singing gospel songs then you should fall quickly in love with this song as it has that whole vibe going on in terms of the music and Adele's powerhouse vocals, which truly soar on the chorus. This is the song that closes the album on the standard edition, which seems a bit bizarre to me. It just doesn't have that final song vibe. "Million Years Ago" would have been better suited for that.
If you did not buy your copy of the album at Target, then you will be disappointed to learn that their exclusive edition has not one or two but THREE bonus tracks. That's a quarter of the album. On one hand, I enjoy collecting Target exclusive editions of albums with bonus tracks but I also feel sorry for people who buy the albums elsewhere, not realizing there's a Target edition with extra songs. For example, Halsey's album has five extra bonus tracks on the Target edition and they're not tacked on at the end like these Adele tracks. On the contrary, they're in between other songs on the record, where they were presumably intended to be, totally making it feel like anyone who doesn't have that version has been ripped off.
So, how good are the Target bonus tracks? Well, they are certainly well-worth spending the couple of extra bucks to get them. The first, "Can't Let Go," was written by Adele and Linda Perry; Perry also produced it. You might cringe over the fact that it's another piano ballad, but it's rather touching and certainly superior to some of the ballads that made the standard version of the album. If you were hoping for another Adele break up song, you should appreciate this one. "Why were you so cold, let the truth be told / Tell me was it all for the thrill? / What was I thinking, I gave you everything / But you still went for the kill," goes the emotionally raw second verse. There she goes again, shooting you in the heart with one of cupid's arrows, stopping you in your tracks.
"Lay Me Down" is another track written with Jesso, Jr. and it's one of my favorite songs from all of these sessions. Interestingly, it's the sole track on the album produced by Mark Ronson, one of today's hottest producers. (There was also some additional production by one Lil Silva, according to the Wiki page.) I especially love the background vocals during the chorus, which would seem to be by a small chorus of female singers, as opposed to Adele doing her own backing vocals like on most of the record. This is one of the most epic songs on the album. To that end, it reminds me of many J-Pop ballads, the sort that grow more intense and emotive as they go on, right up until the climactic ending.
Finally, we have "Why Do You Love Me," which Adele wrote with longtime Lana Del Rey collaborator Rick Nowels, though it was produced by Rechtshaid. It's actually one of the most up-tempo songs on the album and it ultimately leaves you wishing there were a few more tracks in its vein on 25. It's just bursting with energy and sounds fun, rather than soul crushing. If you've been wishing Adele would lighten up, this one is for you. As she sings "I want you to love me," over and over on the chorus, you're bound to find yourself smiling, if not singing along. I hope she does this one live because it would surely be a high point of the show. And, yes, this one does feel like a proper closing to the album, if only because it's better than many of the other tracks on hand, ending the record on a very high note.