The duo known as no:carrier was formed in Germany in 1995 and has been active with its current line-up since 2001. These days, they operate through a great distance with producer/keyboardist/occasional vocalist Chris Wirsig living in San Francisco, California while main vocalist Cynthia Wechselberger continues to reside in her home country of Germany. But I have a feeling that living in two different countries with unique cultures is part of what makes their music so fascinating. If nothing else, it surely contributes to their sound's worldly vibe.
Previously, the self-proclaimed "electro noir pop" duo has released two critically acclaimed albums, 2002's My Own Dream and 2011's Between The Chairs. Last June they released a 5 track single that received positive reviews in such publications as Side-Line, Nachtaktiv, Amobss-Mag and ReGen.
What exactly is "electro noir pop"? I'll just tell you what *I* hear in no:carrier's music: an inspired blend of 60% alluring darkwave and 40% beaming synthpop.
The album opens with the piano-led "Alone Now," which starts off sounding like a ballad. "Shed a tear for the ones not here / The ones who didn't make it all the way," sings Cynthia, channeling Portishead's Beth Gibbons, an air of melancholy about her vocals. Soon a thumping pop beat and lots of electro-loops join the mix, giving it a slightly funky/burbling vibe. Later, shimmering synth renders the otherwise dark song somewhat more colorful.

"Confession," which was released as a single in February of this year, follows with sizzling synth and sparse guitars over a hard beat. "I know it's much too late for me to try to explain / What I did was so wrong and I'm the only one to blame," Cynthia sings with a hint of regret in her voice. Or is it? "I can't say that I'm sorry / It would be fake," she says a bit later, casting the rest of the song in a different light, painting it as something sarcastic. Here, I detect a bit of a Blondie influence. If Debbie Harry went darkwave, this is surely what it would sound like.
Things brighten up with "Life," which has a distinct pop beat and lots of glimmering synth. "My mind is finally getting stronger," Cynthia sings before declaring that "life has gone astray." Clearly, this isn't bubblegum pop, the lyrics far more substantial if not philosophical. Another track with a deep meaning is "The Nine Days' Queen," which tells the tragic — and depressing — story of Lady Jane Grey who ruled England for nine days and later was beheaded. "They called her the nicest queen," sings Cynthia before things begin getting morbid. I just wish the vocals were a bit louder in the mix. You really, really have to concentrate to understand some of them. But it's worth doing so, as they're poetic and even insightful; if I'd ever known the story of Lady Jane Grey before, I'd forgotten it entirely, so this track was a nice little history lesson as well as being a very enjoyable, melancholic gem.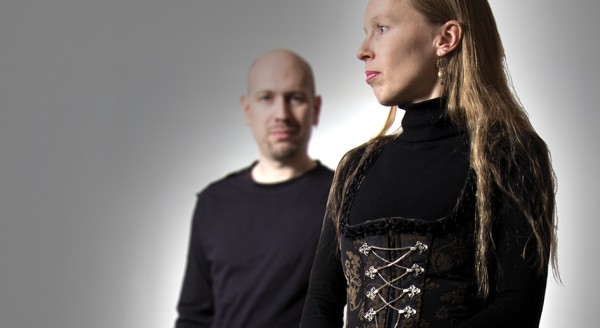 Elsewhere, Chris sings lead on "Thoughts/Shoot The Sky." On most of the songs where he contributes vocals, he's simply speaking the lyrics, but here he's actually singing and he does a fine job of it, adding a layer of darkness over the song's '80's new wave vibe.
Another standout is "Autumn Morning (Just Being There)," which uses Arabic instruments to give the song its unique flavor, particularly in the strings department, although there's some spell-binding wind instrument action, too. I would have to say that this is the brightest song on the album. The lyrics aren't entirely cheerful, but they are beautiful and poetic and I hope they release this one as a single because I could see it doing quite well, being something that would be equally at home on world music stations as it would be on darkwave or electropop stations.
The album concludes with the title track, "Wisdom and Failure," which begins with some rather solemn piano. The fairy-tale-like lyrics tell the story of two ill-fated girls named Wisdom and Failure. Just when you think the song is going to stay mellow and have a rather chill-out vibe throughout, it adds some rather aggressive beats that strike like thunder, commanding your full attention. The lyrics here remind me of Francesca Lia Block, who happens to be one of my favorite authors.
A must-hear album for fans of darkwave, synth pop and electro-pop. Or even indie music in general. But I should say that if you're one of those fatally optimistic people who's always happy then this album is probably not for you. This one is better-suited for those people who know the dark side of the world all too well. To that end, I suppose its dark atmospherics and generally bleak lyrics should especially appeal to the goth crowd and that's not a bad thing at all. At least not in my opinion. And I have a funny feeling that Cynthia and Chris would be happy to count the goth crowd among their fan base. Ultimately, this album could and should be enjoyed by anyone who isn't happy-go-lucky — this is more like David Bowie than Katy Perry.