Easily one of their best songs ever.  Hard-hitting yet perfectly melodious. -Mike
PRESS RELEASE:
THE GLITCH MOB ANNOUNCE 'PIECE OF THE INDESTRUCTIBLE' EP
Out June 9 on Glass Air Records
Listen to, watch & share the video for the lead single
"Better Hide, Better Run (ft. Mark Johns)" HERE
Preorder 'Piece of the Indestructible' HERE
for an instant download of the single
*For Immediate Release: June 2, 2015*
On the cusp of their headlining performance at Austin's X Games alongside Metallica and Nicki Minaj, The Glitch Mob release their new single "Better Hide, Better Run (ft. Mark Johns)," from their forthcoming 3-track EP 'Piece of the Indestructible,' out June 9 on The Glitch Mob's Glass Air imprint.
Inspired by the notion that music can make you feel indestructible and allow for transcending limitations (for example, read the story of Grant Korgan), 'Piece of the Indestructible' is a mix of the stadium-ready style of their recent releases and the more spacey, introspective vibe of their first album Drink The Sea.
"This EP emerged from a period of soul searching about our own music and music itself," say The Glitch Mob. "We realized that music arms people against the dangers, trials, and ups and downs of life. It's like a force field. It's badass, but not merely for the sake of just being tough. There's a purpose there."
Featuring sultry vocals from Moving Castle collective member Mark Johns, lead single "Better Hide, Better Run" takes the classic Glitch Mob sound into the future with its powerful tribal rock-infused electro style. The EP is rounded out by two forthcoming tracks, the intensely cinematic opener "Head Full of Shadows" and the more ethereal closer "The Clouds Breathe For You."
Watch & listen to "Better Hide, Better Run (ft. Mark Johns)" HERE
Preorder 'Piece of the Indestructible' HERE
Upcoming shows include HARD Summer,
 North Coast Festival, & Electric Zoo
Upcoming Spring & Summer Tour Dates:
Tickets and more information HERE
6/5 – Dallas, TX – South Side Ballroom
6/7 – Austin, TX – The X Games
6/19-6/21 – Scheessel, DE – Hurricane Festival
6/19-6/21 – Neuhausen Ob Eck, DE – Southside Festival
6/20 – Wiesen, Austria – Urban Art Forms Festival
6/25 – St. Gallen, Switzerland – Open Air St. Gallen
6/26 – Cluj, Romania – Electric Castle Festival
7/30 – Morrison, CO – HARD Red Rocks
8/1 – Pomona, CA – HARD Summer
8/8-8/9 – Baltimore, MD – Moonrise Festival
8/29-8/30 – Atlanta, GA – Imagine Festival
8/30 – New Orleans, LA – Joy Theater
9/2 – Nashville, TN – Marathon Music Works
9/3 – St. Louis, MO – The Pageant
9/4-9/6 – New York, NY – Electric Zoo Festival
9/4-9/6 – Chicago, IL – Northcoast Festival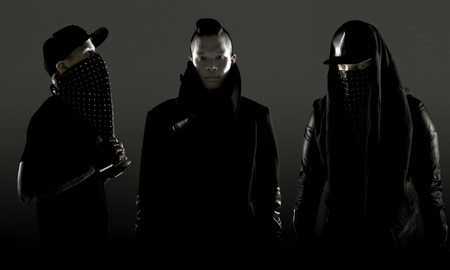 [Photo: Neil Krug]
MORE ABOUT THE GLITCH MOB
2015 has been a huge year for electronic/rock trio The Glitch Mob. First, they released a special remix LP of their #13 Billboard Top LP charting sophomore album Love Death Immortality in February. Next, they were announced as a headliner of Austin's X Games taking place on June 7 alongside Nicki Minaj and Metallica, in addition to co-headlining dates with Chromeo and festival plays at HARD, Sasquatch, and Electric Zoo (all dates listed below).
Following that came the release of their remix of Metallica's "Lords of Summer," which was called "epic, hair-raising and goosebump inducing" by UKF and is now being used as the official anthem of the X Games in Austin. As if all of that weren't enough, they dropped a documentary about their incredible live setup "The Blade," which was over two years in the making and provides insight into the amount of behind-the-scenes work that goes into having such a complex live show. Keep an eye out for 'Piece of the Indestructible' next Tuesday.