PRESS RELEASE:
June 10th, 2014 – Burbank, CA – Grammy-Award winning singer Kimbra will release a new album, entitled The Golden Echo, on August 19th via Warner Bros. Records. The album is available for pre-order on all participating retailers today. Those who pre-order will receive three instant downloads of the album tracks "Love In High Places," "90s Music," and "Nobody But You." A video for "90s Music," directed by Justin Francis (Alicia Keys, The Roots, Gwen Stefani), premiered on Just Jared on June 3rd and can be viewed here.  Slate has already called "90s Music" "an incredibly ambitious, impressive mix of genres" with its bubblegum pop melody, electronically altered vocal, stop-start tempo, and spare hip-hop beat.
The ultimate modern pop record, The Golden Echo is ambitious, sophisticated, and complex, just like its creator. The New Zealand-born singer and songwriter  wrote the songs in her bedroom studio on a farm in the Silver Lake neighborhood of Los Angeles, where she was surrounded by sheep and lambs owned by her landlady. "It was a very humbling experience," says Kimbra, who moved in the day after winning two Grammy Awards, including "Record of the Year," for the No. 1 single "Somebody That I Used To Know" with Gotye.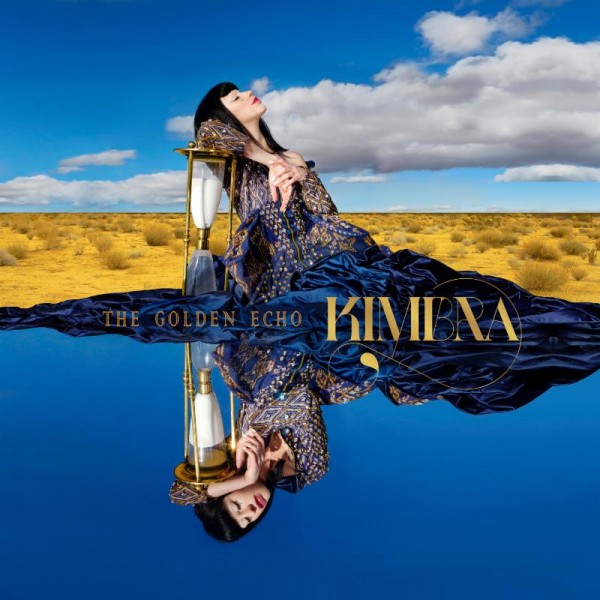 The result of her labors is The Golden Echo, which was produced by Kimbra with Rich Costey (Foster The People, Interpol, Muse), who has been on her dream list of collaborators since she was 15. The lyrics find her grappling with a range of subject matter, from feeling nostalgic about young love on "90s Music," to being caught up in a place of narrowness on "Madhouse," to wanting to run away and make a new life on "Carolina," to the vulnerability that follows succumbing to temptation on "Everlovin' Ya."
Sonically, the album is a riot of genres: '70s disco ("Miracle"), Prince-like funk ("Madhouse"), playful, sing-songy electro-pop ("90s Music"), eerie space-age hip-hop ("Goldmine"), plus an emotionally resonant piano ballad, "As You Are," with a string arrangement by Van Dyke Parks. Her lo-fi bedroom aesthetic is filled out by the playing of the musicians, who include drummer John JR Robinson, (Michael Jackson's main studio drummer),  bassist Thundercat, R&B singer Bilal, Daniel Johns (Silverchair), Queens Of The Stone Age bassist Michael Shuman, and mega-star John Legend. Bonus tracks on the deluxe edition include appearances from Ben Weinman of The Dillinger Escape Plan, The Mars Volta's Omar Rodriguez-Lopez,and Jonas Bjerre of Danish band Mew.
Kimbra also worked on songs with Dave Longstreth and Flying Lotus during the making of The Golden Echo, which are set to be released later in the year.
The Golden Echo is Kimbra's second album. Her 2011 debut, Vows, bowed at No. 14 on the Billboard Top 200 and was certified platinum in Australia and New Zealand. Kimbra exploded into the public consciousness that same year with "Somebody That I Used To Know," a duet with Gotye that earned her Grammy Awards for "Record of the Year" and "Best Pop Duo/Group Performance." The song topped Billboard's Hot 100 chart in 2012 and was the best-selling song of that year in the U.S. It has sold more than 13 million copies.
More about The Golden Echo will be revealed in the coming weeks. The Standard and Deluxe track-listings are as follows:
Standard Edition
Teen Heat
90s Music
Carolina
Goldmine
Miracle
Rescue Him
Madhouse
Everlovin' Ya feat. Bilal
As You Are
Love In High Places
Nobody But You
Waltz Me To Grave
Deluxe Edition
Teen Heat
90s Music
Carolina
Goldmine
Miracle
Rescue Him
Madhouse
Everlovin' Ya feat. Bilal
As You Are
Love In High Places
Nobody But You
Waltz Me To Grave
Slum Love (Bonus Track)
Sugar Lies (Bonus Track)
The Magic Hour (Bonus Track)
https://www.facebook.com/kimbramusic
https://www.youtube.com/user/kimbramusic
https://twitter.com/kimbramusic
http://instagram.com/kimbramusic#