Be

Ben Lee has confirmed a U.S. tour to in promotion of the release if his Warner Bros. Records debut, Love Is the Great Rebellion, which will be released on June 2nd in the U.S. The first single from the album, "Big Love," was released on 7″ vinyl on Records Store Day. Click here to listen!

Love Is The Great Rebellion finds the Sydney, Australia, native returning to his roots in the vein of his 2005 album Awake Is The New Sleep, which went double-platinum in Australia and featured the hit "Catch My Disease."  Lee reunited with Awake's producer Brad Wood to record Love Is The Great Rebellion, who Lee's has worked with over the course of his nine solo albums, including 1995's Grandpaw Would, 1997's Something to Remember Me By, and 2009's The Rebirth of Venus.

Lee recently self-released A Mix Tape From Ben Lee, which is available for download here. Fourteen years in the making, the mixtape features vocals by Zooey Deschanel, Ben Folds, Azure Ray, Sean Lennon, Neil Finn, and others. The Mixtape recordings are available on a "donate what you want" basis, beginning at $1, with all proceeds going to the Q'Ero Project, which supports the basic needs and development of the Q'ero people of Peru.
TOUR DATES:
May 7 The Great Hall Toronto, ON, CAN
May 8 Garrison Toronto, ON, CAN
June 27 World Café Live – Downstairs Philadelphia, PA
June 28 The Hamilton Washington, DC
June 29 Rams Head On Stage Annapolis, MD
June 30 The Sinclair Cambridge, MA
July 1 City Winery New York, NY
July 3 The Ark Ann Arbor, MI
July 5 SPACE Evanston, IL
July 6 Cedar Cultural Center Minneapolis, MN
July 8 Rio Theatre Vancouver, BC, CAN
July 9 Alberta Rose Theatre Portland, OR
July 10 Triple Door Seattle, WA
July 13 The Chapel San Francisco, CA
July 17 Troubadour Los Angeles, CA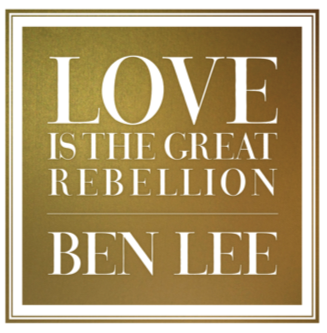 The track-listing for Love Is The Great Rebellion is as follows:
Giving Up On Miracles
Goodbye To Yesterday
Forgiveness
Big Love
Happiness
I'm Changing My Mind
The Body Of Love
Everybody Dies
Everything Is OK
Victory
The Universe Inside
Don't Let The Fire Die
God Is A Fire
Official Ben Lee:
https://twitter.com/benleemusic
https://www.facebook.com/benleemusic