August 9, 2016…After topping the rock charts in 2014 and 2015, The Pretty Reckless returns with their extraordinary third studio album Who You Selling For, due October 21st on Razor & Tie. The new album is the band's anticipated follow up to Going To Hell, which spawned the biggest rock song of 2014 in "Heaven Knows" and a total of three #1 Mainstream and Active Rock hits. The first single from the new album, "Take Me Down," premiered worldwide July 15th on iHeart Radio and impacted at rock radio four days later on July 19th, quickly climbing to #7 on the chart. Listen to the new single:
 Produced by longtime collaborator Kato Khandwala, Who You Selling For is an arresting collection of rock tunes that expand the band's sound to encompass soulful, bluesy undertones, written by front woman Taylor Momsen and guitarist Ben Phillips. This raucous 12-track collection puts Momsen's dark lyrics and raw, charismatic vocals on full display while the band delivers at full intensity with a level of musicianship that raises the bar.
 Formed in 2009, The Pretty Reckless released their debut album Light Me Up in 2010 scoring legions of fans worldwide, but it was their sophomore record Going to Hell that positioned the band to become the first new artist to breakout of rock in years, debuting in the Top 5 on Billboard's Top 200.  Achieving three #1 Rock hits – "Heaven Knows," "Fucked Up World" and "Follow Me Down" – was a feat that has not been accomplished by a female fronted group since The Pretenders in 1984, nearly a quarter of a century ago.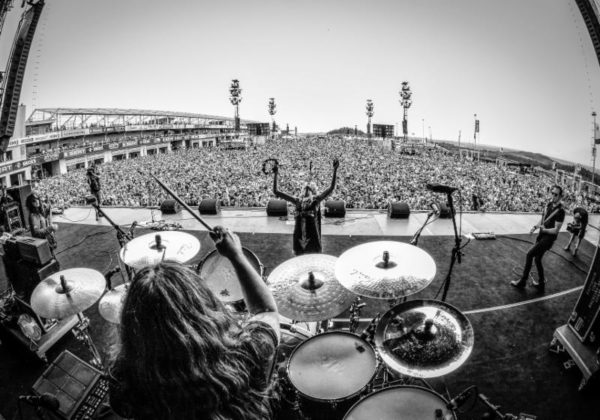 Despite feeling the physical and emotional demands from their epic two-year run supporting Going to Hell, Momsen and Phillips jumped right into writing the songs for the new album. "We had so much we wanted to say, it was like shaking a can of soda on tour, and then when we started writing we cracked the seal," says Momsen. "The touring life is very isolating. You look at the world through a bus or airplane window. But music is the healing factor. It's the one thing that is grounding and a true companion through the forest. It saved us – again."
 With Who You Selling For the band continues to take bold steps forward, cementing their place at the forefront of rock. The deeply personal album features a diverse set of standout tracks, from the blistering hard rock of "Oh My God" to the classic southern rock of "Back to the River". Lead single "Take Me Down" features Taylor's distinctively smoky voice rolling over '60s – tinged rock guitar. Loudwire says, "'Take Me Down' features a bit of rasp and a soulful delivery from Momsen, while guitarist Ben Phillips gets a solid mid-song riffing showcase that raises the track to a new level.  Add in some backing organ playing and you've got a blistering new song from the band."
 The band will hit the road this fall in support of the album and will run through major US cities such as Chicago, New York and Nashville before wrapping on December 6th in Los Angeles. Tickets go on sale to the public Friday August 12th at 10 AM local time. Please visit The Pretty Reckless for complete info.
| | | |
| --- | --- | --- |
| October 20 | Tulsa, OK | Brady Theater (Wizard World) |
| October 22 | Elverta, CA | Discover Park (Aftershock Festival) |
| October 23 | Las Vegas, NV | House of Blues |
| October 24 | Scottsdale, AZ | Livewire |
| October 26 | Lubbock, TX | Wild West |
| October 27 | Dallas, TX | Gas Monkey Live! |
| October 29 | New Orleans, LA | City Park (Voodoo Festival) |
| October 30 | Houston, TX | House of Blues |
| November 1 | Atlanta, GA | The Buckhead Theatre |
| November 3 | Ft. Lauderdale | Revolution Live |
| November 4 | Orlando, FL | House of Blues |
| November 5 | Destin, FL | Club LA |
| November 7 | Nashville, TN | Cannery Ballroom |
| November 10 | Detroit, MI | St. Andrews Hall |
| November 11 | Chicago, IL | House of Blues |
| November 12 | Cleveland, OH | House of Blues |
| November 13 | Toronto, ON | The Phoenix Concert Theater |
| November 15 | Boston, MA | Paradise Rock Club |
| November 16 | New York, NY | Terminal 5 |
| November 18 | Baltimore, MD | Rams Head Live! |
| November 19 | Niagara Falls, NY | The Rapids Theater |
| November 21 | Omaha, NE | Sokol Auditorium |
| November 22 | Clive, IA | 7 Flags Event Center |
| November 23 | Minneapolis, MN | Myth Live Event Center |
| November 25 | Green Bay, WI | The Sandlot Entertainment Complex |
| November 26 | Sioux City, KA | Anthem @ Hard Rock |
| November 28 | Denver, CO | The Ogden Theatre |
| November 30 | Salt Lake City, UT | The Depot |
| December 1 | Boise, ID | Knitting Factory |
| December 2 | Seattle, WA | The Showbox |
| December 3 | Portland, OR | The Roseland Theater |
| December 6 | Los Angeles, CA | Mayan Theatre |