Swedish progressive rock/metal innovators Pain of Salvation have announced a very special reissue version of their classic 2002 album "Remedy Lane" entitled "Remedy Lane Re:visited (Re:mixed & Re:lived)" for July 1st, 2016 via InsideOutMusic.
With this release, Pain of Salvation re-visit their ground-breaking and genre-bending "Remedy Lane" album by teaming up with old companion and mixing engineer wizard Jens Bogren at Fascination Street Studios (Opeth, Symphony X, Devin Townsend, Haken, etc.) for a new sonic take on the original recordings as well as the intense full-album live performance from ProgPower USA Festival from 2014.
Both these "Remedy Lane" recordings will be made available either together as 2CD Digipak format dubbed "Remedy Lane Re:visited (Re:mixed & Re:lived)" with a total playing time of 142 minutes or individually as Gatefold 2LP (+ Its corresponding album as bonus CD) or Digital Download versions, respectively called "Remedy Lane Re:mixed" (Playing time: 68 min.) and "Remedy Lane Re:lived" (Playing time: 74 min). The releases will come with revised artwork, expanded booklet design and extensive liner-notes by Daniel Gildenlöw.
Pain of Salvation's Daniel Gildenlöw commented as follows about the re-mix project:
"Jens Bogren, aka Fascination Street Studios, approached us a few years after the release of "Remedy Lane", saying he was a fan of the band and kindly offered his services. He was later involved in "BE" and "Scarsick", but always in the periphery, since we were taking new directions in our sound and production by then. His true strengths lay in that impressive wall-of-sound type production that we had been aiming for with "The Perfect Element" and "Remedy Lane", and I always wondered how those albums would have sounded in the care of his skillful hands. Maybe it was time to find out?"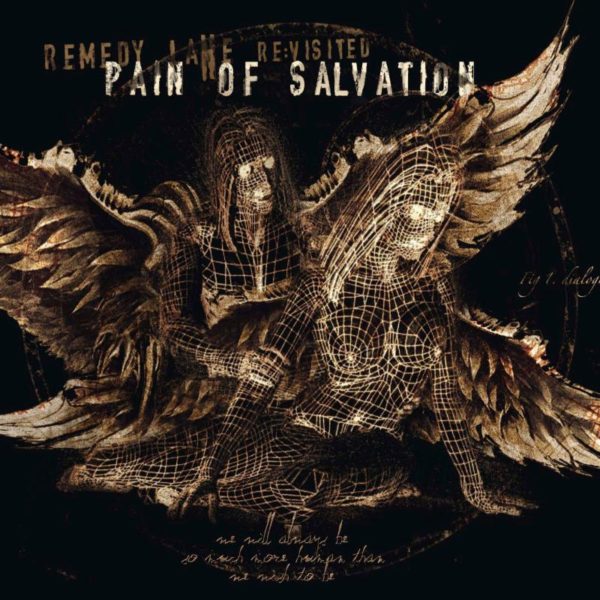 More details about pre-order start for this release (and its various vinyl options) will be available in the coming weeks.
In the meantime, we can also bring you the great news that Pain of Salvation are currently working on a new studio album release together with acclaimed producer Daniel Bergstrand (In Flames, Meshuggah, Strapping Young Lad, etc.) at Dug-Out Productions in Sweden.
The album will be entitled "In The Passing Light Of Day" and is expected to be released later in the year via longtime label-partner InsideOutMusic.
Daniel Gildenlöw checked in with the following status report:
"For those who don't already know, we are currently deep into recording the new Pain of Salvation album "In the Passing Light of Day" with brilliant producer Daniel Bergstrand. This cooperation feels like a match made in heaven (or rather some other cool place that I actually believe in), and he was as thrilled to be working with us as we with him. The album will see us go back to our heavy roots again, with a vengeance, and we all feel that we are writing a super strong new chapter in the history of the band. Just wait and you'll see. Damn, we just want everyone to hear this stuff already! :)"
Pain of Salvation have furthermore announced a few selected festival appearances for this summer:
Pain of Salvation – Live 2016:
28.07.2016 Breitenbach / Herzberg (Germany) – Burg Herzberg Festival
30.07.2016 Sibiu (Romania) – ARTmania Festival
More dates to follow soon…
Look out for more news on Pain of Salvation and their upcoming releases soon…
INSIDEOUTMUSIC online:
INSIDEOUTMUSIC Spotify Playlist: