PRESS RELEASE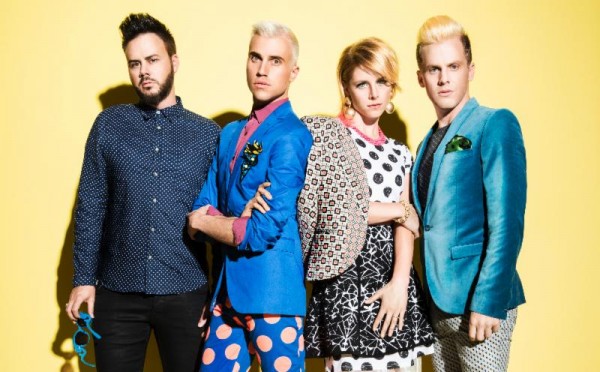 LOS ANGELES, CA – August, 18 2014 – Neon Trees will kick off the "First Things First Tour" with a trio of California shows, playing Bakersfield's Majestic Fox Theatre on September 29, The Observatory in Santa Ana on September 30 and Santa Clara's Leavey Center on October 1. The run will include  a two-night stand at Island Resort & Casino in Harris, MI (October 17 & 18). No Devotion, Echosmith, The Moth and the Flame and Fictionist will open on select dates. See below for itinerary. While on the road, Neon Trees will also play numerous festivals and radio shows, including the Corona Festival in Mexico City (October 12) and the Life Is Beautiful Festival in Las Vegas (October 24). Tickets for the "First Things First Tour" will go on sale this Friday, August 22.
The multi-platinum group is touring in support of its new album, 
Pop Psychology
(Island Records), which debuted at No. 6 on The 
Billboard
200, at No. 1 on the iTunes Alternative Album Chart and within the Top 5 of the Overall iTunes Album Chart. 
"[Neon Trees'] sharp, colorful modern pop has never sounded smarter," said Rolling Stone
and ABC News praised it as "an upbeat collection full of vigor and bounce."
"Sleeping With A Friend," the first single from Pop Psychology, has been certified Gold by the RIAA. "Just try resisting this throbbing, affable single," said Entertainment Weekly and USA Today named it "Song of the Week." "Sleeping With A Friend" – which is a Top 10 hit at both the Alternative and Hot AC formats and #15 at Pop radio – can be purchased HERE on iTunes and the official video can be viewed HERE.
Neon Trees have also won stellar reviews for their live shows. "I can't imagine a concert with more energy or meaningful interaction with the audience," said the Chicago Tribune's "The Mash" while Q Magazine predicted that the band would "have Summer Festival crowds reaching for the sky." The Press of Atlantic City hailed Neon Trees as "a great live band" and RVA Magazine praised the group's recent Richmond, VA show as "truly unforgettable and inimitable…there will never be another show quite like this one."
The band performed in New York City's Rockefeller Plaza last Friday as part of the "Toyota Concert Series on TODAY." You can view highlights from the concert, which aired live on NBC's "Today," HERE.
Neon Trees – comprising Tyler Glenn (lead vocals, keys), Chris Allen (guitars), Branden Campbell (bass), and Elaine Bradley (drums, vocals) – recorded Pop Psychology in Cabo San Lucas, Los Angeles, and their hometown of Provo, UT with longtime collaborator Tim Pagnotta. The album, which is available on iTunes HERE, is the follow up to 2012's Picture Show, which featured the RIAA double platinum single "Everybody Talks," which charted in the Top 10 of the Billboard Hot 100. Neon Trees' debut album, Habits, was released in 2010 and featured the double platinum smash single "Animal." The band has toured with Taylor Swift, The Killers, Maroon 5, Duran Duran, Flaming Lips, My Chemical Romance, among others.
All pertinent links here:
View official "Sleeping With A Friend" Video HERE
Purchase "Sleeping With A Friend" HERE 
View "TODAY" performance: HERE
Purchase Pop Psychology HERE
NEON TREES FALL 2014 TOUR DATES
9/28 – San Francisco, CA @ Golden Gate Park – radio show
* 9/29 – Bakersfield, CA @ Majestic Fox Theatre
* 9/30 – Santa Ana, CA @ The Observatory
* 10/5 – Phoenix, AZ @ The Orpheum
* 10/6 – Albuquerque, NM @ Sunshine Theatre
* 10/7 – Boulder, CO @ Boulder Theatre
* 10/9 – Omaha, NE @ Sokol Auditorium
10/12 – Mexico City, MX @ Corona Festival
10/16 – New York, NY @ FRESH-FM show
+10/17 – Harris, MI @ Island Resort & Casino
+10/18 – Harris, MI @ Island Resort & Casino
* 10/21 – Wichita, KS @ Cotillion Ballroom
* 10/22 – Oklahoma City, OK @ Diamond Ballroom
10/24 – Las Vegas, NV @ Life Is Beautiful Festival
^ 10/27 – San Antonio, TX @ Aztec Theatre
^ 10/28 – New Orleans, LA @ Civic Theatre
^ 10/29 – Jacksonville, FL @ Florida Theatre
10/31 – Austin, TX @ KAMX radio show
^ 11/2 – Asheville, NC @ Orange Peel
^ 11/4 – Birmingham, AL @ Iron City
^ 11/5 – Chattanooga, TN @ Track 20
^^ 11/7 – Lafayette, IN @ Elliott Hall of Music at Purdue University
11/8 – Sioux City, IA @ Hard Rock Hotel & Casino
* No Devotion & The Moth and the Flame supporting
+ No Devotion supporting
^ Echo and Fictionist supporting 
^^ Fictionist supporting