PRESS RELEASE
IN SUPPORT OF ONE BOSTON DAY, 
BOSTON CALLING WILL DONATE 25% of TICKET SALES ON
APRIL 15, 2015 
TO FOUR DIFFERENT ONE FUND CHARITIES
WHAT: Boston Calling Music Festival is among the many local businesses standing behind One Boston Day, Mayor Walsh's newly announced, city-wide tradition that honors the resiliency, generosity and strength of the city and recognizes the city's response to the loss and the tragedies of April 15, 2013.
Boston Calling will donate 25% of proceeds from all tickets purchased this Wednesday, April 15, 2015 to four of the One Fund Boston recognized charities, created in honor of marathon bombing victims: The Martin W. Richard Charitable Foundation, Krystle Campbell Memorial Fund, Lingzi Foundation and Sean Collier Memorial Fund.
WHEN: Wednesday April 15, 2015; between 12:01am and 11:59pm
TICKETS: Tickets are available for purchase at www.bostoncalling.com
General Admission Three-Day passes are $175. Two-Day, Saturday/Sunday General Admission Tickets are $135 and Two-Day, Saturday/Sunday VIP Tickets are $350.  Single Day Tickets for Saturday and Sunday are $75 for General Admission and $185 for VIP. Three-Day VIP Tickets as well as Single Day VIP Tickets for Friday are sold out.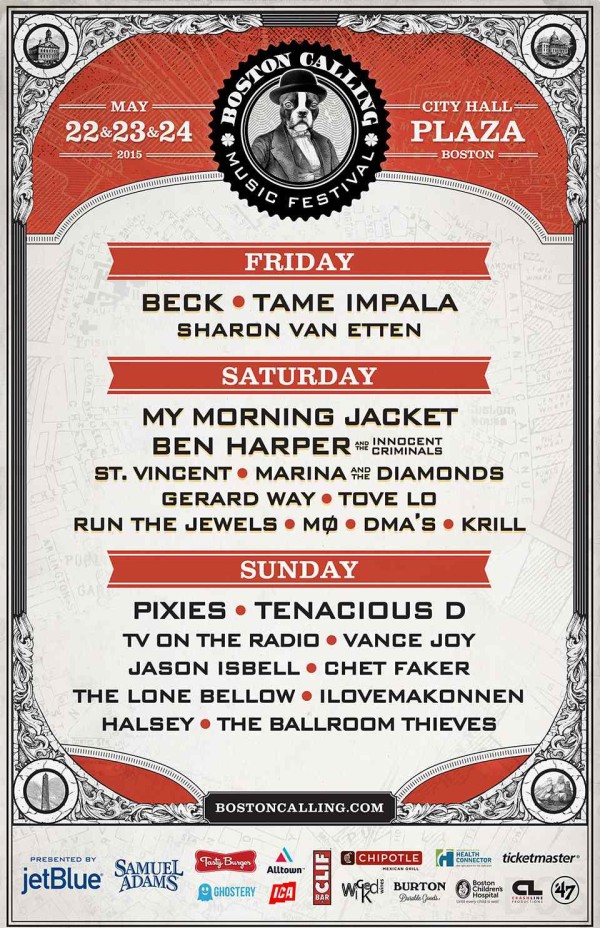 ABOUT: Boston Calling returns this May 22, 23 and 24, 2015, and marks the fifth edition of the bi-annual music festival, held at Boston's City Hall Plaza [One City Hall Square, Boston, Massachusetts]. Continuing to showcase a wide spectrum of some of the world's leading musical artists, Boston Calling's May 2015 festival will be headlined by Beck, whose most recent album Morning Phase is nominated for Album of the Year at next month's Grammy Awards, alt-rock legends the Pixies, returning to their hometown to perform, and psychedelic southern rockers, My Morning Jacket.   www.bostoncalling.com.