interview by Michael McCarthy
One of the last heavy metal bands to make it big before grunge exploded and decimated the scene was a group out of Paramus, New Jersey called Trixter. The band's self-titled debut came out in 1990 and their biggest hit, "Give It to Me Good," was number one on MTV's daily request show, Dial MTV, for not one or two but five weeks straight. The follow up single, "One In A Million," also did very well for them, and the band did a hugely successful tour as one of the opening acts on Warrant's Blood, Sweat & Beers tour along with FireHouse. It was the show to see during the summer of '91 and was even a popular pay-per-view special. The band's guitarist, Steve Brown, is currently the creative genius behind the supergroup Tokyo Motor Fist, which features Ted Poley of Danger Danger fame on lead vocals and with Greg Smith (Rainbow, Alice Cooper) on bass and Chuck Burgi (Rainbow, Blue Oyster Cult) on drums. When Steve isn't busy with the fist, he's Def Leppard's substitute guitarist for Vivian Campbell when Campbell needs time off, as he's had an on and off battle with cancer spanning decades. Steve also keeps busy with his '80s cover band, Rubix Kube, as well as doing things like mixing records for other artists. We discuss all of this and more in the following interview. Enjoy!
MM: I remember Trixter was from Jersey. Are you still based out of there?
SB: I am, man. We're in Northern New Jersey. The mountains of Northern New Jersey.
MM: How are you guys doing with the pandemic right now?
SB: We seem to be doing fine, you know? The governor kind of pulled back. We were supposed to get the green light to let restaurants have some indoor dining but that's been put on hold but we've been very diligent. I'm about 30 miles outside of New York City so we're kind of in the epicenter of it all.
MM: What were your plans for this year before the pandemic struck and how have they changed?
SB: That's a great question. We had a lot of plans. Thank God, Tokyo Motor Fist, we just got off of the Monsters of Rock Cruise. We did two great shows on that in February. And we just finished the record. Bruno Ravel of Danger Danger and The Defiants mixed the record with me. I've gotta give a shout to him for doing a phenomenal job. We just delivered the record about a week before the pandemic broke out. So, thank God, we got that in. And we had a bunch of shows booked. We had tentative dates booked for Japan for November. So, we were looking forward to a very busy year. Plus, all the other bands that I'm involved with. I'm always in the Def Leppard camp. I'm always in the bullpen with them. I'm on 24-hour call. We were supposed to have our biggest touring year in rock 'n' roll history. So, wow, amazing what can happen. And thank God for myself and my family and friends, we're all happy and healthy and safe here up in Jersey. And I'm hoping that everyone out there around the world, that you're all doing OK because that's the most important thing right now.
MM: I know a lot of the heavy metal bands still tour when there isn't a pandemic going on, but I can't recall the last time I heard of Trixter doing a show. Is the band broken up or on hiatus?
SB: The band is on hiatus right now. PJ and I have been playing with Eric Martin from Mr. Big for the last four years. We've been doing like a Trixter and Mr. Big greatest hits show. And that's been really good. We have some internal problems within the Trixter organization, but it's been sort of resolved. Honestly, look, if some people don't want to play live and that's really what it comes down to – somebody doesn't want to get on a plane or somebody has a problem with how much money they're making – then fuck it. If it's not fun for me, I don't need it. I've been blessed with a very successful career. Money comes secondary to me. I have to be happy first. And that's where the Trixter situation is. Most importantly, with Trixter we're celebrating the 30th anniversary of the debut album. So, I'm working with Universal Records right now, trying to get the master tapes, trying to get the licensing to do a remixed, remastered, deluxe edition if you will. And that's really it. I don't know what the future is. I'm so busy with other bands that it's a non-issue. The last show that Trixter did was March of 2017. So, it's been a while. I don't think it's a secret that there are some internal problems. But, hey man, it's rock 'n' roll and being in a band ain't easy so it is what it is.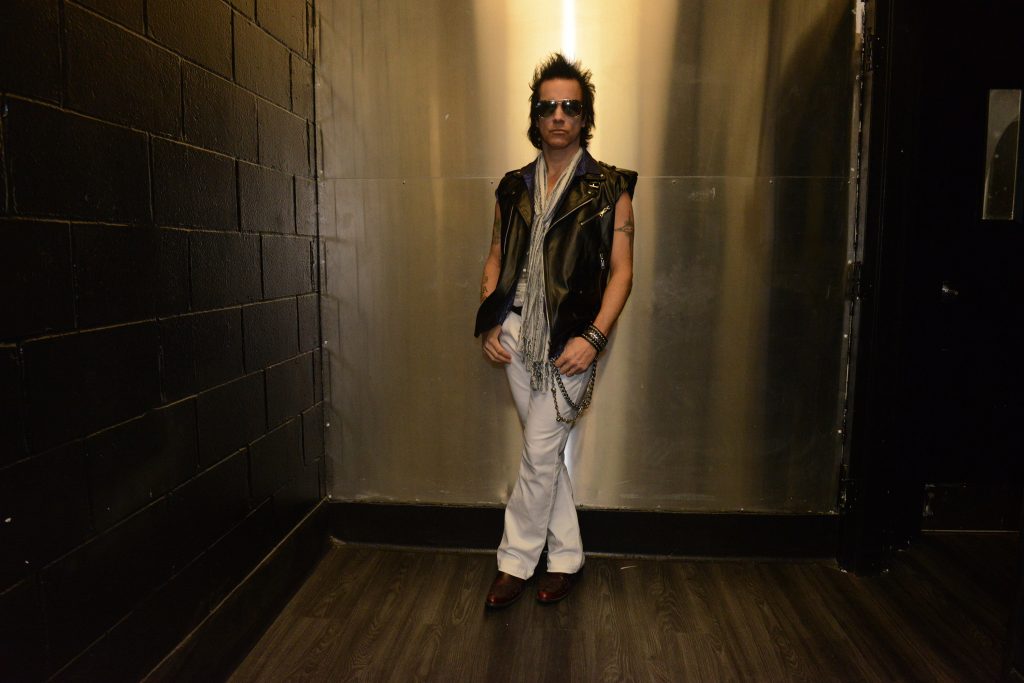 MM: I love the name Tokyo Motor Fist, by the way. Whose idea was that?
SB: Well, that was mine. I have a long line of fun band names, going back to Trixter. I named the band. I own the trademark and what not. And after Trixter I had Throwing Rocks, Forty Foot Ringo, I think you'll probably remember. I'm a big believer – it kind of goes back to the old Kiss days. Gene Simmons was a big name guy. He always said you have to have a powerful name. He said make sure you trademark it and make sure you put a cool logo together. Tokyo Motor Fist came about when I formed the band with Ted Poley with Frontiers Records. They came to me with the idea. I came up with the name and it came out of three things. My love of Japan and Tokyo in particular. I always thought that was cool. And Motorhead. My old friend Lemmy from Motorhead with the coolest band name in history. Motorhead. That's the greatest rock 'n' roll band name ever as far as I'm concerned. So, wow, how cool is that? I put Tokyo and Motor together and I said the music is gonna be melodic but it's gonna be tough. What's tough? Hey man, rock 'n' roll, fists in the air. So, Tokyo Motor Fist. I wrote it down, typed it up, sent it out on an E-mail, sent it to Frontiers and I sent it to Chuck Burgi and Greg Smith and Ted Poley, the band, and I said check this name out. And nobody laughed. And I was like, well, then there we go. If nobody's laughing, I think we've got a cool name.
MM: Was the concept for the band dreamed up by Serafino over at Frontiers?
SB: Yeah, kind of. We all know Frontiers is a big supporter of all things melodic rock and they're really into putting these so-called supergroups together. So, he approached me about it. I think it was a knee jerk reaction to Bruno and Paul Laine and Rob Marcello doing The Defiants. It's easy for them. OK, we're not getting a new Danger Danger record so let's get Steve and Ted together and do a record. And it was perfect. Ted and I have known each other since we were young. Since we were teenagers. It was a marriage that was bound to happen at some point and it did and I couldn't be more thankful for it because I love being in this band. And being the producer and musical genius behind it, if you will. We're having a great time with it. Again, we're a real project. This isn't a fake thing or a cash grab. We're out playing shows. We've played six or seven shows, you know. It is a real, real band, Chuck and Greg and Ted and myself. We all get along like brothers so it's really easy and, most of all, it's fun.
MM: That's cool that you do some shows. So many of those dream projects that they put together at Frontiers never play live. So, that's cool that it's a real thing.
SB: It is. And I get it, man. For some of the bands, it's logistics. And Frontiers needs to put out X amount of records a year so that's what they do. Whatever. But at least the fans know that T.M.F. is a real deal project and there's a good chance you'll get to see us live at some point.
MM: Have you ever played the Wolf Den at Mohegan Sun Casino in Connecticut, being from the North East?
SB: Not with Tokyo Motor Fist, but I've done it with Trixter and I do it quite often in this great 80s band – PJ from Trixter and I play in this great 80s band called Rubix Kube and we play up there a lot. I love it. It's one of my favorite venues. The people up there are great. In general, man, you guys in New England are some of the greatest rock 'n' roll fans. Always been a huge, huge market for Trixter back in the day. Big supporters of us.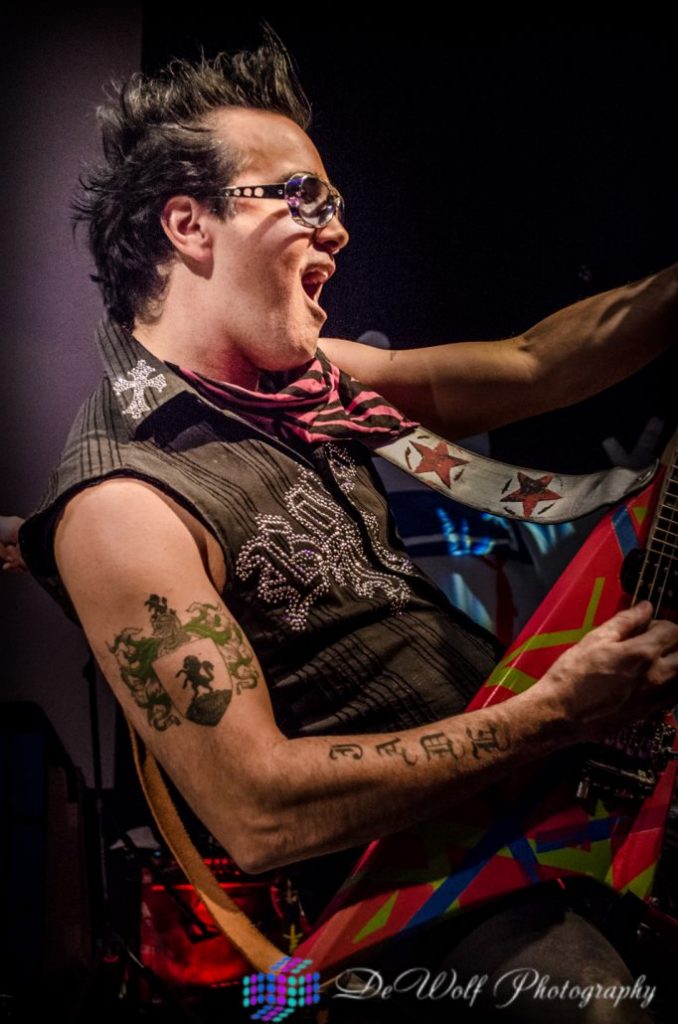 MM: It's funny because I've seen the ads for Rubix Kube but I didn't know that was you guys. I'll have to go see you guys whenever that resumes.
SB: Yeah, man, that would be great. We're supposed to do – rumor has it, at Gilette Stadium outside of Foxborough – they're gonna be putting together a series of outdoor shows in the parking lot and I think we're slated to play there August 22nd. So, just look out for that and reach out to me. I've love to meet you and hang. I think you'll love a Rubix Kube show.
MM: What do you guys do?
SB: It's an eighties show so we do the costumes. It's a little like Steel Panther back in the day but we love all of the eighties. So, we have a female singer, Cherie, and a male singer, Scott, and we do everything from Madonna to Michael Jackson to a-Ha and everything in between. And the fans love all the eighties hard rock and we do the best. The Bon Jovi, the Def Leppard, Quiet Riot, Twisted Sister sometimes, Journey. It's awesome. It's so much fun. As I like to say, it's a totally awesome, radical show. [Laughs]
MM: Tokyo Motor Fist's songs are all so strong that I'm surprised Frontiers doesn't have you writing songs for other artists on the label. Have they ever proposed that?
SB: Not yet, man. As you know, I've been a producer and songwriter for well over 30 years. I've had my own studio in my house for decades. But it's just never come about. Budgets aren't what they used to be so I'm sure it's a money-related issue, but for anybody listening, I'm always available. Reach out to me if you want. I love to make records and being in the studio as much as I love playing live. Mutt Lange, Bruce Fairbairn, huge influences on me. Great producer/songwriter guys. Desmond Child. I love all that stuff. As much as I love playing in front of the audience, I love to be down in my studio creating as well.
MM: Did you co-write the Tokyo Motor Fist songs with Ted or did you write them all by yourself?
SB: I write them all myself. Going back to the Trixter days, I'm not good in democratic situations, if you know what I mean. I'm a strong personality if you can get that. As you can see, I'm part-time with Def Leppard, but how I live my life, I'm a full-time lion. That's where the title of the new record comes from. But, no, I've always been the creative force behind everything I'm in. I can't sit back and let other people do things. It's just the way it is. So, with Tokyo Motor Fist, the way I write the records, as with most of the Trixter stuff, basically I make a solo record. I don't make demos. I finish the songs. I program the drums. I play keyboards. And I sing. Play the guitars. And then what I do is I give the guys a finished version of the song and I tell them, first off, listen to the song and tell me if you like it. Thank God, everything that I wrote, everybody loved, including the record company. The first song that I wrote for the record is "Young Blood." And when I sent Ted the track – my work track, as I like to call it – he wrote me back and called me and said, "Dude, this is the best song I've heard in my life!" "Decadence on 10th Street" came second. There's one song on the record, "Winner Takes All," the last song on the record, which was written 38 years ago by Chuck Burgi, but I took it, changed some things around, made it more modernized, and made it more Tokyo Motor Fist. Ted actually changed some of the melody. That's the only song in Tokyo Motor Fist history that's a true collaboration between three members of the band. But the way I do it is I give the guys a song, and I say to them, I want you to take this song and take it to the next level. Put your stamp on it. And that's what makes it a band effort. And that's very important. That people know that. As much as I'm the producer/engineer/songwriter, everybody is given their creative freedom to do what they want. Nine out of ten times, everything the guys contribute to the songs makes the record. There will be something where I'll go, "Man, that bass part wasn't good." Or not that it wasn't good, I wasn't looking for that vibe or something. So, that's it. We've all been making records long enough to where we all understand that at the end of the day my goal, the band's goal, and Frontiers Records' goal is to give our fans the best record that we possibly can. And that's what we did with Lions.
MM: Definitely. It's one of those albums where any song on it could be a hit single.
SB: Thank you for saying that. Because I'm a big believer in the full album. I still am a kid in that sense. I still love to listen to a full record. And I believe that every song counts. There are a lot of bands putting out records, especially on Frontiers, where there's one or two good songs and the rest is a pile of garbage. It's all about the full record. Eleven great songs. Not two great songs and nine OK songs. Eleven great songs. And both of the Tokyo Motor Fist records and the last two Trixter records, Human Error and New Audio Machine, same thing. Track-for-track, every song is great in my opinion.
MM: I just listened to New Audio Machine for the first time yesterday. I hadn't been aware that that one existed until then. It wasn't on Spotify, but somebody put it on Youtube so I found it on there. I really liked it.
SB: It's not on Spotify because I got the rights back to it. I'm gonna be remastering and re-releasing it under my own record label, probably in November.
MM: Nice. So, getting into the new songs, I'm thinking there must be a story behind "Decadence On 10th Street." What can you tell us about it?
SB: One of my favorite songs on the record. It's the second song I wrote and it's definitely a hailing and a major tip of the hat to the reason that I play guitar and one of my biggest influences and my friend, Edward Van Halen. Ted Templeman and Van Halen and Aerosmith. The song, lyrically, it's about all of our love and fascination for the glamour and the dark side of rock 'n' roll. The Behind the Music documentaries. The real TV. I'm a sucker. I love all those documentaries on Netflix and Amazon Prime. I love to learn about the dirt. And Motley Crue, The Dirt, that movie, you know. Look, man, I was out on the road. I lived a lot of those situations that you see. And so it's kind of my way of giving people that because I know all my friends love those books. We trade autobiographies. So, if you listen to the lyrics, it starts off and it's got a little reference to Eddie Van Halen and Sammy Hagar. Steven Tyler and Joe Perry. The shit that goes on within bands, you know? The rock 'n' roll. The glamour. The decadence. Musically, total Van Halen. You've got a little Mr. Big in there. Great riffs. People have been telling me they hear an Extreme vibe. So, for all the New England people, we love Extreme. Nuno is one of my good friends. I love that guy. So, it's just a fun, old school rock 'n' roll song. It has probably one of the best guitar solos I've ever played in my life. I'm so proud of it. The guitar geeks are gonna go nuts. Bruno Ravel from Danger Danger and I mixed the record and we really spent a lot of time trying to nail that Van Halen 1 guitar sound. I used Eddie's Phase 90 pedal. It kind of takes you back to a time that doesn't exist anymore.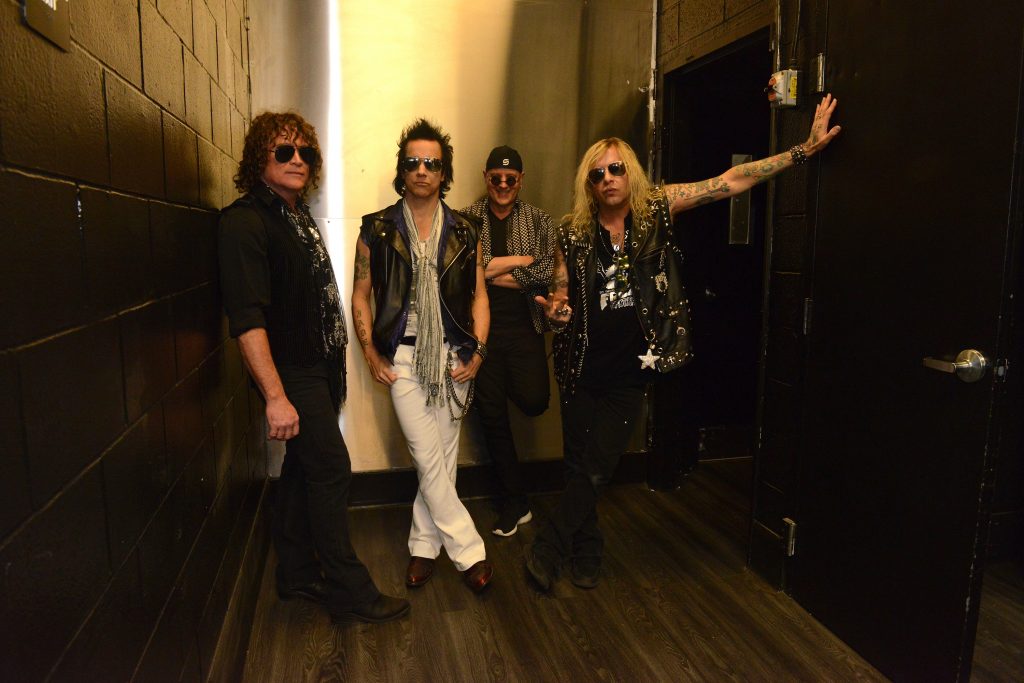 MM: I was also wondering if you could talk a little about "Lions" and "Dream Your Heart Out." Those are my two favorites.
SB: Yeah, well, "Lions," of course, the title track. How fitting are the lyrics for the times we're living in now, huh? Amazing. The world is in chaos. The rats are running the race. The streets are on fire. Evil has a new face. I wrote that song a year ago. That was the song that kind of changed the direction of the record for me. And I knew we had something that was musically important, of course, but it also has a little bit of a social [theme]. An important message. And, again, this record, and what I always try to do, is exude positivity because there's so much negativity in the world.
MM: Nothing wrong with that.
SB: I'm not a political guy in any way, shape or form. And with this record, I want people to see that no matter how bad things can be in life, you can find a way out of it. And the song "Lions" is kind of a cry. Kind of a chant. For all of us in humanity. That we can band together and make a change to make the world a better place. I honestly believe that that's gonna happen in a couple years. So, "Lions" is probably the most grandiose song I've ever written. It's what I like to call my "Bohemian Rhapsody." A little tip of the hat to Freddie and Brian May and the Queen guys.
MM: I can see that.
SB: I was really inspired by my good friend Dennis DeYoung from Styx, who also plays the keyboard solo on "Lions." That's who's playing that synth solo. I've been filling in with Dennis for the last five years in his band, playing for both of his guitar players when they've had to sit out from some gigs and Dennis has become a dear friend of mine. I wrote this song because I fell in love with playing "The Best of Times" with Dennis. I think that song is one of the greatest pop rock songs of all-time. I said, I want to write a song like that. And that was my answer to it. I played all the keyboards on it and when I finished it, I said, this song needs something different. It doesn't need a rock guitar solo. It needs something unique. I've got real strings on it. I had my good friend Michael Hunter, who plays with Rubix Kube, do real violin and a string arrangement on it. And I got the idea, let me ask Dennis if he'll play a solo. And he was gracious enough to say yes. I sent him the song. He was like, this is a great song. The other thing is, it's six and a half minutes.
MM: It definitely has an epic vibe.
SB: It's very bold. It takes you back to the '70s when bands weren't afraid to put out a seven-minute song. I was like, fuck it, I don't care. And, to me, the song never gets boring. It keeps building and building and building. It's the boldest song I've ever written in my career. I'm really, really proud of it. I can't wait for everybody to hear it. And "Dream Your Heart Out," let's go to that. Another first for me. It's the first time I've ever written guitar riffs with the harmonic minor scale. And I've gotta give a shout out to my years playing with Joe Lynn Turner and Ritchie Blackmore. Playing the Rainbow stuff. And playing with the Joe Lynn Turner band. That gave me that influence. I was a huge Rainbow fan when I was a kid. And Joe, we grew up in the next town. So, when I was a little kid I used to ride my bike to Joe's house and give him Trixter demo tapes. And he would give us advice. And he's still a dear friend. And I love him so much and I've played in his band. But that was a direct influence. You can definitely hear a Euro thing on "Dream Your Hear Out." It shows the real musicality and the chops of the band. Great jump drumming by Chuck Burgi, Greg's bass line, Ted's vocals. And there's some incredible guitar work on there. I can't wait for the shredders out there to hear it.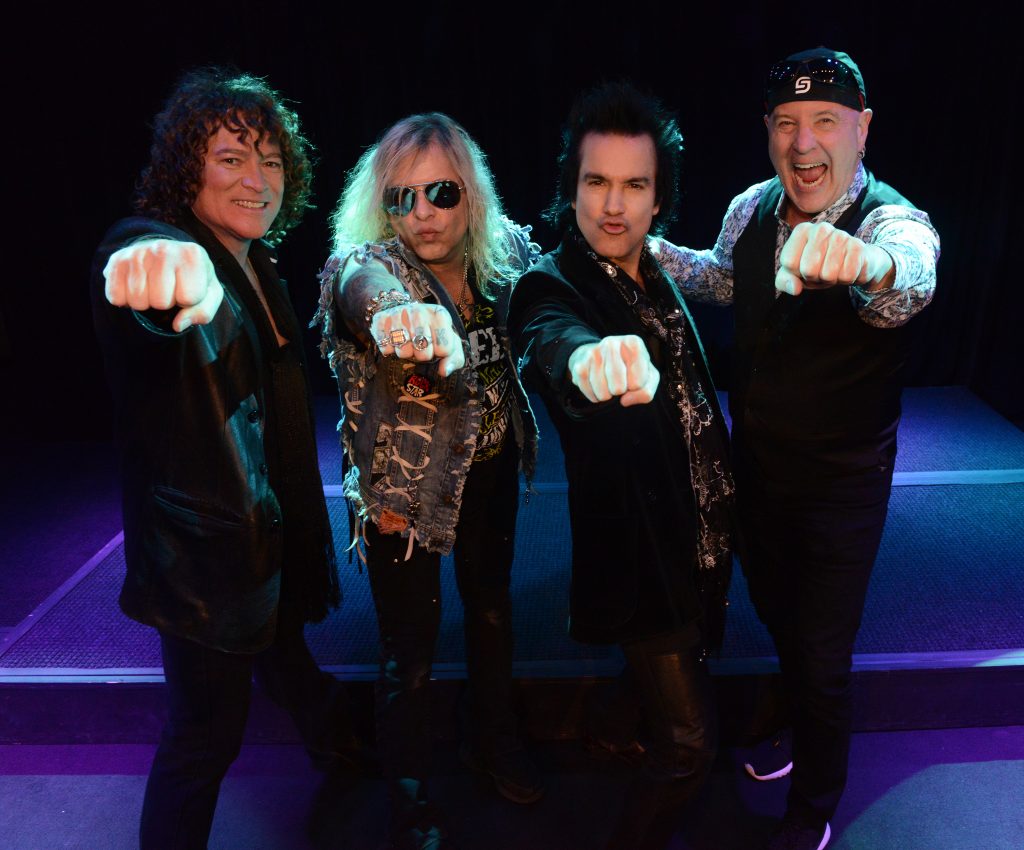 MM: How does the writing process usually work with you? Do you start with a riff or a title or how does the magic happen?
SB: It happens in many different ways. Just what you said. Sometimes it comes with a riff. Sometimes it comes with a title. Some of it lately, I'm kind of at a point in my career of 30 years of making records where I hear a groove in another song and I kind of make a checklist. I go, what kind of a song haven't I written? Again, with "Dream Your Heart Out," I did the harmonic minor scale. I never had that. So, it was a goal of mine, you know? Like a song like "Lions." I want to do things that I've never done. So, a lot of it reverts back to the basic element. An acoustic guitar and a vocal. Me picking up the guitar and just starting to sing and I'll put some chords together and I'll go, oh, that's cool. And then I take it somewhere. "Decadence On 10th Street," that riff, that main riff, the intro, I've had that for probably 20, 25 years. "Sedona" was a riff I've had for 30 years. I was playing that riff on the first Trixter tour during soundcheck. It took 30 years to finally get it released, but better late than never. There are too many variables, but at the end of the day, for me, the song always goes back to the acoustic guitar and the vocal. And I think any one of my songs that I've written during the past 30 years, if you put them in that format, they're still great songs. Even the heavy guitar rockers. Even a song like "Decadence On 10th Street," which is very guitar-based, if you play it just acoustic, it's still a cool, fun song. Just like "Lions." If you take away all the strings and all the keyboards and what not and just play it on an acoustic guitar, it's still a great song. That's always the litmus test for me.
MM: I know Frontiers likes to put a bonus track on their Japanese releases. What's the bonus track on the new album?
SB: It's an acoustic version of "Lions." We all felt that that song needed to be showcased. So, we did a stripped-down version. Took out the distorted guitars and left it like that. It's a really neat presentation of the song. It's a beautiful song and it works in any way that you do it. I'd like to put out just a keyboard version it, which I might do at some point.
MM: And was there a bonus track on the Japanese version of the first Tokyo Motor Fist album?
SB: Yeah. I think it was an acoustic version of "Don't Let Me Go," which was another big ballad.
MM: So, regarding Def Leppard, were you going to be playing with them on that big tour if that had happened this summer?
SB: Well, I'm always a part of whatever they do. I'm on 24-hour call with them for when they need me. So, in a manner of speaking, I'm always part of everything they do. It was gonna be probably the biggest tour in Def Leppard history with Motley Crue. And I think you might know this but if you don't, 2020 was shaping up to be the biggest touring year in rock 'n' roll history and, wow, how that's changed.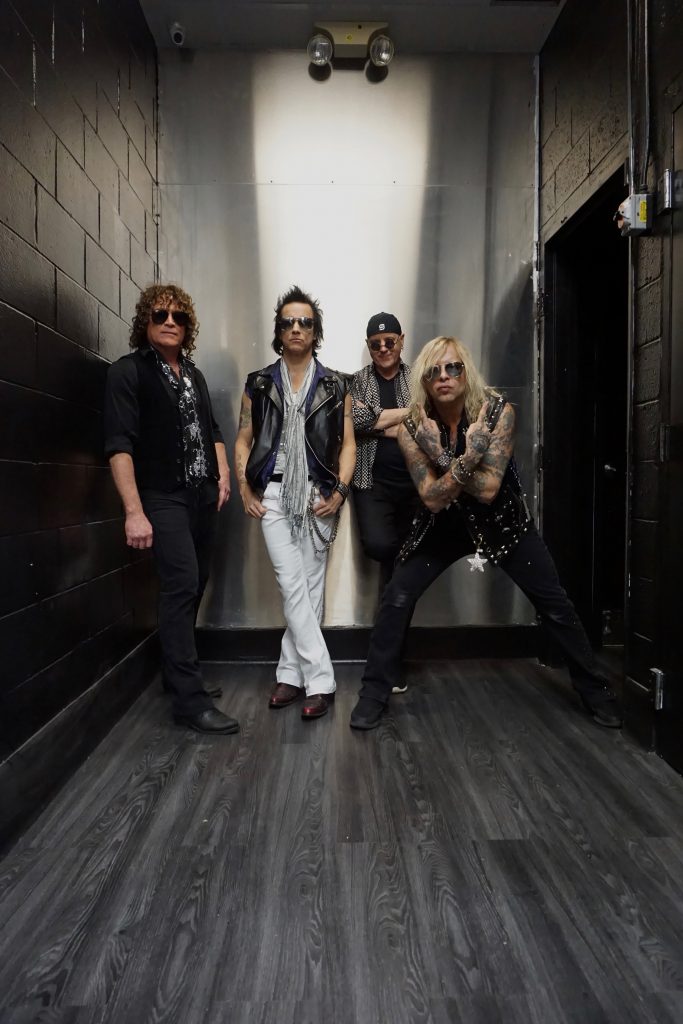 MM: Yeah, unfortunately. Have you ever done any studio work with Eric Martin or Dennis DeYoung?
SB: Not yet. I've written songs. Some of my ideas, I've pitched to the Def Leppard guys. I'm always pitching songs to different artists and whatnot. Dennis asked me to do a solo on his new record but for some reason, it never worked out. Again, I'm a studio rat, so I'm always willing and able. I've got a couple of things that I'm looking to do some solos on. I can't mention it now, but I'm doing a solo on a cover record for somebody pretty well known that's gonna be coming out late in the year. So, I'm excited about that. Hey, man, we're all still relatively young, so you never know what's gonna happen.
MM: Speaking of which, I seem to recall you guys in Trixter being really young when you broke. How old were you then?
SB: I was 18 years old when we signed our record deal. I was 19 when we went out on the road. Yeah. We were certainly young. I started the band in 1983 when I was 12 years old.
MM: You also did Rock of Ages on Broadway at some point, right?
SB: I did. In December of 2014. My good friend Joel Hoekstra from Whitesnake and Night Ranger was gracious enough to have me come in and fill in for him when he had to go out on the road with Trans Siberian Orchestra. Playing on Broadway was another bucket list thing for me. And one of the best experiences of my life. I made some great friends. And I still do shows with Rock of Ages. We go out and do shows all around the world as Broadway's Rock of Ages band. Look for us if you ever hear of it.
MM: Did performing in Rock of Ages feel like playing with a regular rock band or did you feel like an actor playing a role with that?
SB: Well, with that role I'd been playing the guitar player in the band and I had some speaking lines. We had some role-playing stuff that we had to do. That was one of the hardest gigs that I've ever done in my life. I mean, I prepared for two months, getting ready to do those gigs. It was every day for six hours a day. There were so many things going on. But it was one of the most satisfying things I've ever done in my whole career. To get to play on Broadway and it was December, Christmastime in New York City. It was a really great time. My family got to come and see a bunch of shows and friends. And, to me, Rock of Ages is the greatest Broadway play ever. I was a fan even before I played the show. I thought it was phenomenal. It's still kind of baffling to me why they shut it down but it is what it is.
RANDOM QUESTIONS
MM: If someone was giving you a million dollars to give to charity and it all had to go to the same charity or cause, which would you give it to and why?
SB: St. Jude's. For children's cancer research. To me, that is one of the most important things. The way I look at the world, kids should not get sick in any way or form. Nothing breaks my heart more than seeing little children get cancer and have to go through that and, worse off, die from it. It's one of the most terrible things – probably the most terrible thing – the world has to offer. I wish God would change that. From when you're born until you turn 18, nothing bad should happen to you. That's the way I look at life. Especially with sickness and illnesses. After 18, everything's game. When you're able to go to jail and you're able to vote, it's a different story. But that would definitely be my charity of choice, which I donate to all the time anyway.
MM: If you could resurrect any one musician from the dead and they'd be happy to be back and make a new album, who would you bring back and why?
SB: Randy Rhodes for sure. Randy Rhodes was somebody I missed by a year in the sense of getting to see him play live with Ozzy. To me, he was my second biggest guitar influence and just taken way too young. He should have never been taken at all. What happened to him was just stupidity, getting in that plane. I just feel so bad for everybody in the world that he's not here. He was soaring so high that we only scratched the surface of the great Randy Rhodes. I don't think he would've still been playing with Ozzy, but he would've been a monster and, let's say, the president of the guitar community, if you will. Much like Steve Vai and Joe Satriani, I think Randy Rhodes would be making the most incredible music and, again, it was just one of those things where I missed him by that year, 1982, when he got killed. I would definitely bring Randy Rhodes back because I think the world would be a better place with Randy still here.
MM: What have you been doing to kill time during the pandemic?
SB: I've been staying extremely busy. First off, I have a great family. I have a beautiful wife and two wonderful daughters. I have a 20-year-old daughter, who finished her sophomore year of college at home, and I have a seven-year-old daughter who finished first grade at home. We were very busy with the homeschooling. Luckily, we all love each other and get along great. We don't try to kill each other, which is a tough thing. But, again, I have a great house and I have a great studio in my house. So, I'm always working. When the pandemic broke out, I got a lot of business from people wanting me to mix and master their old records and digitize things. I've been digitizing all of my old Trixter 8 millimeter tapes from back in the day, preserving the history. Transferring and digitizing all my cassettes and analog eight tracks. I have our original Trixter demo tape from 1986. Been transferring that to digital. So, doing a lot of the busywork that I normally wouldn't get to do if I was out on the road playing. I'm definitely making use of the time. And most importantly, I'm trying to make good of this shitty situation. You know what, I'm blessed that I'm spending this extra time with my family because normally I would be out on the road playing. So, I'm thankful. I have my family. Mom and Dad are 85 years old. Everybody's healthy. So, I'm blessed in this shitty situation. Staying positive and getting work done. Practicing my guitar every day. Practicing my singing. Writing new songs. Doing studio work. Keeping my chops up, bro. Staying in great shape. Doing 200 push-ups and sit-ups every day. I've gotta still fit in those spandex pants, brother.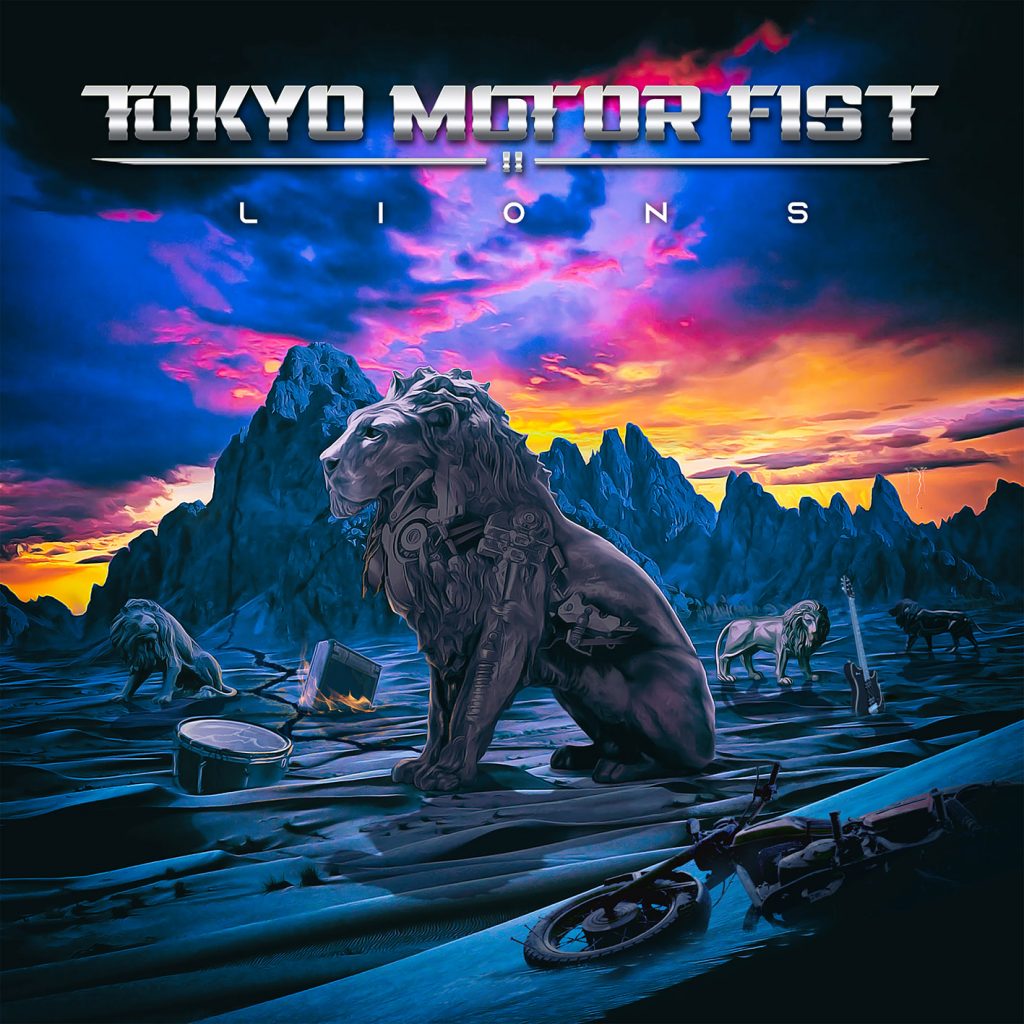 Frontiers Records official site
Special thanks to Steve Brown for taking the time to chat with us and to Jon Freeman of Frontiers Records for setting it up!