interview by Michael McCarthy
Chances are you've just read the above subject line and thought, "Who the hell is Klangkarussell?"  That's what I thought when their publicist first contacted me about them.  But their publicist usually sends me great stuff, so I checked out the Austrian duo's album and immediately fell in love with it.  Typically, when I encounter electronic albums with several instrumentals I'm not very impressed.  I tend to need vocals to suck me in and grab me.  Even when I listen to music in foreign languages, the voice is still crucial even though I can't understand it.  Alas, it is possible to make electronic music that is so rich and textured that it does successfully move you without vocals.  With its ambient hum and layers of infectious little percussive sounds, "Eistee" is the sonic equivalent of being tickled.  Not when you're tickled to the point that you want to poke someone's eye out with a fork, but when the tickling just starts and there are a few seconds before you start laughing.  "Eistee" is that kind of tickling.  Another instrumental I especially like is "Berlin," which is painted with several different colors, colors layered one on top of the other.  It's got something of a 16 bit vibe at times but there are other moments when it's a full blown 2014 electro-gem.  But, guess what?  Klangkarussell do have some great cuts with vocals.  The soulful single "Sonnentanz (Sun Don't Shine)" featuring Will Heard on vocals was a huge global hit for the duo (names: Adrian and Tobias), selling over 1.3 million copies and registering over 22 million hits on YouTube.  It's one of those perfect electro songs that you can dance to but you can also just sit back and chill to it.  Now the duo are preparing to release their second single "Netzwerk (Falls Like Rain)" on July 28th 2014 via ID.  And you're going to be hearing it everywhere.  Boy, is it catchy.  I can imagine auto companies getting into a bidding war for the rights to use it in a TV advertisement.  I have a feeling this one will sell 2 million copies, if not more.  If you've just listened to it above, we have a feeling you're nodding your head in agreement.
And now for a little Q&A with Adrian…
What made you decide to open the album with an instrumental track, "Eistee"? 
We came up with the track list quite spontaneous. We had a basic idea, listened to it from the beginning to the end, made a few changes, listened to it again and decided: this is good.
Or is it based on the quality of your music (which we would rank as high)?
we Hope so 🙂
What was the first electronic music album that you fell in love with?
chemical brothers – dig your own hole
dillinja – cybotron
What was the biggest gig you're played so far? 
I'm not sure but it was probably something between 20000 and 30000.
What is the meaning of your name? 
it means carousel in german
I hate to ask this, but don't you think you'd be more popular if your name was easier to remember?
Could be true, haha. But maybe people even like it because it sounds kind of exotic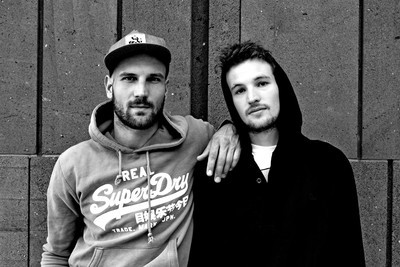 TOUR DATES:
1th April – England, London – XOYO *SOLD OUT*
16th April – Germany, Berlin – Gretchen + Astra
17th April – Germany, Munich – Strom
18th April – Switzerland, Zurich – Harterei Club
19th April – Germany, Cologne – Gloria
21st April – Belgium Brussels – AB Box
22nd April – Holland, Amsterdam – Melkweg
24th April – France, Paris – La Cifale
27th April – Luxembourg, Luxembourg – Rockhal
29th April – England, London – Cargo
31st May – Germany, Berlin – Summer Rave (DJ set)
1st June – Ireland, Dublin – Forbidden Fruit
6th June – Germany, nr Leipzig – Sputnik
3rd July – Austria, ne Graz – UAF
18th July – England, Lancashire – Beat-Herder Festival
19th July – England, London – Lovebox
14th August – Belgium, Hasselt – Pukklepop
30th August – Switzerland, Zurich – Zurich Openair
http://klangkarussell.com/live  
https://www.facebook.com/klangkarussell/
http://soundcloud.com/klangkarussell
http://twitter.com/klangkarussell