interview by Michael McCarthy
A dance and rap duo formed by RiRi and Lulu, FEMM are mannequins who have emotions. They are new icons for TOKYO POP. They can't talk but can sing, however, so each girl's agent, "Honey-B" and "W-Trouble", who look identical to FEMM, always speak for them and have participated in the following interview.
MM: First of all, I'm not familiar with all of the songs you've covered on 80s/90s J-POP REVIVAL, so I was wondering if you could tell us who the original versions of all the songs were by?
H-B:
・My Revolution / Misato Watanabe
・Dear Friends / PERSONZ
・Sotsugyo / Yuki Saito
・Sumire September Love / Ippudo
・SEVEN DAYS WAR / TM NETWORK
・Roman Hikou / Kome Kome CLUB
・Samishii Nettaigyo / WINK
・Konya wa Boogie Back (nice vocal)  / Kenji Ozawa
・Donnatokimo. / Noriyuki Makihara
・Candy Girl / hitomi
・BELIEVE IN LOVE / LINGBERG
・THERE WILL BE LOVE THERE / THE BRILLIANT GREEN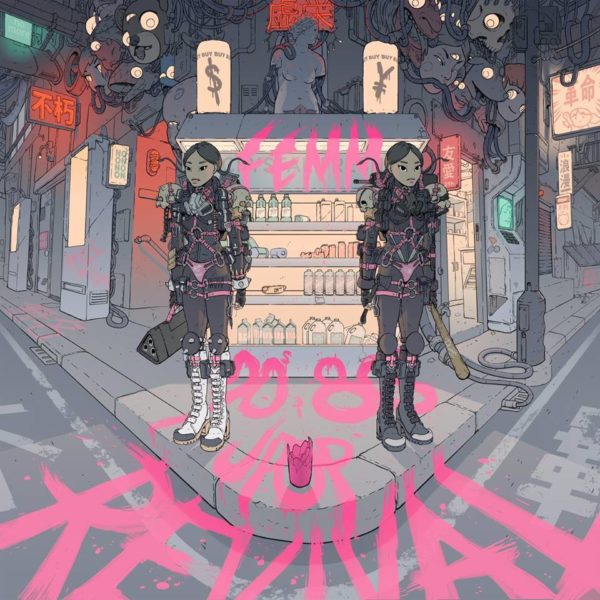 MM:  What was the criteria the songs had to meet for you to cover them on the album?  Could they be any songs from the '80's or '90's or did they have to fall into some other category, too?
H-B:
We chose songs that would match FEMM's voices. There are some songs that were challenging, but at the end we could maintain the FEMM-ness in this album.
WT:
Also to feel the 80s and 90s vibe. We chose hit songs that almost all Japanese has heard before and are loved.
MM:  How did you decide which songs to do? Did you each pick a handful of songs independently, for example, or did you both have to want to do a song for it to be eligible?
H-B:
We looked through youtube etc how the original songs were played then, and we picked 12 songs that would match FEMM's image.
WT:
"Samishii Nettaigyo" was one of the songs that we especially wanted FEMM to sing, since we had a lot of request from the begging from fans, because of the similarity of the two groups.
MM:  Had you already decided to make an album of covers when you started recording these songs or did you just record some of them for fun and once you had a bunch of them you decided you might as well do more and put out an album?
H-B:
Since FEMM released "Neon Twilight" and "Countdown," we had the concept "80s/90s REVIVAL" in mind.  Afterwards, FEMM being assigned as Shibuya performance ambassador, they have covered "Konya wa Boogie Back," which is a Shibuya inspired song that made a big hit in the 90s. FEMM were really hooked on this song, so we started to have them try other songs too.
MM:  I know you've released a lot of successful singles. Can you tell us what your biggest hits have been so far and their highest chart positions and if they've won any awards (like how artists get awarded for gold records and platinum records here in the States)?
WT:
"Fxxk Boyz Get Money" is loved as a "girl's anthem" by many of FEMM's fans and is one of their top songs, especially in the US. This song is included in FEMM's 1st album "FEMM-Isation" (2014), which reached #10 at US billboard's World Music category.
MM:  Which one of your albums has sold the most so far?
WT:
We don't think we have a definite hit album yet. This would be a good opportunity to have people know about FEMM.
MM:  Do you produce your music yourselves or do other people produce your music?
H-B:
We do the overall producing for FEMM, but we have music producers come in to create songs.
WT:
As working with music producers, we make sure if the sound is right for FEMM and if they are going into the right direction, as for what kind of message the song is giving out.
MM:  Who produced 80s/90s J-POP REVIVAL?
H-B:
All songs are produced my MYLK, track maker from UK. She is always coming up with unique and original sounds and FEMM are a true fan of hers.
WT:
Also, we have 4 remixes done by Radical Hardcore Clique from Japan. They created a completely new taste to the songs.
MM:  Who is your favorite Japanese music producer?
H-B:
Tetsuya Komuro, who created the trend and style of J-POP from the 80s and 90s, and truly someone that we respect very much. FEMM has song 3 of his songs on this album.
WT:
LuLa personally would love to work with Tomiyo and 細野正文???.
MM:  If you could work with any producer in the world, who would you choose?
H-B:
FEMM has worked with so many amazing producers and artists in the past. "L.C.S." was by Boys Noize, "Astroboy" by Brian Lee who also writes for Lady Gaga, and FEMM did a cover of Sak Noel's "No Boyfriend" alongside with FAKY.
They all have great taste and was easy to match the style of FEMM who are mannequins. We are always welcome to work with unique and talented people.
WT:
If they "get" the concept of FEMM and can deliver it, we would love to work with them. Anyone from any country is ok. Not just famous producers, but young and up coming are of course welcome too. It would be cool to create a new sound for FEMM together!
MM:  How often do you go see other artists' concerts? Who are some of the artists whose performances you have enjoyed most?
H-B:
FEMM loves watching concerts! It really motivates them. Recently they went to FAKY and Beverly's shows. They are both close friends for FEMM.
WT:
Also, they went to watch Kumi Koda's show. LuLa was so excited! It's such an inspiration to see how Kumi gets the whole audience hyped!
MM:  Who are your favorite Japanese artists?
H-B:
RiRi met a singer named RiRi!! Same name! She is still in high school, but is an amazing singer with a deep voice. FEMM love her!
WT:
LuLa personally loves Namie Amuro, aiko and Beverly.
MM:  What are the three best albums you've heard in 2017? (Can be any artists, doesn't have to be Japanese artists only.)
H-B:
#1 Cardi B "Bodak Yellow" (single)
#2 Kendrick Lamar "DAMN."
#3 Katy Perry "Witness"
WT:
Top 3 would all be just one and only, Namie Amuro's "Finally." Since LuLa respects Namie so much, this album was a treasure for her.
MM:  What sort of things do you draw inspiration from?
H-B:
Watching all the fashionable people in Harajyuku is for sure and inspiration. Since FEMM were originally fashion mannequins, just like the others, "fashion" is so important to them. If it has some kick to it, doesn't matter if its high fashion or street wear, FEMM love it all.
WT:
LuLa gets inspired by many things, including just something simple. When humans around her are nice, it really makes her happy.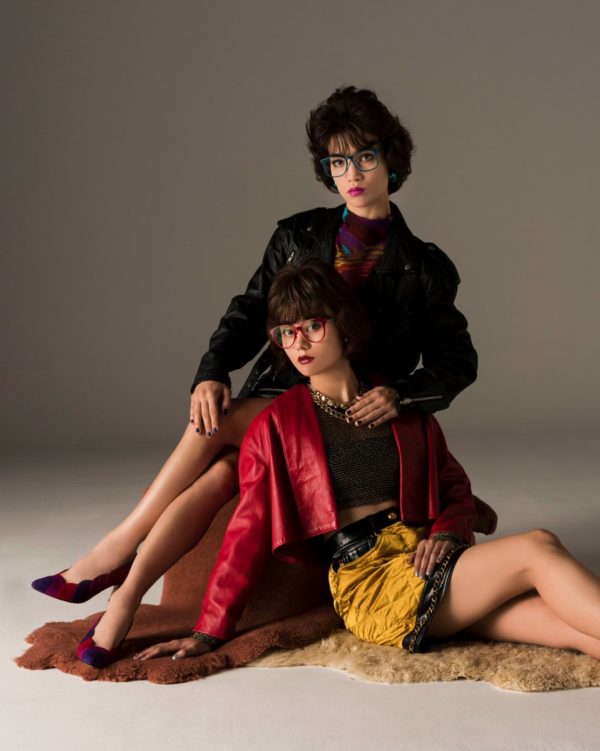 MM:  Do you write your songs entirely by yourselves or do you work with other songwriters?
WT:
FEMM has never written a song before. Just singing and dancing, expressing themselves are a lot of work for them and still learning many skills.
MM:  If you could have one of your favorite artists cover one of your songs, who would you like to cover you and what song would you like them to do?
H-B:
RiRi is interested in Poppy, who has a super kawaii mannequin vibe. It'll be cool to do a collab.
WT:
LuLa would love to collaborate with Rina Sawayama. She loves her taste!
MM:  What was the first album/CD you ever bought with your own money?  What was the last album you bought?
H-B:
FEMM has never bought CDs by themselves. I'm not even sure if they know how to use money?
MM:  Here in the United States, vinyl records have been making a huge comeback. More people are buying vinyl than CDs now. Is vinyl becoming popular in Japan again yet? If not, do you think it will become popular again in the future?
H-B:
It's so cool that the old is coming into the new. Actually for FEMM's new album "80s/90s J-POP REVIVAL" we have made a cassette tape ver. too and lots of fans are enjoying it. For the younger generation, it's a completely "new" item.
WT:
Vinyls are getting more popular these days in Japan too and it's really exciting. For the younger kids, it's a new culture.
MM:  In the U.S. the biggest streaming service is Spotify followed by Apple Music, Amazon Music Unlimited and others. Are any of these available in Japan? What are the most popular streaming services in Japan?
H-B:
FEMM's songs are available on Spotify and Apple music. These streaming services are very popular in Japan too.
WT:
I guess it depends on what style of music you like, but any streaming services are good. Music coming into more people's everyday life is a positive thing for us too.
MM:  Would you like to be popular here in the United States or are you happy just being big stars in Japan?
H-B:
Becoming a "Big star" is not FEMM's goal. The most important thing is to deliver their message far as mannequins. That mannequins have a "voice" too. We will keep on focusing on connecting the two worlds of human and mannequin and to find peace.
WT:
Like H-B said, we want more people to know about FEMM in order to have them listened [to] and to be understood.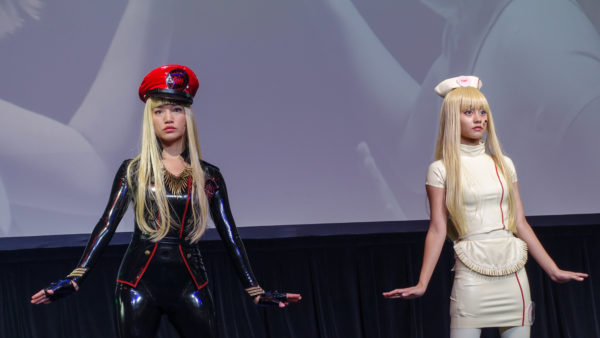 MM:  Have you ever performed any concerts here in the U.S.? Do you have plans to do so in the future?
H-B:
FEMM has performed at "Tokyo in Tulsa" (OK), "J-POP SUMMIT" (SF) and "RAGE West Hollywood" (LA) and it was an amazing experience. If the US agents (fans and supporters) can make it happen we will be right there!
WT:
For sure we are working on having more shows in the US. Please check FEMM's SNS so we can inform you when something comes up.
MM:  I'm a fan of a band called Mr. Big, who are supposed to be very popular in Japan. Have you ever heard of them? If so, are you a fan?
H-B:
I'm sorry, but FEMM don't know Mr. Big. When they were big in Japan, FEMM were not born yet.
MM:  What was the first concert you attended?
H-B:
"NO BLUR CIRCUIT 2013" in Shibuya.
WT:
It was a rock fes and it was mainly bands, but the audience were so amazing to FEMM.
MM:  Who were your childhood heroes?
H-B:
FEMM don't really have a "childhood," but RiRi's personal favorite is Wonder Woman. Since RiRi is a combat mannequin, she loves strong and beautiful heroes.
WT: 
LuLa loves Sailor Moon, who she just discovered recently. They have a similar outfit too!
Special thanks to Honey-B and W-Trouble for taking the time to do this interview and to Akiko Ihara at avex for suggesting it and facilitating it!
CONNECT WITH FEMM:
FEMM OFFICIAL WEB:https://femm.jp
FEMM OFFICIAL Instagram:https://www.instagram.com/femm____/
FEMM OFFICIAL You Tube:https://www.youtube.com/channel/UC7Pp-ffsPH8ozLKFMdxOvFw