When we last interviewed the UK's critically acclaimed Bat and Ball they were promoting their glorious second single, "Stops My Mouth," which blended an easy breezy pop melody with poignant lyrics and haunting vocals courtesy of Abi Sinclair, one of the band's two lead singers.  (The other vocalist is her brother Chris.)  The same description could also be given to their new single, a tender ballad called "Lizard Cuts," which ups the ante with decidedly more melancholic lyrics and ethereal vocals that linger in your head long after you've listened to the song.  It's the antithesis of bubblegum pop — a true artistic gem — but it has that immediacy to it, a veritable earworm.  In just over three minutes, it manages to convey more emotion than most artists deliver on their full-length albums.  Naturally, I was curious to learn more about the track and the band's future plans, so I set about interviewing Abi and Chris for the second time…
I've listened to your new single, "Lizard Cuts," at least ten times now and I love it. But I can't figure out why it's called "Lizard Cuts." Am I missing something or did you name it that to be mysterious or something?
AS: 'Lizard Cuts' is actually a lyric in the song; 'Lizard cuts the bite off'. Some Lizards, as a defence mechanism, shed their tail when being attack by a predator. They can even regenerate another tail after! I just find it fascinating. Lizards don't wait around to get hurt, they sever it off.
I've read that "Lizard Cuts" is about desire and loss, but I was wondering if you could elaborate on that? What does it mean to you personally? Is there a story behind it?
AS: A lot of our tracks are anxiety songs. I think the line 'you are the best and always the worst' sums up the song well.
Your previous single, "Stops My Mouth," was produced by Moshik Kop. Did he produce "Lizard Cuts" as well? If not, who produced it?
AS: Yes, the awesome Moshik Kop did produce 'Lizard Cuts'. We enjoyed doing 'Stops My Mouth' so much, we came back for more. In fact, he is going be with us for the album.
"Lizard Cuts" comes out on October 20th. Do you have any special plans to promote it?
CS: We're making a video series called "How to make an Album." Part 1 features "Lizard Cuts" and has lots of clips of us in the studio recording it. I think it's an interesting way to promote the song – it gives a glimpse of our creative process and shows more of the personality of the band. Part 1 will be released online soon.
I understand you're planning to release your debut full-length album next year. Any idea when next year?
CS: The release depends on many different factors. We're still in the early the early stages of making and writing. It's incredible to embark on a project like this; we want to savor every bit.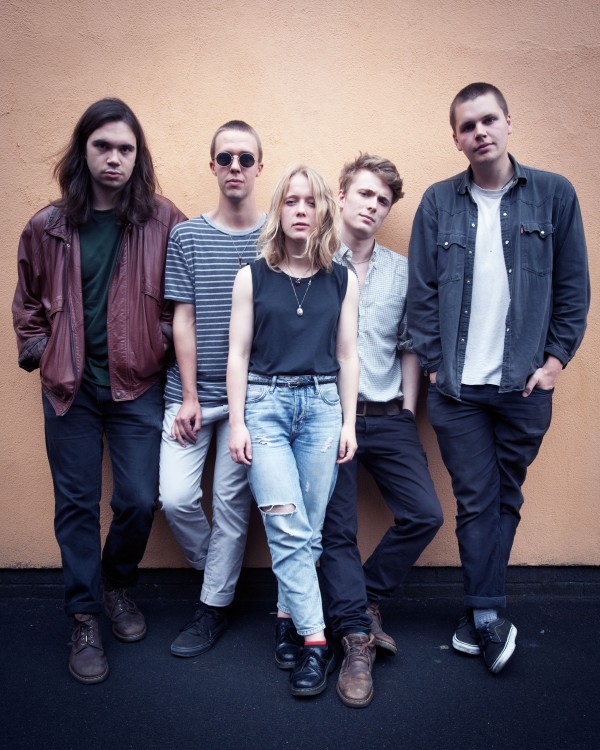 You're on a label called Hospital Samples. Is this a label you've started or a previously existing label which signed you? If it's an existing label that signed you, how did you come to know each other?
CS: Hospital Samples is our own label. We formed it and it represents all the creative output from the band: videos, music and artwork. It gives us space to work in our own way and that's really important for the current growth and development of the band.
Do you plan to release your album internationally?
CS: Yes. We've found a lot of support from around the world. We want to tour and explore as much as possible so it's vital to get the music out there.
I know you're often compared to London Grammar and Alt-J. Who would you compare yourselves to? I can understand why people compare you to those two groups, but does it get frustrating to always be compared to them?
CS: It's not frustrating. We can see the relevance. I think our music shares some of the characteristics of those bands. The reality is we're not particularly interested in either. I think our live show is one thing that separates us. There is a power and energy in our performances- we want to be dynamic and unpredictable, sometimes chaotic. From the songwriting point of view, Abi is very influenced by Ryan Adams; and if you look at what he does, it's often rooted in well-trodden genres and forms – country ballads, blues, rock. Yet there is always some sort of twist that makes you sit up and pay attention.
What instruments do you usually start with when writing your songs? Did "Lizard Cuts" start with lyrics or a melody or …?
AS: It's a varied process. In the past it had been guitar and melody that we would start with, Chris and I would then pass the song between us. However recently songs have formed from the piano, drums or Jamie writing a guitar line. 'Lizard Cuts' started with a poem and Jamie writing that lovely guitar riff, then it all took shape from there.
Bat and Ball released their forthcoming single 'Lizard Cuts' on the Hospital Samples label October 20th: https://soundcloud.com/bat-and-ball/lizard-cuts.  They will perform a headline show at The Old Blue Last on Thursday October 23rd.