interview by Michael McCarthy
Freedom Fry is a Magnificent – yes, with a capital M – duo consisting of Parisian-born Marie Seyrat and Michigan-born Bruce Driscoll. Chances are that you've already heard of them. And that you've even heard their music. (Apparently, I am the last person on earth to have discovered them.) I say this because, for example, they've amassed over 50 million streams on Spotify. That's right, 50 million, that's not a typo. They've also hit #1 on the Hype Machine more times than I can count on one hand. Meanwhile, their songs have appeared in dozens of movies and TV series, including Judd Apatow's Love, Showtime's Shameless and Grey's Anatomy. Their songs have also been used in high-profile ads for fashion labels Lanvin and Madewell, among others. They've also performed throughout Europe and the U.S. with such artists as Stromae, Phantogram, and X Ambassadors. The one thing they hadn't done until just recently was release an album. Prior to now, they were just releasing singles and EPs. Their early material had a bit of an 80s vibe and was mostly straight-ahead pop, but the songs on their stunning LP, Classic, have more of a folk-pop edge and strong 70s influence. Whatever they set their minds to doing, they seem to accomplish it with flying colors. Honestly, I haven't found a track by them yet that I didn't fall in love with. And they have a seemingly endless number of them on Soundcloud, many of which you can hear below. So, read on and listen up.
MM: I know you're on Pacific time. Are you still living in Los Angeles right now?
MS: Yes, we are. Exactly.
MM: If you don't mind me asking, as I'm sure people must wonder, are you and Bruce just musical partners or are you romantically involved as well?
MS: We are married. Actually, we met because I was a stylist first of all on another music video he had and that's how we met, basically.
MM: Were you living in Paris and he in the States at the time?
MS: Actually, I was living in Los Angeles before he was. I moved here 11 years ago. And he was still living in New York at the time. I think we met in 2011. And he flew here because his sister, who was in another band, was living in L.A. and they were going to shoot the video here. So, he flew here and after that I think he went back to New York, but we pretty much did the long distance thing for six months and he moved here afterward.
MM: What do you miss most about Paris?
MS: My family. [Laughs] Probably, since I just see them once a year, twice at the most. So, that would be the first thing.
But, also, I love when you live somewhere else [and] where you were born you kind of forget. Especially, Paris has so much history; it's beautiful out there. But you kind of don't remember it until you go back and you're like, yeah. It's really nice. I do miss walking a lot. Kind of like New York, too. We don't walk as much here. We try to make a point of doing it, but, yeah, I kind of miss that aspect of life there.
MM: I understand the song "Classic" is about L.A. and all the cliches you love there. What are your favorite things in Los Angeles?
MS: There are so many things I actually love. We both love the movies and going to the movie theatre. We're actually passionate about any kind of movies. We've probably seen everything there is to see. So, it's a great place to live in if you have that kind of interest. It's fun to feel like you're in the middle of everything. It feels like a lot of things are happening here. If you work in the entertainment industry, it does feel like you have to be here anyway. That's where all the opportunities are. You meet so many great people who do so many great, different things. It's very inspiring for art. This is really enriching for me. Even though some people might say it's very superficial, I've met tons of really great people. I'm from Paris and I feel like I've met more nicer people, who are more open maybe, than in Paris.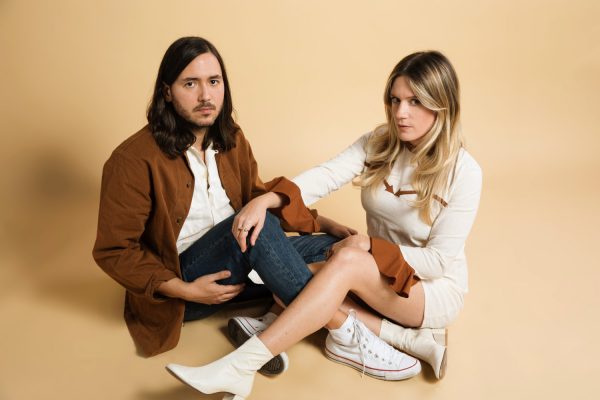 MM: When you were writing the song "Classic" did you always envision it with the trumpet and the strings or were those things that came after the song was basically already written?
MS: The trumpet, the melody itself was already there, but we felt like it needed something like an explosion at this point. For some reason, the trumpet made sense. We put a fake one and we hated it. We don't like that. Fake horns are the worst. So, we put it here for a minute and were trying to find who we love and would trust. We ended up reaching out to [Stewart Cole] and people who have been working in bands that have all these instruments and we basically ended up having these people collaborating, too. But the strings – we didn't write the part. He [Phillip Peterson] had worked with Portugal. The Man and came up with it on his own. He did the whole section on his own. It wasn't written first of all, but we thought that would make it like, again, the classic aspect of songs like The Beatles. All these string elements that we loved in these older songs from the 70s. 60s.
MM: How does the writing process usually work with you and Bruce?
MS: Honestly, there's no set direction. We basically have ideas that can come up anytime anywhere and on our phones we both have tons of voice memos that are actually writing. And at one point after a few months we go through them and see which ones we feel are stronger and inspire us more. Usually, we end up writing the melody and the lyrics at home and we have a studio in our backyard that we call The Cactus Garden studio. And then after we switch to the studio to actually write the parts and record them. Sometimes it's also just that we have an assignment for a commercial, but then we have other ideas that come up in the midst of it. And then we spend a week there, or more, writing other things. But usually it's always been the right time of the year to write from October, November, December, January. We have this kind of dead season where people are not working much in the music industry. It's not as active. We do a lot of commercials at that point, actually. It's the time when we spend many months in the studio every day. Because I feel like [writing] is very different than the live aspect of our job. And when you're starting to use this part of your brain you kind of get more into it and have more ideas come up. Once you start the machine, we try to take advantage of that. That ride.
MM: What sort of things do you do commercials for?
MS: You know, these things, we have a publisher, so he will send us like we need a 90s song so we've been writing for instance, doing a cover for this or that. Like we did a "1979" cover a few years ago. That was for Grey's Anatomy but in the end, they ended up using another one that we did, which was "Oops… I Did It Again" by Britney Spears. We did different genres because we didn't know what exactly they expected. What kind of song. You know when you're starting a certain type of melody and you go, that sounds good if we go in that direction. You start, together, him and I, brainstorming other ideas.
MM: Which one of you came up with the name Freedom Fry?
MS: He did, actually, believe it or not. Originally, I wasn't crazy about it. I thought it was a little funny but it grew on me. And I also thought there are so many bands that have such cool names like the sentences like The Horse on the Prairie. There are so many bands that have names that at the end you can't really notice who's who. You forget what the names are. We thought that Freedom Fry would actually stick in people's minds a lot. Even though in the beginning it was kind of received negatively by some people who didn't know I was French and that it was just ironic. At the very beginning, there was one guy who was like, Freedom Fry, I'll never write about a band called that. And we were like, did we do a mistake here? [Laughs] Then I think you explain to people what it comes from. What's cool about it is now when you Google Freedom Fry we come up. We don't want that negative aspect of it to still be out there. It's cool that now it's changed the meaning of that. Of this expression. Freedom Fry is not anymore what people want to call fries because they don't want to call them French fries.
MM: Just out of curiosity, why haven't you done a song in French?
MS: We have. Very early on in the first batch of songs we wrote. The first EP we released was actually back in 2011. I came to visit Bruce in New York and he told me let's write. We started dating and he was probably wondering if we'd have much to talk about or how awkward it would be, so he had already prepared that we're going to write a song a day for five days and so we did that and said we're not going to spend more than three hours on each song every day. And there was one song that was in French, but it's not my favorite. There's also the fact that, for me, every time we write a melody it seems like it's more meant for English as a language. There's a few ideas that we have that we could write in French that are more, to me, retro-sounding. Something that sounds more retro sounds better in French, but otherwise maybe because I am French I prefer singing in English for some reason. [Both laugh]
MM: That's like Lou Doillon. She's French but she sings in English, too.
MS: Yes, she does.
MM:  Now you and Bruce co-produced the album. Had you been music producers before you produced your album Classic?
MS: Everything we've been doing ourselves. We've been producing for about seven years, actually. And, also, he worked with other bands before. We also used to produce Blondfire. The band Blondfire. Because that was his band. He learned a lot while producing with that beforehand in the back. So, he's pretty much doing everything.
MM: Your album does have that classic 70s vibe to it. Did you grow up in the 70s?
MS: No, none of us did, actually. My Dad listens to so much 70s music that that's definitely the genre I like listening to the most, I would say. I love this kind of music. I feel like it's very groovy. And that's what I grew up listening to and go towards more. He likes the 70s, too, but he's very into like 80s music. Like British 80s music. That's less what I would go towards. But he loves both.
MM: I can tell your Strange Attraction EP has more of an 80s influence than Classic does.
MS: Yeah, we try to separate both genres when we have ideas like that.
MM: Sure. Has Classic been released in France yet?
MS: Yes, it has.
MM: How's it doing over there? Do you have any idea yet?
MS: I'm not sure how it's doing. Honestly, it's only been a week so we've been pretty much looking at how it's doing here for now. But after we're going to go to France this summer, mid-August to mid-September. We might try to play some shows there. And maybe see a little bit more on that aspect.
MM: Isn't everything in France closed down in August?
MS: Mmm… At the end of August, people are starting to come back from vacation. And we're gonna be there in September, too. We're going to do some co-writes, too, while we're out there. So, we're going to have to start planning a little bit of that.
MM: I was just wondering because I've been to Paris and the first time I went it was in late August and then the month of September so when I first got there a lot of places were closed.
MS: Oh, really? That's weird. There's still a lot of people who go out in the summer.
[Editor's note: I probably should have mentioned that I took that trip in 1999; I'm sure times have changed. But, historically, much of Paris shut down during August when people usually vacationed most of the month.]
MM: I understand that you've had over 50 million streams on Spotify. Do you feel that they pay you fairly? I know a lot of artists don't.
MS: We're very happy with it. It's one of our main revenues. We're really happy with the way they've been supporting us. It's been really rewarding. Also, on an exposure level. It's been very, very good for us, actually. We love Spotify.
MM: How did you get that many streams? Did they put you on one of their playlists or something?
MS: Actually, everyone is asking us – even our friends – to try to get some insight, but we honestly didn't know anyone. When we did "1979" that cover was put on their cover playlist and then we released "Shaky Ground" and that did even better. I feel that their strategy is that they put you on one of their lower playlist and see how people respond. You get a fair trial. They start you on a smaller playlist and if it works well they put you on a bigger one. It goes like that basically. I think we were lucky enough to have enough people liking what we do. It helped out for sure.
MM: Who are your favorite French artists?
MS: I love Charlotte Gainsbourg. It's funny that you mention Lou Doillon. I actually love her sister. She's my favorite French artist. I also love her dad actually. [Ed: Her dad is Serge Gainsbourg] He was my first influence. And she's definitely been good at keeping his style but adding her touch with what she does. It's actually my favorite album of the year so far.
MM: It's one of mine, too. I had to get it on vinyl. So, what are your plans so far as touring goes?
MS: We're planning on going on tour in the fall. We have a documentary that we're working on that we're wrapping up that started back in 2015 when we did a tour with Stromae. We had a crew follow us throughout the tour. It's interesting because you see the evolution within the past three years in the music industry. So, we're trying to finish that documentary. And we're thinking of touring the documentary and the album at the same time in the fall. We're working on that, too, right now.
MM: If you do a headlining tour, who would you like to open for you if you could have anyone in the world?
MS: Anyone in the world? That's an interesting question. I love Father John Misty. That would be a good one. There are so many great bands I love, actually. Beck is great, too. Tame Impala. There's so many.
MM: If you could open for any artist in the world, who would you choose to open for?
MS: One only?
MM: You can name more than one.
MS: Yeah, Father John Misty, Beck and…
MM: Tame Impala?
MS: Tame Impala, yes. [Laughs]
MM: Are you currently binge-watching anything?
MS: We've been watching The Handmaid's Tale, but not binge-watching since it's every week. Actually, recently, we haven't because we've been so busy with the album release and everything. I feel like we've been watching everything there was to watch, but The Handmaid's Tale is something we're looking forward to every week.
MM: Do you know of any French series on Netflix that are any good?
MS: No, I haven't been watching any.
MM: Ah. I know they've added a few lately. I'm going to check them out.
MS: Oh, really? I'm going to look into that actually.
MM: One is called The Chalet, but I forget what the others are called off the top of my head.
MS: I think there was one that was really good at one point that we started watching. I don't recall the name of it. There was a Swedish one, too, a kind of mystery one.
MM: I hope the French ones are actually in French with subtitles because right now I'm watching the Brazilian show 3% and it's dubbed into English.
MS: It's true. Me, too. I hate watching dubbed. That's the worst. When I was little – except when I was a very young kid – any American movie, or any movie we were watching, we were watching in English. Or the actual language, obviously.
Special thanks to Marie for taking the time to chat with us and to Renee Cotsis at Girlie Action for setting it up!