interview by Michael McCarthy
When you hear the name of guitarist Tracii Guns you probably think of his most famous band, L.A. Guns. But I did not ask any L.A. Guns questions during this interview. It simply didn't occur to me. I'd written questions beforehand, of course, but I had so many questions about his exciting new band, Devil City Angels, and some of his other past projects – like Brides of Destruction and his very brief stints in Quiet Riot and Poison – that I simply wrote a few pages worth of questions and none of them happened to be L.A. Guns related. I think that worked out for the best though. The story of L.A. Guns – both versions of the group – is well-documented on Wiki and their footnotes link to plenty of articles that get further in-depth if you're dying to know what's up there. Besides, I should think that Tracii is sick of talking about L.A. Guns at this point in his career. He was fantastic interview, giving long, detailed answers, but perhaps he would have been less so if I'd brought up L.A. Guns and the drama there. In fact, he was such a wonderful interview that I'm running it in two parts because it's so lengthy. So, read part one today and come back tomorrow for part two! And if you haven't read my review of Devil City Angels' killer debut, click here and please do so. It's the best hard rock/heavy metal/melodic rock/classic rock album I've heard all year by far.
MM: Did you, Eric and Rikki all know each other before playing that Keith Moon and John Entwistle tribute show that eventually lead to the formation of Devil City Angels?
TG: Actually, Eric wasn't at that. Just Rikki and I had done the initial get together. I had known Rikki for a long time. The first gig they ever did in LA was at a place called Madame Wong's West in Santa Monica and on the same bill was Hollywood Rose and LA Guns, along with Poison. So, I had pretty much known him since I was about seventeen. And we'd run into each other every now and then and then in 2000, I think, or '99, I was in Poison for about a week. And ever since that time, we got pretty close. Then we got to do the John Entwistle, Keith Moon thing together and it just felt really good to play together. When you play with friends, it's always more fun. So, immediately following the show we contacted each other and said, hey, we should maybe do something in the vein of those Who songs that we played, a little bit more vintage, out of our classic rock catalog. That was the goal and we followed through. At least enough to get the record out. And people get it. That's kind of the amazing thing these days. People are buying the record and they understand what it is and that's nice.
MM: You went with somebody who wasn't already super famous for a vocalist, Brandon Gibbs. How did you know Brandon?
TG: Eric was playing with Brandon and that's how Eric ended up [in the band]. Rikki had met Brandon and his brother – they were in a band together about eight or nine years ago in Iowa. They became friends and Rikki had actually put Brandon's band on a couple of shows with Poison a long time ago and at that time Eric was actually in Poison, filling in for Bobby for a couple of weeks. So, they all knew Brandon very well and that was the first person that Rikki suggested. He said, hey, I know this guy Brandon, he's in a band with Eric Brittingham called Cheap Thrill, check him out. And I called him and he's a really, really nice guy, which is not always the case with lead singers. He's goal oriented. He's thinking. He wants to do what he wants to do. And his opinion right from the beginning was, hey, I'm a lot younger than you guys but I grew up on this music and I understand it – as well as modern rock – and maybe we can incorporate all these elements of music. And I thought that was a great idea. When Rikki and I talked, since he was already playing with Eric, we said, hey Brandon, why don't you see if Eric wants to do this, too. He talked to Eric and then it came together very quickly, actually.
MM: Brandon plays some guitar on the album. What was it like playing with somebody new?
TG: Oh, it was great. It's really easy to work on material with him because he has a different approach to the guitar, when he's thinking about guitar parts. So, we work really well together and it works really well live together, too. Our sounds are different. He's really into Stevie Ray Vaughan and Jonny Lang and stuff like that where I'm more into Jimmy Page, Randy Rhodes. It's a very interesting blend. When it comes to writing these more blues-based rock songs the distinctive styles really shine through. And the tones do. I was really particular about recording the stuff properly so you could tell, this is Brandon, and this is me. But, again, it was a simple process and everybody in the group was really open-minded with ideas, which was also nice.
MM: Did you guys write the songs together in the studio or how did that work?
TG: The very first song we did, "All My People," was a song that Brandon and his brother had written years before and they had a rough demo recording of it. I had heard that song and I thought, wow, I could really bring this song into a place that makes more sense. Because the groove was kind of there and part of the chorus was there. We needed a starting point, you know? We needed a reason to lock in rehearsal and recording space and start and that song was the project. It's the first thing we worked on and at the end of the day when we listened back it was just like, wow, this is something cool. We did do another one of Brandon and his brother's songs later – I don't know exactly which one at the moment – but everything else was written from the ground up. I would pretty much come up with riff ideas and arrangement ideas. Me and Eric and Rikki would just play it to death with Brandon sitting there with a pen and paper writing lyrics and, man, it really went smooth. Surprisingly.
MM: How long did it take to record the album?
TG: Well, we did it over months, but the writing and recording time was definitely less than a hundred hours. Yeah, it was really, really painless. I bailed out when they were doing vocals and just kind of let everybody fight that out. That took a solid week, getting everything recorded. That was with Shane, who engineered a lot of the record and actually kind of co-produced the vocals. I'd get reports every day and everything was going smooth so I just kept my nose out of it. The process was great. The mixer was Anthony Focx in Nashville, who we really trusted. He did a great job. He was the biggest expense of the whole thing, the mixer.
MM: Did you record the album at a studio one of you owned?
TG: Rikki had a studio at his place and I had a studio where we recorded the first four songs out in Encino and a really atmospheric piece of land. A very makeshift place. It was very comfortable. And that's where we initially started. We had that comfort level right away. And after we toured a little bit we went and got a place out in Acton, California. It was out in the middle of nowhere and we rented a house out there and just set up in the living room and we wrote the final songs and then those last songs were recorded at Rikki's studio. I guess we had enough experience to figure out how to do it.
MM: Did all of the songs make the album or were there leftovers that might see the light in the future?
TG: Yeah, there's always leftovers. I did demo recordings while we were writing. I just recorded things as they were getting near completed very quickly. And there's three or four things that could've been on the record that we just didn't need at the time. So, there's no lack of material. Like I said, it's so painless to write with these guys that I'm looking forward to doing it [again]. Eric's not in the band now so…
MM: Did he leave?
TG: Yeah, he did. We're not kids and we all have families and responsibilities and he lives in Nashville and we live in LA. And Brandon, he can fly around and do whatever he wants so it wouldn't be a problem for him, but for Eric, he has responsibilities at home and he couldn't dedicate the time that was necessary to the band.
MM: Was Rudy [Sarzo] the first guy that you thought of then?
TG: Well, yeah, because I'm already in a band with him and we're trying to keep our schedules locked tight. So, if we have to do Devil City Angels stuff together, great. And then we can get our schedules together. It's not easy being in more than one band. So, it's great to have multiple members in both bands.
MM: What's the other band that he's in with you?
TG: It's called Gunzo. It's Gun and Sarzo, basically. It's way more of a metal band than Devil City Angels.
MM: Did you consider having Rudy re-record the bass on the album after Eric left?
TG: No, it wasn't necessary. That's the great thing about Eric. Eric's just an amazing bass player. Very melodic. And we co-wrote all the songs together. So, it didn't make sense to omit his tracks. And it's not a new situation for Rudy. He holds the world record for being on the most album covers that he didn't play on. [Laughs] That's been the road map of his career. He's been a real good luck charm for all the bands he's done that with. It's amazing.
MM: What are your plans to tour behind the album?
TG: Well, initially we weren't really gonna tour because we figured that no one would hear the record. That's kind of the climate of rock music. So, it was really a vanity project. And then we got the record deal. Initially, we were just gonna put stuff out on our own. But I guess the label is doing a great job and the public is becoming more aware of the record every day thanks to reviews and stuff by guys like you. It's really reaching people and they're buying it and they like it. So, now we're in a situation where people want to see it live. We're looking into some things and when we do tour it will probably be four or five months from now. It wouldn't be something we're doing right away.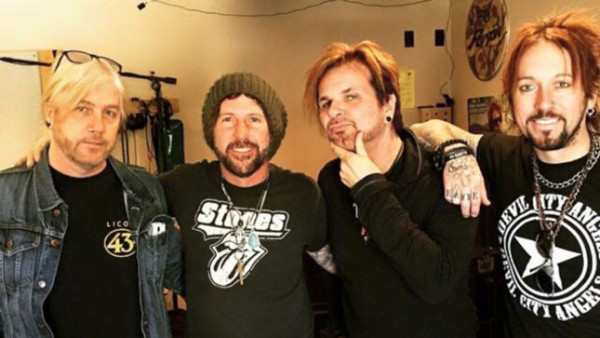 MM: When you do tour, are you planning to do songs from other bands you guys are in or have been in?
TG: Well, yeah, we did before we finished recording the record. We went out and did twenty five shows in the States and that's exactly what we did. We had put four of the new songs that were already recorded online on a Reverb Nation page. So, the people that came to those shows were aware of the band and aware of those four songs. We did those and then we did three Poison songs, three Cinderella songs and three LA Guns songs. So, it's a real no lose kind of situation for us and for the audience. They get what they want and we play what we want. We'll definitely do that but there will be way more of the new material in the live set this time around for sure.
MM: I saw that the album has been released on vinyl, which I need to order soon –
TG: Me, too! [Both laugh] They didn't send us any.
MM: Do you know how many copies were pressed?
TG: I would venture to say that they probably did a really limited run of 500 to a thousand.
MM: That seems to be what Century Media typically does.
TG: Right.
MM: And then sometimes they'll do another run and they'll put it on a different color vinyl.
TG: I've seen two already. I've seen a white vinyl and an orange vinyl. The orange one is really cool.
MM: Sometimes they'll sell one color online exclusively in their Century Media store and then the other one people can buy from Amazon and stuff.
TG: You'd know much more about that than I do, I'll tell you right now. [Laughs]
Stay tuned for part two of our Tracii Guns interview tomorrow! And much thanks to Tracii for doing this interview and to Katy at Adrenaline PR for setting it up!