I first encountered The Ballroom Thieves' music when I was preparing to cover the Boston Calling music festival last month, checking out the bands I wasn't already  familiar with on Spotify.  I was so impressed with their debut album, A Wolf In The Doorway, that I promptly bought their album from iTunes, as I still believe in buying music that I really like, as opposed to streaming things on Spotify.
I had been planning to sleep in late and skip the first few bands of Boston Calling on Sunday — to ditch the exhaustion I was experiencing from Friday and Saturday's performances — but I was so in love with A Wolf In The Doorway, that I simply had to force myself to get out of bed and catch the early train to Boston to catch the Thieves, who were opening Sunday, taking the stage at 1 or 1:30.  In my coverage of their Boston Calling performance I noted that I wouldn't be surprised if they're back to headline the festival in another year or two, something I still believe.  So, I thought that I should interview singer/guitarist Martin Earley now, before they get too famous for us…
Were you always a Boston band since you were formed in 2011 or were you formed elsewhere previously?
Devin and I started playing together at Stonehill College in Easton, which is located about 30 minutes outside of Boston, but by the time the band had found its name I had moved to Boston.
Has your line-up always been the same with you on guitar and vocals, Devin Mauch on percussion and vocals and Calin Peters on cello and vocals?
No, Devin and I played with a different cellist for a while before Callie joined, which was about two years ago.
How did the three of you – the current line up – meet?
Devin and I met in college, and we met Callie during the Lizard Lounge Open Mic in Cambridge, which happens to be one of our favorite places in the country, for that and many other reasons.
Were you in other bands prior to forming The Ballroom Thieves in 2011? If so, what were they called and what sort of music did you play in them?
Devin and I used to be a duo that went by the very creative name of Martin Earley & Devin Mauch. I'd been in a few bands over the years, but nothing that I took all too seriously. Devin played in a few hardcore and alternative bands in his younger days, and Callie used to play in an instrumental duo called Flightless Buttress.
Did you know you wanted to make "alternative rock & folkin' roll" when you started the band? Or did you start off with a different sound before you discovered that was your calling?
I think our sound has grown pretty organically. It started with a singer/songwriter edge but has since inched closer and closer to rock & roll, so we'll see where it goes from there.
One of the things that makes your sound so unique is the cello. How did you come to have a cello player in the band? Did you always want the cello to be part of your sound?
I've always considered the cello to be one of the most beautiful and versatile instruments, so it was a plan from the beginning to have one in the band. The cello makes so many interesting things possible from a compositional point of view, and it just has a certain quality of sound that you can't get from any other instrument. I wish I could play it.
Your Facebook page indicates that you're on Blue Corn Music – is that a self-owned label? If so, do you have a distribution deal?
No, that is in fact a real-life record label. They're based in Texas.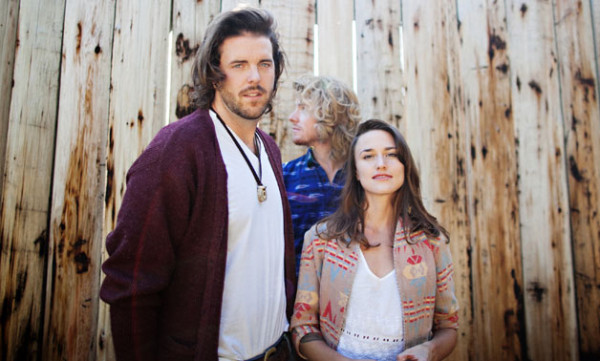 What do you think about Spotify and streaming services in general? Have you ever actually made any money off of them yet? If so, do you think it was a fair amount or would you agree with artists who've said that they barely pay you anything?
Honestly, I think a lot of people have lost the appropriate perspective when it comes to these kinds of issues. I don't think Spotify (or any streaming service for that matter) can be depended upon as a source of revenue for developing bands. These kinds of services should be viewed as promotional tools, as they allow your songs to be heard by virtually anyone with a smartphone or computer. I think it's important, if a bit sad, to realize that our generation has placed the value of a song at 99 cents, and if that's the maximum amount you're willing to pay to own a song, how much would you pay to just listen to it once? Spotify should be used to turn people on to your music in the hopes that they then come out to see your show, not to make money, in my opinion.
You kicked off Sunday of Boston Calling last month. Were you pleased with the number of people who were there? Were there more or less people than you expected?
We had a great time at Boston Calling, and we were definitely pleased with the crowd that came out early to hear us play. We didn't have any grandiose expectations, so the whole day was a blast, really.
Initially, I was planning to sleep in later on Sunday because I was exhausted after Friday and Saturday, but I forced myself to get up to go catch your set because I thought you were one of the best bands playing the festival after I checked you out on Spotify. And four people who were sitting around me said the same thing, that they weren't going to come to the festival so early but they checked you out then they had to see you. Have you heard a lot of stories like this?
I haven't really heard a lot of stories like that, but I'm really happy to hear that my theory on Spotify is translating, haha.
How long have you been performing in Boston? What are some of the venues you've played thus far?
We've been performing in Boston since 2011. We've played a lot of the venues in town, including (but not limited to) the Lizard Lounge, Club Passim, Great Scott, the late TT the Bear's, the Sinclair, Royale, and the House of Blues.
You're playing headlining at Royale later this year on 11/19. How psyched are you about that? Will this be your first time headlining a prominent Boston club?
We're really excited about that show, and it represents a progression for us in a lot of ways. We've been working really hard at this for a few years now, and it's nice to see that hard work paying off in somewhat calculable ways, because that's otherwise fairly rare in this profession. We've headlined the Sinclair a couple of times now, and we love that room. The folks over at Bowery Boston have been incredibly helpful over the years, and we're thankful for all of their support.
Do you know who'll be opening for you at Royale? Do you get to pick or does the club do that?
We got to choose our support and opening acts for this one and we're really excited to announce them both, but we're going to keep it a secret for a little while longer…
Will you be doing many gigs prior to the show at Royale, since that's not until the end of the year? I'm really looking forward to your show in the Wolf Den at Mohegan Sun on June 18th.
We'll be on the road pretty consistently starting in July, and we'll be covering a lot of ground between July and November, so we're looking forward to some good times on the road.
Have you already done many shows outside of the Boston area, such as in other parts of Massachusetts or out of state?
We've been touring nationally for almost 3 years now.
Have you ever considered relocating to New York or LA?
No, that's not really something I'm interested in. I like visiting both cities, but living in either one sounds like a bit of a nightmare to me, to be honest.
Were you born in Massachusetts? If not, where were you born and when did you come here?
No, I was born in Switzerland and then moved to Maine with my family when I was 13. I went to college in Massachusetts, and then ended up living in Boston and Somerville for 4 years after I graduated.
Your debut album A Wolf in the Doorway is out now and I must say, it's quite fantastic. One of my favorite records this year, honestly. In what ways have you been promoting it?
We did a full tour in support of the album when it was first released, and we've been doing radio campaigns, along with some PR campaigns to spread the word, but our biggest tool in terms of promotion is word of mouth. We essentially depend on people coming to our shows and then enjoying themselves enough that they tell their friends to join them the next time we come through town.
Did you release any demos or anything else prior to A Wolf in the Doorway?
We released two EPs prior to this new record.
How do you typically approach the songwriting process? Does everybody in the band get together and write or do any of you not write? Also, do you write songs by yourself and then bring them to the band or is it always a group writing process?
I write the songs and then bring them to the band, at which point we all work together to build harmonies, and Devin and Callie contribute their individual parts. It's as democratic a process as we've been able to come up with, and it seems to be working fairly well so far.
When you write, do you usually start with lyrics, a melody, the music or… ?
It can start anywhere, to be honest. I don't have a system when it comes to songwriting. Sometimes it starts with a melody, sometimes with a lyric, and sometimes with a guitar part. It's the Wheel of Fortune way of writing.
How many songs do you think you wrote prior to The Ballroom Thieves? How many have you written since? I mean, do you have another album's worth of songs ready to go or are all your songs thus far on the album?
I'm really not sure how many songs I had written before we started the band — hundreds, I think. I've written a fair amount since then, and we're in good shape to have a lot of options for the next record at this point.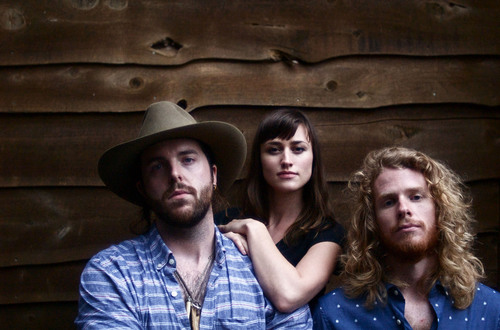 Do you do anything outside of rehearsing to keep your voice in shape? Have you ever had any vocal injuries?
We try to warm our voices up daily, especially when we have shows, but it's definitely something we can improve. I haven't really had any serious vocal injuries, but consistent touring definitely takes a toll, so we've had to become accustomed to that.
How do you think Boston affects your sound? Are there Boston area bands who've influenced you?
Boston is a great music city, and there is a vast amount of inspiring music coming from here. Bands like Tall Heights and Darlingside have influenced us for many years, and we've been fortunate enough to forge great friendships with both groups. One of the city's too often unsung heroes is Tom Bianchi, who runs the Lizard Lounge Open Mic. He personifies Boston's music scene as far as I'm concerned: loyal, hard working, and he never takes himself too seriously.
Who are your other influences personally (as opposed to those who the whole band cites as influences)? And what influences you outside of music?
I read a lot, so that's always a good source, and I'm fortunate enough to travel the country playing music for a living, so I'm never really short on inspiration.
Are there any artists you love who don't influence you? I imagine you must like some artists from other genres, for example. Could you tell us who some of your faves are?
I'm a big hip hop fan, and I love me some Phil Collins, but just because I don't pursue those genres (is Phil Collins a genre?) in my own music doesn't mean that they don't inspire me. We've been known to rock out to Celine Dion as well, and if that voice doesn't inspire you then I don't know what will.
What are your favorite things about Boston? (This could be anything, whatever or wherever you like in the city, about its vibes, etc, etc.)
My favorite part about the city is that it's steeped in so much history. So many important historical events happened right here and the fact that we get to be surrounded by them is something I try not to take for granted.
Do you live in Boston or do you live outside of the city? If you don't live in Boston, where do you live?
No, our increased touring schedule has made Boston rent less than affordable, so we all live out of respective storage units and call the road our home.
Have you had to deal with any obsessive fans yet? What are the best and worst experiences you've had with fans thus far?
We haven't really had any issues with that kind of thing, to be honest. Our fans are generally well behaved and I really can't recall a "bad" experience with one. We've had plenty of good ones though – we've made so many great friends on the road through our music, and that's one of my favorite parts about this job.
Now a few questions from our random questions bank:
Name five of your favorite movies, books, albums or TV shows.
Dylan's Blood on the Tracks, Bukowski's The People Look Like Flowers at Last, Shawshank Redemption, and of course Game of Thrones. Which isn't what you asked.
Do you prefer making albums or playing live?
They're very different processes, but I really enjoy both. That's why I feel so lucky to do this for a living.
Who do you think are the most revolutionary people in the music industry?
The listeners are always the most revolutionary people, right?
Rocky or Rambo?
Rambo has a machine gun. Rambo.