interview by Michael McCarthy
Congolese-born Baloji's new LP, 137 Avenue Kaniama, was released on March 23rd, 2018 via Bella Union. Prior to when the label approached me about the album, I'd never heard of Baloji, but then I suppose very few people here in the States would've heard of him. That's exactly why I wanted to do this interview, so that people will at least know who he is after reading this and listening to his tunes below.
I'm not sure how to describe Baloji's sound. It's mostly upbeat music, a mix of African and Afro-American music like soul, funk and jazz. It's eclectic, too. Some songs are full blown rap songs with Baloji belting out each line of the lyrics like he's fighting for his life. Others are slower, dance tunes with a slight reggae vibe. Then there are the songs that last 10, 11 minutes and switch directions frequently. Just one listen to his new album and you'll be impressed with the musicianship even if you've got something against listening to music in French, which I most certainly don't.
Since we live on opposite ends of the world, the following interview was done via E-mail.
MM: The main story of the "Peau de chagrin/Bleu de nuit" video is about a couple getting married, correct?  Is what we see in the video similar to a real wedding in the Congo?
B: In pygmy communities, these installations are chiefly used as altars for wedding ceremonies. The absence of one of the partners (as shown on the album cover) implies that one of them has gone back on their promises, changed their mind. The film evokes this couple allegorically, showing the two protagonists, each alone in their wedding finery in front of an installation, which becomes clearer as the cloud of yellowish smoke that surrounds them dissipates.
MM: What can you tell us about Belly Bekanga, who plays your wife in the video? Is she a professional actress or a friend of yours? How did she come to be cast in the video?
B: I was searching for very dark complexion models because i think we don't value enough dark skin women in videos clip but Belly standout in the casting because of her attitude and ease with the camera and that's the most important thing for the film, since it's inspired by Antonioni « the eclipse » and the scene where she's bored waiting for the character played by Alain Delon with a certain proud and elegance. 
One of the best videos you'll ever see:
MM: What does the statue that is set on fire in the video for "Peau de chagrin/Bleu de nuit" represent? I'd love to know the story behind it.
B: It's a chocolate statue create by the artiste of the plantation 
it made sense in the editing because spitting on art means to give a blessing and by extension is the blessing to the wedding.
MM: What about the statue the woman licks? What does that represent?
B: it's also a chocolate statue and she licks it, instead of spitting before burning.
MM: I know you're doing the lead vocal on the song, which I would consider rap music, but who is doing the singing parts?
B: the singing parts are done by a fantastic singer called Klody Ndongala. He's congolese singer based in Belgium and mostly known for his singing on film « la vie est belle » with Papa Wemba.
MM: Are the different colors of smoke we see in the video something common in the Congo or was that something you invented for the video?
B: it was part of the album concept (constructed in 3 colors parts) and we duplicated that for the album cover adding a mystical element to the scenery but the idea was to discover the installation when the smoke disappears. 
MM: Generally speaking, are things in the Congo as colorful as in your video in terms of the clothing and flowers and so on? It looks so beautiful.
B: I've designed all the clothes seen in the video with some students from Antwerp fashion school, but the colors are the ones i see everyday in DRC, i just accentuate the blue and the gray.
MM: You're clearly a very gifted filmmaker. Would you say you were influenced more by movies than other music videos or is it the opposite?
B: THANK U!!  i was influenced by movies for the contents and videos clip for the rhythm, the editing and the way video articulate their narratives parts.
Since all my videos are so low budget, I'm extremely well prepared and thought of all the shots and scenery to make sure that we have the right idea so we can search angle, lenses on the set but nothing else cause it creates confusion for the team and the shooting dynamic is the most important thing.
MM: Who are your filmmaking influences?
B: i have a lots of influences from Kitano, the Safdie's brothers, Wong Kar-wai, Sean Baker of The florida projects, H. Korine and of course Moonlight's director barry Jenkins, the Mexican culture and cinematography scene are all genius, there is actually a lot of similarities in our culture : masks are good examples like the relation with death and phantoms.
MM: I understand you have a short film coming out later this year. Can you tell us what it's called and what it's about?
B: The film: KANIAMA SHOW  (26 minutes) is based on the model of a TV variety show from the '80s-90s, in the studio of one of the big state TV channels, whose veiled propaganda is interspersed with flattering interviews, guests on promotional tours and demeaning songs, performed live. everything goes normally until reality abruptly entered in the program and changed things forever for the host and the viewers.  
MM: Have you ever directed music videos for other artists? 
B: No yet but, i would love to! although it's a big pressure cause I've never shared ideas for others. it's a great challenge!  
MM: You grew up in Belgium. Is that also where you were born? What were the best and worst things about growing up there?
B: i'm born in Lubumbashi DRC/ I grew up in a city called Liege that could be compared to blue collars cities like Detroit, Liverpool.
MM: I understand that one time you were searching for your mother and found her at 137 Avenue Kaniama after you hadn't seen her for 25 years. If you don't mind my asking, why did you go so long without seeing each other? Did the experience of finding her after all that time inspire any of the songs on the album?
B: 137 Kaniama Avenue is both the address of a home where we no longer belong, an address without a name, a temporary address for me, as it is for those faceless children, but also a sort of repository of beliefs, where pious souls and pagans meet.137 Kaniama Avenue is also the extension of a story in motion that started with my first album, Hotel Impala. It's the anchoring point of a trajectory marked by my intrinsic attachment to the country as much as by my remoteness from it. A geographic and symbolic distance, which gives me perspective, and inspiration. Finally, 'Kaniama' in Swahili means meat, a tasteless piece of meat. 
MM: I read that you started making music after you learned how to sample. How old were you when you started learning that?
B: I was 18 and never stopped digging records since then! 
MM: Who, if anyone, taught you sampling?
B: it's an Colombian-belgium based DJ: dj Mig one.
MM: Are most of the instruments we hear on the album samples or did you have a band record parts in a studio too?
B: I would say that 50% is live and all the rest is programmed, there is very few samples on this record.
MM: How old were you when you wrote your first song?
B: i was 14-15 
MM: Could you tell us the stories behind a couple of your new songs? I'm especially curious about "Zombie."
B: It's a metaphor about the mosquito [and the bites they give] people this awful disease that made you sleepy. The lyrics says: Cobwebs forming in our armpits.
MM: Do you play any instruments or just produce your music?
B: i play a bit of keys and guitar..;enough to have the song foundation, then i sample myself before i ask professional musicians to replay it , there is very limited amount of sample on this album. 
MM: Did you produce the new album entirely by yourself? Or did you work with any co-producers?
B: i produced every song with some co-producers:  different people that help me on some specific parts that they can do better than me. like synths, drums programming or strings like James Underwood from ISKA strings (XX, vampire Weekend,Johann Johannsson,..).
MM: Your songs have a lot of depth to them with so many wonderful sounds happening at once. How many tracks would you say the average song on the album has?
B: Ooh its hard to say! Layers are used to level a song tension, just like a score to put the emphasis on certain points or words although they just follow some classical cords progression…its usual in most music genre but less in urban soundscape but that [is] what I like about it, building till the chorus or the bridge.
MM: Do you make your music at home or is there a professional studio that you go to?
B: Everything is made with my old Macbook pro.. the best device on earth!
MM: How do you usually approach the songwriting process? Do you start with lyrics or beats or – how does the magic usually happen for you?
B: For this album I started with the songs concept and titles
Then we build music that fits the idea of the songs in different phases (my fruitloop version to studio version) then the lyrics, the vocals/ we strip down the song and we see if its still make sense… if it does, we keep on working on it otherwise it goes in my sketches hard drive.
MM: A lot of your songs are long, which is similar to prog rock, is known for. Are you a fan of any prog bands? 
B: Not much beside being fan of some of Led Zep's longest songs! Its something usual in Congolese music where the songs are in multiples parts, often starting with ballads then going into extended dance parts called "sebene" and I wanted to do something into that tradition of musical storytelling that artists like Father John Misty are keeping alive
MM: Do you perform in the Congo or have you gone on a tour throughout other parts of Africa or even outside of Africa?
B: Yeah we've played several time in DRC, we do a show each year in Kinshasa, we just did a tour in South Africa and I'm looking for a tour in western Africa cause that's the part of the world that is the most creative for the moment from Ghana to Nigeria, Ivory coast,… they are extremely productive!
MM: Who are the artists you're most inspired by? I imagine there must be many different artists from many different countries who've influenced you.
B: So many people are inspiring but I always have to mention Jacques Brel, Tabu Ley Rochereau, the Fania golden era with Hector Lavoe, Curtis Mayfiled, Andre 3000, Arcade Fire for the album Funeral, LCD sound system,Skepta and many more bands from Badbadnotgood to PIL
MM: Is French hip-hop artist Mc*Solaar one of your influences? His rapping reminds me of yours just in terms of how well it flows and has a wide vocabulary and captivating beats, hence my asking.
B: Yeah I love Solaar!
MM: There was a Congolese reinterpretation of your album Hotel Impala. Will there be one of 137 Avenue Kaniama? Have you thought about doing an album, or even a single, in English?
B: Yeah we wanted to do the album completely in english to be honest! Finally Bella Union taught it will be confusing but we have some remixes with guests singing in English  and maybe we will do a version in English later this year cause its something that i love for 70's artists where they had versions of the same song in all  languages of the countries where they performed. 
 RANDOM QUESTIONS:
MM: What was the first album you ever bought with your own money?
B: it was Notorious BIG second album 
MM: If someone was giving you one million U.S. dollars to donate to charity and it all had to go to one charity or cause, which would you give it to?
B: I don't know
MM: What are your favorite television series? What are you watching right now?
B: all time fav will be a mix between « The Wire », «  In treatment », « True detective » and « Black mirror » 
recently i really love «  Big little Lies » and OJ Simpson crime tales.
MM: Do your prefer to listen to new music or music that makes you nostalgic?
B: i love checking [out] the new releases each friday  i have this since i was working in r&b record store and the release day was a very exciting moment… i still have this excitement on new release searching for the eargasm. 
MM: Who are your favorite newer artists?
B: Bad Gyal , IAMDB 
MM: If you could resurrect any one musician from the dead, who would you bring back?
B: Notorious BIG 
MM: If you had to move to a foreign country where you've never lived, which would you move to?
B: LONDON count as a country? otherwise Sao Paulo, Beyrouth, Cape Town, Portland or Lisboa  
MM: Tell us about three things on your bucket list (things that you want to do before you die).
B: play at Carnegie Hall 
being selected for Sundance 
shooting on 35mm film with Nicolas Karakastanis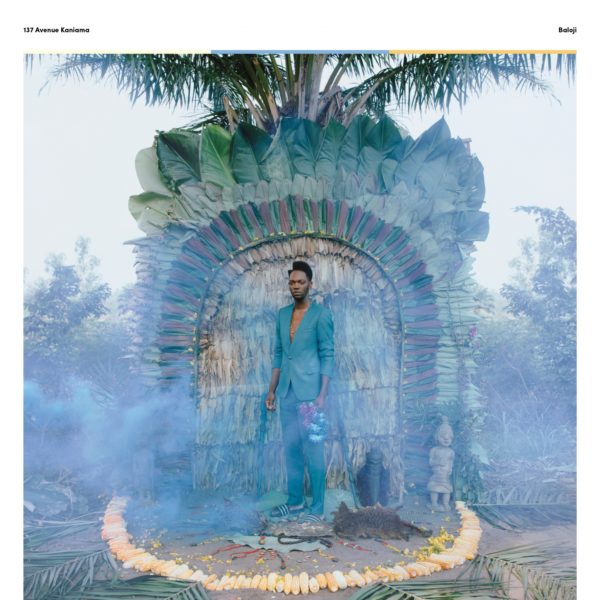 Buy Baloji's new album, 137 Avenue Kaniama, on Amazon.
Extra special thanks to Baloji for answering my many questions.  Special thanks to Sally Hedberg for connecting us.