The UK's Bat and Ball are an immensely-talented outfit with co-lead vocalists Abi and Chris Sinclair hailing from West Country. While the two began writing and performing with various bands in their early teens, they never actually played in a band together until they both moved to London to study at Goldsmiths College, at which point they seemed destined to make music together. And so they joined forces with fellow Goldsmith students Ed Burton (drums), Jamie Coe (guitar) and Harri Chambers (keyboards) and Bat and Ball was born.
The group's stunning debut EP, We Prefer It In The Dark, was released in 2013 and received wholly positive reviews in NME, The Guardian, The Independent, Clash and several other publications. And it's easy to understand why, their sound being no less hypnotic than that of The xx and as haunting as that of London Grammar. Of course, I realize those are big names to compare them to, but their EP is truly worthy of such distinction. Now they're gearing up to release their new single, "Stops My Mouth," which is even better. And I don't just mean that it's better than their EP. I mean that it's even better than London Grammar and The xx. Hard to believe, I know, but I only speak the truth. Everything about it is mesmerizing, from Abi's cool, intoxicating vocals to the rhythm section's entrancing bass line and bewitching beats. And so I simply had to interview Abi and Chris to find out more about their grade A, five star band.
MM: Bat and Ball is a clever name. Who came up with it? Does it have a story behind it, or some deeper meaning, or did you just think it sounded cool so you went with it?
CS: People are really interested in names – we really like the idea that a name is just something thrown over things. Of course people are keen to know the meaning of Bat and Ball, and we've had a lot of fun answering that question in different ways.  The truth is, our name is a metaphor. Bat and Ball suggests things that go together.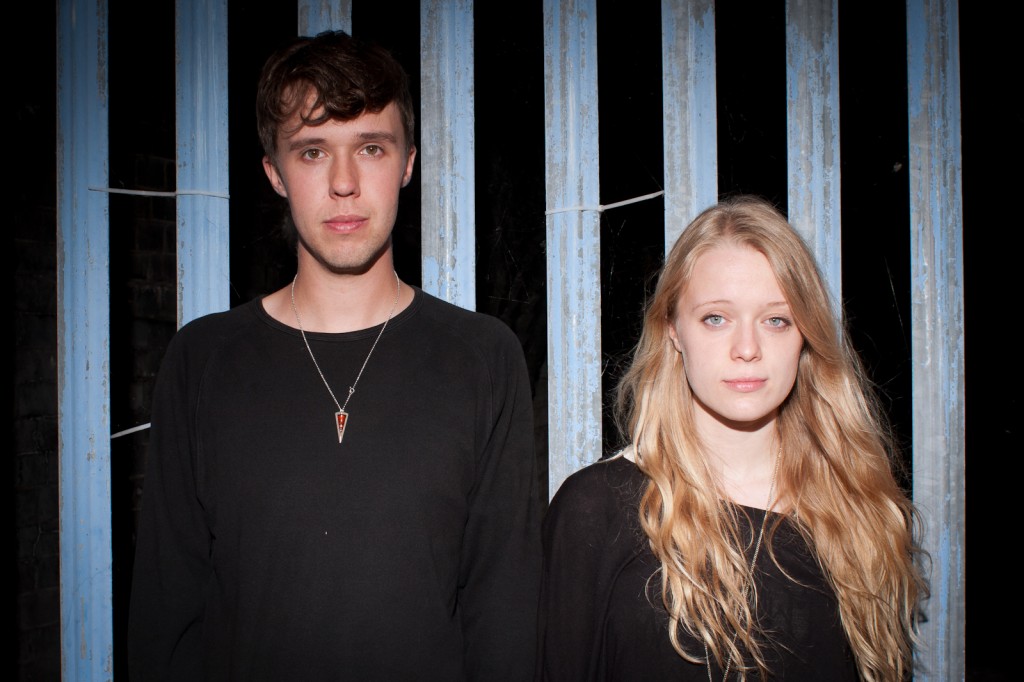 MM: Are you the woman in the video for "Stops My Mouth"? I would assume so, since the woman is singing, but on the cover of We Prefer It In The Dark you look quite different, having long blonde hair, unlike the woman in the video who has short red hair. Plus, your eyes look blue or blue-ish on the cover but in the video we see green eyes.
AS: The awesome person in the video is actually a very good friend of mine. Bat and Ball didn't appear in this video. Central to the video is the idea of gender identity and playing with that. I am fascinated with ideas of identity, creating stories and characters away from us.
MM: Your press release states "Chris and Abi Sinclair" but doesn't specify if you're brother and sister or otherwise related, or a married couple, or if you just happen to have the same last name by coincidence. So, what's the story there?
CS: We're brother and sister. Can't you tell? Bizarrely, we didn't really make any music together whilst growing up. We played completely different genres of music and had our own bands. Over the recent years we managed to challenge all that sibling rivalry into something positive. Of course, we are incredibly close now and this forms a big part of our writing process. Often, we convey the meanings of our songs to one another without discussion- it's all about decrypting each other's lyrics and filling in the gaps.
MM: Since it's only Abi and Chris on the cover of your We Prefer It In The Dark EP and your name is Bat and Ball, I would think people might assume you're a duo. But I understand there are three additional band members, Ed Burton (drums), Jamie Coe (guitar) and Harri Chambers (keyboards). Do all five of you contribute to the songwriting or is it more like you are a duo and they're additional musicians?
AS: In the beginning Bat and Ball was just Chris and I writing songs, however we always had the intention of bringing more people in to play with us. Luckily being at Goldsmiths we met many fine musicians, among these of course were Jamie, Harri and Ed who now complete Bat and Ball. Bat and Ball are a 5 piece. Me or Chris will come up with the initial song ideas, but as a band we develop, arrange and record the songs together. Without the complete 5 piece we wouldn't have our Bat and Ball sound.
MM: You and Chris are the vocalists but do either of you play instruments or do programming or anything else aside from the vocals?
CS: For our live shows, I also play bass and Abi plays guitar. The recording process is something that Abi and I revel in- there is nothing more enjoyable than being in a studio full of random instruments, exotic pieces of percussion that you can't work out how to play and vintage keyboards covered in dust. We like to add little splashes of colour and sound to our songs using what we find. Mistakes are also amazing. Sometimes you make a perfect mistake and instead of deleting it from your track, you just make it louder!
MM: Do you produce your music yourselves? If not, who has produced your music thus far?
AS: We worked very closely with the amazing Moshik Kop who recorded with us on our EP and single.
Bat and Ball's new single, "Stops My Mouth," will be released on April 28th via Hospital Samples/Kissability.
Bat and Ball – UK live:
Monday 28th April @ The Shackwell Arms
Saturday 3rd May @ Live at Leeds Festival
Friday 9th May @ The Blind Tiger, The Great Escape, Brighton