interview by Michael McCarthy
I'm going to start off by admitting something here: I'd lost track of Collective Soul over the years. Like millions of people, I'd bought their first few albums during their heyday in the '90s and I enjoyed them quite a bit. However, by the time their fourth album, Dosage, came out in '99, I was heavily into electronic music and music in foreign languages, like K-Pop and French pop. And I just sort of forgot about them. To be fair, I'd never heard anything about them releasing a fourth album, or a fifth, or… You get the idea. Since I wasn't going out of my way to look for them, and I wasn't hearing about them in any of the magazines I read anymore, they totally slipped off of my radar. It wasn't until I found out that the band was touring with Three Doors Down and Soul Asylum this summer that I looked them up on Wiki and discovered that they'd released an impressive nine studio albums and a couple of live records as well. At that point, I immediately started listening to their latest studio album, See What You Started By Continuing, and soon fell in love with it. Now that I've listened to all of their albums at least a few times, I can safely say that it's my favorite Collective Soul album to date. From the moment the album begins with the anthemic "This," it hooks you and it doesn't let go until it's over another ten songs later. Last year, the band released their second live album, simply entitled Live, and that's actually what I'd suggest someone unfamiliar with the band listen to first since it's a great representation of the band's greatest hits and recent output. Both of these albums feature Johnny Rabb, who's been drumming for the band since 2012. Up until joining Collective Soul, Johnny had done just about everything a drummer can do. He'd performed alongside artists from just about every genre under the sun, worked as a rep for several drum companies, taught masterclasses, invented his own drumsticks, and even performed drum 'n' bass music on a regular drum kit. I've included the band's latest albums on Spotify in Johnny's interview below. I hope that you'll give them a listen – with an open mind – while you read on. Trust me, you'll be impressed.
MM: First of all, how did you come to be in Collective Soul?
JR: It was actually, strangely enough, how you would not think. It was through a friend of ours, Jen Lowell, who's a percussionist and songwriter. We were at her birthday party, me and Will Turpin, and we started talking. I didn't even really know he was in Collective Soul, honestly. We just hit it off, chatting music and whatever, and the next thing he says is, "We're actually looking for a drummer." And even at that point I wasn't angling for anything. I was like, "That's cool. I know your past drummer personally." He's like, "Oh, we're looking for a new one." And fast forward at Roland. That was my main job, as a clinician and artist for Roland. I was doing the V Drums, actually, quite a bit. It was early 2012. Again, it was a friend and the next thing [I know] they were at a NAMM demonstration I did then I did come up and jam. It was literally a jam in Ed's basement studio. About a month later, and then I started on that Dosage tour and it's the beginning of the seventh year now.
MM: So, you didn't have to do a regular audition then? That was enough?
JR: I heard that later, but I mean, at first I was like, do they like this? Nothing [was] negative. It was all positive to hang. It's that new feeling you have and you're wondering, These guys are being so nice. It's cool. Later, come to find out the jam was fine and it worked out and it was just a matter of seeing if you fit in well. And when the tour worked out, man, it was a blast.
MM: I'll admit, prior to when this interview was scheduled, I hadn't kept up with Collective Soul during recent years. So, I went on Spotify and was surprised by how many albums they had released that I didn't know about. Had you heard all of their albums before you joined the band?
JR: Yes, I was a fan of them and a fan of music. Years ago, living in Nashville, I was made aware of them. Thankfully, at that time MTV was a good conduit and then the local radio station, Lightning 100 in Nashville, [played them] quite a bit. They were on other stations, but that was my station that I liked. They played a lot of great music that was coming out. So, yeah, they have quite a catalog, and I'm very familiar, and a lot of people forget how many hits they've had. They're quite a band.
MM: How close to the original recordings do they want you to play? Do you have to play it exactly as the drums are on the albums or is there room for you to kind of add your signature to them?
JR: Well, I kind of have this protocol myself that a drummer doing a live show, if it's already been recorded, you stick to what's on the album. However, to me, that is a fun thing because you get to pay tribute to the song as it was recorded. And that's what the fans are wanting to hear. But, of course, arrangements and stuff change maybe a tiny bit, stretching some solos or with different intros and stuff like that. But we, as a band, try to stick to the record. It's a lot of fun. It's a challenge. Makes that song come alive how it was captured on record. But there's always that live element that gives it the energy. If we're jamming, I might do a different fill or something like that. But I definitely try to respect the song.
MM: Do you get to do a drum solo at all on the current tour?
JR: No, but there's enough [material], and I'm very cool with that. That used to be my life, just daily playing during these clinics and technical things like that. On the first tour we did, it almost became a fun novelty thing [how] we played the song "Hollywood." "Give it an old-school rock solo, Johnny!" A lot of fun. But I'm actually quite thankful. I grew up playing songs. As a clinician, I think I got a little bit lost in my past. Just due to all these drummers drumming and playing for these workshops and festivals and things like this. So, I'm cool with the set. It's great. Right now, there's enough of a showcase and I just love what's going on. I feel like everyone is getting showcased in there.
MM: Do you guys do the same set every night or do you make changes?
JR: It can vary. It's maybe a little similar. Due to the fact that we have this tour, but we like to keep it fresh, throw in something new. We have new songs. We're always playing off each other. So, it never is the same show from night to night. Whether it's a new song, or something new that we haven't done, or just stretching something out a little further solo-wise. That's the magic of the band. We still love playing 100 percent live. It's just the five guys up there. So, it can stretch. It can move. And it can bend, depending on what the crowd is doing, depending on what Ed's doing, or what he wants to do, and that's the magic of it.
MM: I read that you were doing a couple of new songs live recently. "Right As Rain" and "Rule Number One." Are you still doing those?
JR: Yeah, I would say "Right As Rain" is still in there. "Rule Number One" does revolve in and out of the set, depending on how much time we have. Both of those we've been doing, as well as a couple other ones that are unreleased.
MM: I believe I read that you posted five songs over the weekend for a limited time or something. Is this true?
JR: Yes, we did. And I don't mean to be negative, but off the top of my head, I can't remember all the titles because we have 19 songs that have been in – I won't say they're in rotation – but we've done those a couple of times. For 4th of July, there was an EP and Ed's birthday was [the reason for] the release of the 5 Songs for 55. The idea is to give people an idea of what we have coming out in 2019. And we do have 19 songs recorded from the past two years or so in the studio. It's really a variety of songs, and a variety of styles, and I can't even believe we have that many down right now. They're just ready to go. So, it's exciting and I'm proud of that process and proud to be a part of it.
MM: Do you participate in the songwriting?
JR: I think we all participate in the songwriting. Ed is the main writer himself. I mean, let's say it how it is. He's always on the acoustic or piano and he's always creating and crafting really amazing hooks and very catchy sounds. He's the one person I've never seen start to mess around with a song and think, it sounds OK. I'm always like, that was really great. He comes with the songs and we may partake in the arrangement. Don't get me wrong, he lets us do what we're doing in the studio. He'll give suggestions, [but] we all give each other suggestions on the arrangement in the studio. It is Ed as the man writer of the band. But I give credit to the other guys, too. We all do different things. We all write and we're all interested in different types of music. Dean [Roland] has released Magnets & Ghosts third record. Will has Serengeti Drivers. I got to play on a couple tracks on that along with a few drummers from past Collective Soul. Shane and Ryan and other guest drummers and artists. Everyone has their extreme talents. Jesse's got his own music slash producing others out of Nashville. But when the band gets together in the studio to write, it's a fun process to be a part of.
MM: So how did the Rock 'N' Roll Express Tour come about?
JR: Promoters and management get together and they figure out which works with which. This one's a Livenation tour. They get together and figure out how it would work best and who could do what. And they work together. And we've worked with these bands together and it's been a great trip. So, that's usually how those come about is through management and promoters and booking agents.
MM: I saw that there were only U.S. tour dates on your site. Are you playing outside the States on this tour at all?
JR: We're playing all the States all the way through until really close to October first, end of September. And we did Canada for a week and a half before this tour kicked off. So, that was really cool. That was just us hitting there and it felt really good, getting back up there.
MM: I'm surprised you're not coming to Massachusetts at all. I would've thought you'd play Boston.
JR: We did play there two years ago with the Goo Goo Dolls. It was awesome. What's the little outdoor venue on the bay there?
MM: Blue Hills Bank Pavilion?
JR: Yeah, I'm pretty sure that's it right there. That was was a lot of fun. I went to Berklee and have some friends back there and things like that. Boston's always fun to get back to for me personally.
MM: That's the area we're from.
JR: Oh, cool.
MM: Do you have a Boston story or memory that you could share with us?
JR: I do have plenty of them. Of course, you do the walk from Mass Ave. over the bridge – over the Charles – into Harvard Square. I used to love going and watching all of the artists perform at Harvard Square. I have a lot of Allston stories, those venues, the band houses where all the roommates and the band would jam. Probably the only place in my life where you could have a place where you play and the neighbors don't care because they're also jamming. Because it's all college students, mainly, living in Allston. A few people are residents full-time. They might get annoyed, but they're usually cool with it. But that upbringing of having that full-time band house 24/7 was a good memory. Boston was a great memory because at first, I was super scared. I came a little sheltered from Carmichael, California. Thought I was all grown up, but when I got there I was obviously scared. Because I hadn't really seen a big city. Not a week or two went by and I was like, this place is amazing. I enjoyed the seasonal changes. I enjoyed going out everywhere. Walking the Charles, you name it. I mean, I really, really like Boston.
MM: Did you have a favorite record shop in Boston?
JR: Well, strangely enough, you know, the Newbury Comics thing was in town. Was one of the ones where I'd buy my crazy t-shirts and all of that stuff. I ended up working at the Tower [Records] in Boston. I didn't get to pick my department, but it didn't bother me because I was into jazz and fusion growing up. I worked the jazz floor in Tower for two years. It was actually still Tower. Right above the interstate there. Right on the bridge.
MM: Yeah, I used to go there all the time.
JR: It's sad that it's gone. I grew up in Sacramento where the first Tower started. For me, it was like an iconic thing to work there. That one has some great history to it and great stories. That whole staff was a lot of fun. A lot of good memories. I met a lot of people there.
MM: The one on Newbury Street where you worked, that went out and Virgin Megastore came in and that was pretty cool, but that went out and now it's a Best Buy.
JR: Yeah, I saw that. I didn't know it was a Best Buy, but I remember the transition and I just never would've thought Tower would've went out of business. What a great store. Getting music that way was fantastic.
MM: I know they actually still exist in Japan and they're still all over there, apparently, but that's the only place.
JR: That's cool. That's extremely cool.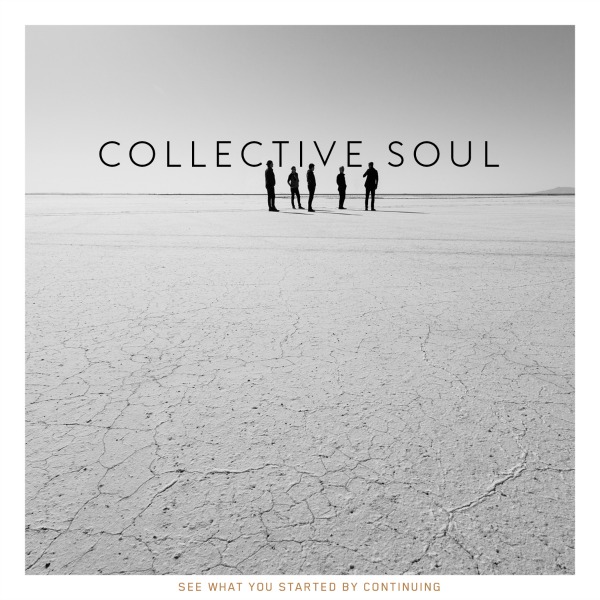 MM: So, the deluxe edition of See What You Started By Continuing came with a bonus disc of the band's greatest hits. Were those the original versions of the songs or did you re-record them for that release?
JR: That's a good question. I'm not totally positive on that. They could be re-records, but for this sake, I'm not totally positive. I apologize about that, but…
MM: That's all right. But you don't recall personally working on any re-records in the studio?
JR: Since joining the band, I have not done any past hit, you know, re-records with the guys. We've done the live album, which was amazing, capturing where the band's at right now. And See What You Started was my first record recording with the guys and that experience was amazing. Right now, I feel really good because the studio record, See What You Started, and the Live album really mark where I'm at with them. And also mark where the band is at live. We're playing great right now. Everything is really jamming and on the spot.
MM: I know See What You Started peaked at number 25 on Billboard. Were you surprised that it went that high?
JR: We were just excited, you know what I mean? In the day when we all embrace the technology of streaming and all of that. But Ed will release things on vinyl, and CD and also digitally, and also stream it. We totally love it. We're still in the game and I think it's not a matter of surprised or necessarily not surprised. It's exciting. And we move forward. I know Ed really believes in releasing music. I don't see that discontinuing. I see that happening way into the future.
MM: This might be an odd question, but what's that little sound we hear when "This" begins the See What You Started album?
JR: That's just some sort of an effect or a little sample. A little UFO-ish type thing. I don't know. That's what's so cool about that. It's something that we just did in the studio, messing around, but I know what you mean. It kind of sounds like a UFO landing or taking off. It's like, what is that? Right? It's like, who knows?
MM: In the past, you were performing drum 'n' bass music as part of the duo DrumJockeys circa 2006. Have you done it at all in the years since?
JR: No. DrumJockeys was obviously a slant on the term disc jockeys with me behind the drums. It's not the best title in the world, but [I did] that and BioDiesel. BioDiesel with Clay Parnell was something I did quite a bit as a duo. We did very well with that and then the damn band scenes have to go so soon. Clay and I are taking a break from it, but we still plan on doing stuff in the future. And the other one was with Chris Patterson. I just really like electronica drumming and have written educational drum books on the subject and it's still a hobby of mine, but it went pretty far. We were doing three and four hundred seat clubs. For a little duo thing, that was pretty successful. We did some larger electronic festivals and it's still a hobby of mine. Maybe I shouldn't use the word hobby. It's still something of mine that I still really enjoy doing.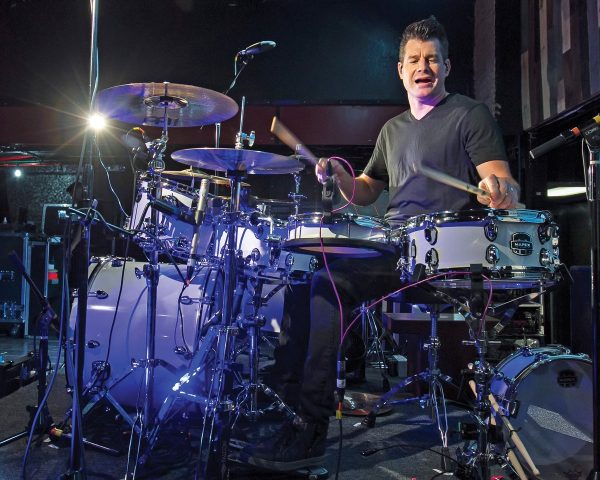 MM: Who are some of your favorite drum 'n' bass artists?
JR: Well, when I was at Sacramento, I'd just go into Tower and I'd pick up stuff by Goldie, by LTJ Bokem, Roni Size and a bunch of other DJs that were in the style. I actually got to do a show with LTJ. And then I do a lot of compilation records. That style of programmed drums or sampled drums is really interesting to simulate on acoustic kits and that's what lead me to different projects and writing the book on the subject, Drum 'N' Bass For The Acoustic Drum Set.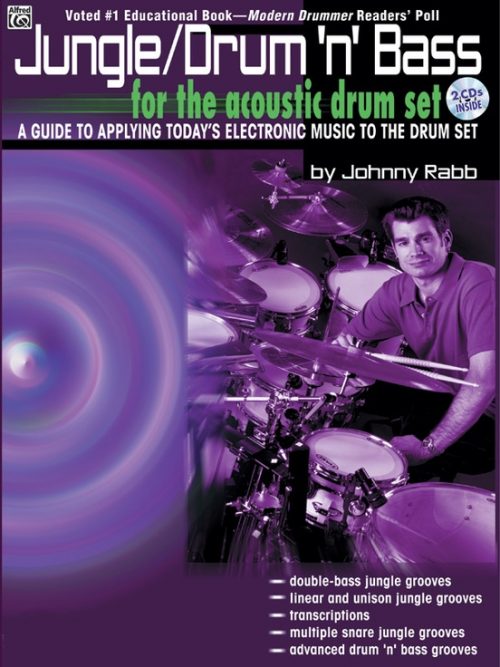 MM: Were you a fan of David Bowie's drum 'n' bass album, Earthling, by any chance?
JR: Whenever that came out, I always thought it was really awesome. I was trying very hard to be one of the first people doing it on acoustic kits so whenever I heard it, I had a little bit of envy like, oh my God, I'm doing this too. I wished I was working with some of these guys who were putting it on their records. I always thought it was cool when people would put it on their mainstream music and caught the same vibe that I was thinking. I absolutely did think it was cool. And I really enjoyed it when people would play that. I do get a little laugh when I hear my friends or anybody listening telling me, "Hey, listen to this. It's amazing." I'm like, "It's just drum 'n' bass, man." That's OK because I don't think they followed it as closely as I did.
MM: You've played drums for a wide range of artists, including some of the great country artists like Tanya Tucker, Hank Williams III and Mindy McCready. Did you do any albums with any of them?
JR: It was mainly the live touring aspect with those guys. I did a bunch of sessions, whether it was for demos, or recordings for independent artists, and things like that. [I did] Larry Tagg in the '80s. He lived near me in Sacramento and I was happy to say that I worked with him. Those were my live days. The bus tour kind of days. Back in the day with Tanya. Tanya was kind of like what we're doing now but on and off for about four years. That was great.
MM: So, are you a big country fan?
JR: I was – out of Boston – but right now I don't follow it. Do I like it? Do I know it? Do I love it? Sure. I really studied it in my '20s when I moved to Nashville with a lot under my belt and played Broadway nightly. I get a little bit of the jealousy of my buddies who still live there, but now that it's changed so much, younger drummers are doing it. But I think it's great that they're doing it. I feel like I paid my dues in Nashville on Broadway. Proud of that experience and those years there. Just due to how much I learned, doing that city. Not that I don't like country now. I just don't follow it so much. Not like I used to with Alan Jackson, Neil McCoy, all those old school artists. Even earlier, earlier like Johnny Cash. With Willie Nelson. But then just late '80s, early '90s country stuff. That's what was in when I moved there.
MM: I like old school country like Johnny and Willie. I don't like what passes for country these days, that pop-friendly country that dominates the charts.
JR: Got it. Yeah. I understand. But it is awesome. The production's awesome a lot. And almost anybody I know is out there playing drums with them. I'm happy it's still vitalized and all that. I'm just in a different spot right now. I definitely respect it, though, for sure.
MM: You've invented things like drumsticks and cymbals. How does that process work?
JR: Well, the sticks came about when I was in Nashville and had a restaurant job at the old Red Lobster. [Laughs] Not my favorite job. But it was something I could go in and out of when I had a tour. You don't want to quit and not have something to do if you need some extra income. The stick thing came as an idea I had in my head that I wrote down on a napkin, just like you would see in a movie or sitcom, and then I found a woodworker. Surprisingly, there were a lot of woodworkers hanging up on me. "Nah, no thanks, I'm not gonna do the prototype." Then this gentleman actually was from Worcester, so he was a Boston connection. He was like, "Oh, you lived in Boston?" I'm like, "Yeah!" And he's like, "Come On Over." We made the first prototype in Goodlettsville, Tennessee, which is about twenty minutes out of Nashville. And then I sat on it for a while and was frustrated because nothing was happening but, long story short, that turned into a drumstick company of my own for years. It really went successfully, the only downfall was that I was young and I didn't realize I signed the bad end of a deal. And that got sold to a drum company. One of the largest in the world. And it's all good, but I've got the patent back now and I'm re-starting Johnny Rabb Drumsticks now. So, everything's looking positive. This time I own everything. The invention thing, the biggest thing is prototyping and then following through on your idea. Get it licensed or whatever. In the music industry, licensing doesn't mean something like a car part. It means something a lot smaller, but you take pride in maybe contributing to the drumming industry. I always liked to do that as a kid.
RANDOM QUESTIONS:
MM: I don't know if you've just named it or not, but what was the worst day job that you've ever had?
JR: Well, looking back, some of the worst were the best, if that makes sense. I did not enjoy the feeling of when you had anything that was in the way of the music. When I moved to Nashville, the Red Lobster thing was probably the worst only because you had to go play downtown Broadway, and once you're done you're trying to network, and you're trying to gigs, right? The reason I say the Red Lobster thing was the worst and maybe one of the best is that it taught me. I personally think everyone should have some sort of job in retail or in public serving, in the sense of a server or a bartender. So they can really see how people treat one another. I tell my daughters, you want to be treated well. So, when you're at a restaurant, treat your servers well, treat your bartenders well. Some people are amazing. Some people are not so amazing. We've all seen somebody being rude in a restaurant. On a daily basis, there's the gamut of that up and down. Getting up in the morning was tough, right? You'd be doing the graveyard music thing and with Red Lobster you had to be there by ten and I know that sounds late, but when you get in at four, ten is not that awesome. And it was the best job because I still have good memories of laughs and good life lessons there. Mistakes I've made, keeping control of my attitude or temper, if somebody was rude. So, I always think it's worth it to have that kind of experience before you go off on your career. And you might not know it while you're there. Because you're itching to do your career thing. But I always think for young people it's important. Least favorite, I guess, but you get it.
MM: Vinyl has made a big comeback during the past decade. Are you a vinyl junkie at all?
JR: I love vinyl. Very much. I kind of made a mistake on a move of getting rid of vinyl. Honestly, due to the weight and how fast I was trying to get moving somewhere. Ed has been awesome. He's helped me restart my vinyl collecting. I mean, I was looking, but he'd be giving me fifteen albums at a time. He'd be like, "I found these for you. I heard these were some of the ones you're missing." It's amazing. So, yeah, I try to show my kids. When we're all at Ed's house, we play vinyl. We literally play DJ. He's always got stacks and stacks. He's always hitting record stores when we're on the road. I still remember vinyl being the first medium to play [music] on. I loved it and that's what I did for Foreigner, for Rush, to Devo to Yes. Anything you could imagine. '80s. The Cars. Whatever. So, the answer is yes, and I'm regaining stuff. I'm also just loving looking up old punk records. You can find cool stuff, especially at freakin' Half-Priced Books. I don't know if you have that. But that is the new little place for me because people are always bringing in old collections. It's not the reissues, it's the actual, original albums.
MM: If I was to look at the band's contract rider, what might I be surprised to find there?
JR: I don't think anything, really. You mean like a food rider and stuff like that?
MM: Yeah.
JR: Nothing. No surprises. Food and sodas and water and the essentials. We're not a band that goes crazy tracking the, we need, this, this, and this. It's a basic needs thing, honestly. Nothing crazy. "Hey, you want a coke? You want a water? Do you want a peanut butter and jelly sandwich?" It's well-done, but nobody has any crazy needs here.
MM: If someone was giving you a million dollars to give to charity and it all had to go to the same cause or charity, which would you give it to?
JR: Cancer. Because of my mom and family members. Ed's had family members. Will's had – I don't want to get too personally involved, but we've all known various people who've battled cancer. That's the biggest thing that I would do. I don't want to speak for the guys, but I feel heartfelt for all of us that it goes to cancer, if it's one charity. That's where mine would go.
Buy Collective Soul: Live on vinyl from Amazon
Buy Collective Soul: Live on CD from Amazon
Visit Collective Soul's Official Site