by Michael McCarthy
all photos courtesy of Frontiers Records
Today, February 19th, sees the release of the self-titled debut album by the UK's hottest new hard rock band, Inglorious. But don't let their name fool you; their sound is indeed very glorious. These guys kick some major ass. Frontman Nathan James is like a young David Coverdale or Robert Plant, his voice having just the right amount of rasp and power. Whitesnake fans in particular should go crazy for this band – and not just because of the vocals. The band's songwriting is very, very strong. They're influenced by classic rock and some old school heavy metal (as you'll read below) and already they're churning out songs that are grade A winners. Opening track "Until I Die" is six minutes of sharp guitars, high notes, ass kicking drums and killer bass guitar. "Holy Water" is a bluesy song that slithers its way inside your head and, ironically enough, fills it with devilish thoughts. And "Girl Got A Gun" packs some hardcore swirling strut. Every song on the album is noteworthy though. Whether you prefer '70's Deep Purple or '80's Lynch Mob, this band has something to offer you. It's rock 'n' roll at its purest, which shouldn't surprise you because they're on Frontiers Records and they only release the best of the best. James recently took some time out of his very busy schedule to complete the following E-mail interview.
MM: From what I understand, the band started with you seeking like-minded musicians. In what order did you find the guys and what do you recall about first meeting them? Do you recall what they played for their auditions?
NJ: I made them learn 4 of the songs that were on the version of the album I recorded. It was originally gonna be a solo thing and then I changed my mind after spending all my money haha. Wil Taylor [ guitarist] entered the room and I asked if he knew the 4 songs…he said "no, I know the whole album" and after I had told Phil [the drummer] he had the gig he told me he never rehearsed the songs on a kit…he just did it on pillows in his room and nailed the audition.
MM: I know you all contributed to the writing and there are some songs with guest writers. On the songs you wrote without guests, how did the writing process work? Is there a formula you employed, like starting with a guitar riff or title?
NJ: We start with a riff. And make sure we have it in a nice key for me to use my "sweet spot" vocally. It's a very quick process and we are already writing album 2.
MM: Which songs were written with Al Pitrelli, Joel Hoekstra and Neil Fairclough?
NJ: Co wrote high flying gypsy and girl got a gun with Al. the later of which is inspired by a mutual friend of ours who is a badass babe that takes no crap. The Joel connection came from TSO. We wrote you're mine in rehearsals after our A and R guy Derek Shulman suggested we get together and jam. I met Neil on a gig with Brian May's female vocalist of choice Kerry Ellis…he said he had a song for me and ended up writing a whole album that we had to shelf…we did manage to co write one song though "inglorious" with his sister and brother in law. It stands out on the album and I love it.
MM: I know you did some singing in Trans-Siberian Orchestra, which is how you met Al Pitrelli. Did you sing on any of their albums or just live?
NJ: I have done some recording but nothing has been released yet.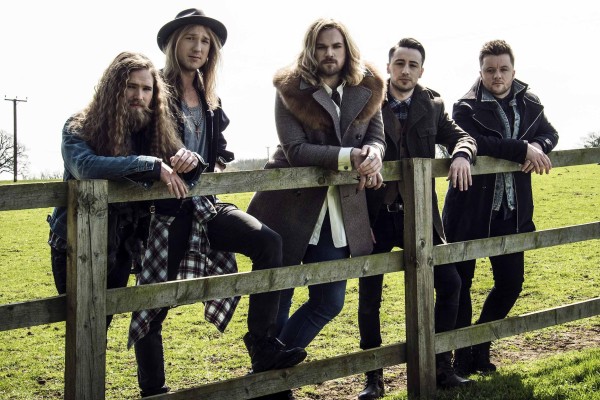 MM: Are you still a member of Trans-Siberian Orchestra? Which tours, if any, did you do with them?
NJ: I did 3 US tours a European tour and Wacken Open Air in Germany. I liked singing the Savatage stuff a lot. I left TSO last summer to concentrate on inglorious. I left on good terms and really appreciate what they have done for my career but I am 27 now and don't wanna hang around and get to comfortable just yet…
MM: There's a distinct blues influence in some of your songs, like "Holy Water." Who are your blues influences?
NJ: Singers inspire me. I like rich soulful vocalists. Paul Rodgers, Glenn Hughes, David Coverdale I actually took the first line of David Coverdale's "Northwinds" album for the title of said track. As for the band we are very clearly huge Purple fans so I would say they're our main influence.
MML Your bio mentions various classic rock artists from the '70's as your influences. I'm curious though – were you influenced by any of the bands people tend to refer to as hair metal? I agree that your sound is more like classic '70's rock, but I also feel like there's an '80's metal element to your sound as well.
NJ: That's not a bad thing at all. I love Guns N Roses and Skid Row etc so maybe some has crept in. but to me personally the production of our record [or lack of] is what makes us more 70s than 80s…not a reverse snare in sight!!!
MM: Your self-titled debut comes out February 19th. How will you celebrate?
NJ: By getting very drunk and probably crying. I am a very emotional bloke and this has been my mission for 3 years! I have never been more proud and I am so excited to show people how good we are live.
MM: You recorded your album live in the studio, tracking everyone at once. How many takes did the average song take to get it perfect?
NJ: It had a lot to do with tempos. Some takes weren't perfect but it grooved like a train so we would go with that. The majority took maybe 4- 5 takes. It was very stressful for the boys! Not so much for me from the control room ha ha. It was a great experience though and to say we recorded the backbones of 22 songs in 4 days isn't bad at all, we thought we were recording demos.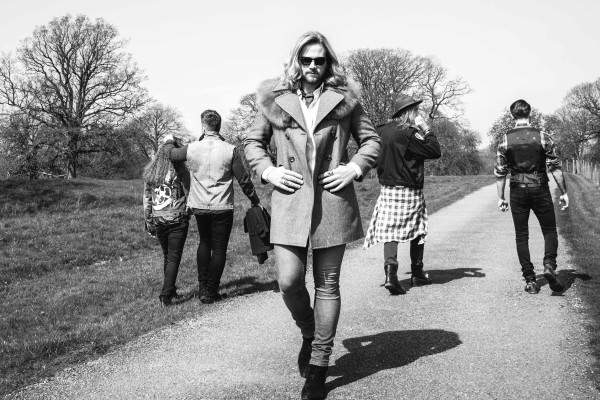 MM: Whose idea was it to call the band Inglorious? That word can mean a few different things, none of which are very positive. How do you intend for the name to be taken?
NJ: I just like the word. It looks great. It's nice to say and it's a kind of "f*ck you" to the pop industry I suppose. We are doing everything that people are not doing now in the biz and it feels glorious. It also looks great on a t shirt/pair of breasts.
MM: I love your album cover. Who did it? Who is the model?
NJ: I came up with the idea. My heritage is gypsy so I chose a fortune teller and tarot reader. I like that she's telling the listener the future is "INGLORIOUS" the model is a stunning Yoga instructor from London…it's a shame you can't see her whole face. The photographer is Nedim Nazerali who takes all our photos. I styled the model and helped stage the shot and he took the pic.
MM: You have a very powerful voice with a wide-range. Do you do anything special to keep your voice in shape?
NJ: Water, sleep, steam and try not to get stressed…I have had lessons since I was 11 years old so I know how to not blow it out.
MM: One of your songs is called "Warning." Do you remember a warning you received when you were growing up that proved to be true? 
NJ: The song is about drugs. Not my experiences of course…but a friend's. I was told to be honest and I am…my bandmates will tell you sometimes too honest…
MM: What sort of warnings have you received about the music business? Have any of those proved to be true yet?
NJ: I am a great judge of character and every snake I have encountered I have turned my back on before they struck. won't go in to details but I am very thankful for my management and my instincts.
MM: How did you guys connect with Frontiers records? How much time went by from when you formed the band and when you got your record deal?
NJ: We found Andreas [guitarist] in February of last year and we got signed in August of 2015 I think so not long at all really. Our a and r guy connected us with our management who worked with them on various acts, Uriah Heep, Asia, Snakecharmer etc.
MM: Where are you guys based out of these days?
NJ: I live in Berkshire, England. In the same village as Jimmy Page weirdly. the other 3 Brits live in the UK, 1 up north and 2 in the southwest. The Swede lives in Malmo, Sweden but is over here a lot now.
MM: Do you have plans to tour behind the album? Might you come to the States?
NJ: I really hope so! We are touring a lot over here in Europe and have just completed a tour with The Winery Dogs. Got a lot of festivals coming up this year too…I heard a chat about heading stateside 2017 Feb time…
MM: Your album definitely feels like a classic rock album in the sense that it's clearly intended to be listened to from start to finish. Is it frustrating that kids these days just seem to buy a song here and a song there? 
NJ: A little but if that's all you give them to listen to…that's all they will. Hopefully this will make people enjoy an album like sex…take your time, it's not a race.
MM: Even with your album, it seems like several of the songs were released as singles already. Do you fear people who've already bought those tracks will figure they've got all the best songs from the record and not buy the rest of it when it comes out?
NJ: hope not. there are a couple of real gems that people haven't heard yet.
MM: Vinyl has been making a pretty big comeback here in the States. Is that the case in the UK? Do you listen to vinyl? Will your album be released on vinyl? (I hope so.)
NJ: Yes! It is and we get asked everyday if we are gonna release a vinyl…I would love to do a limited edition red vinyl…
MM: What do you think about Spotify and other streaming services? I've been asking everyone this and have received a wide-range of opinions. I'm especially curious because you're a younger band and most people I've asked have been around since the heavy metal heydays in the '80's.
NJ: I think it's good. Unfortunately we can't beat them…so join them. We're not gonna change it. It helps sell tickets to shows and that's where the money is now…it's a shame that the album has become a bi product…but doesn't mean it has to be shit…
MM: At the end of our interviews, we always ask a few random questions. Here are yours:
MM: Do you and your bandmates play pranks on each other? If so, tell us about one.
YES! Andreas is scared of pretty much everything so he gets frightened daily by the other guitarist Wil. We haven't reached the stage yet where we can truly fuck about on stage but when we can its gonna get messy…I heard a story that a very famous guitarist used to take a shit in a bucket and leave it on stage…we probably won't take it that far but we are British…ya never know. Also that story could be a lie.
MM: What was the last song you listened to?
NJ: A medley of Bowie hits by GAGA at the Grammy's.
MM: What was your biggest indulgence this month?
NJ: We have been on tour in Europe and my whole band feel the same about this. BREAD, CHEESE AND HAM. I will never eat a sandwich again.
MM: What was your last day job?
NJ: I have never had a day job.
So, there you have it, Nathan James is so cool he's never had a day job! And I have a feeling he never will. Inglorious is sure to be kicking ass and selling records for a long, long time.
Special thanks to Nathan James for taking the time to do this interview and to Jon Freeman at Frontiers Records for facilitating it.
Click here to buy Inglorious on Amazon.