Interview by Michael McCarthy
Photos by Yuli Serfaty
The immensely talented Adi Ulmansky grew up in Jerusalem, Israel where a music teacher once told her that she had a rare gift and that music was her destiny.  This past May the singer/songwriter/rapper/producer/DJ performed alongside Azealia Banks and Jessie Ware at the Plug Festival in Tel Aviv — the city she now calls home — which couldn't have been more fitting considering that she has Banks' knack for uncensored if not entirely raw, urban-minded rapping and Ware's flair for singing catchy hooks among sometimes sparse, sometimes droning, always interesting electronic beats. 
Adi released her debut mixtape Shit Just Got Real in January of this year and received rave reviews throughout the blogosphere and even in such major publications as Mixmag, the Independent and Marie Claire Italy.  People were just tripping over themselves to shower this young woman who can do it all with much-deserved high praise.  Hipstermusic has even predicted that she'll be the next "James Blake kind of case."  In other words, an overnight sensation.  Except that Adi has actually been paying her dues for years now, fronting a band called Lorena B and collaborating with the popular Israeli artist Borgore before releasing her own solo material.
"We wanna be friends with an It Girl / But when I sing you realize that I'm a bitch girl / But go 'cause I'm a motherfucking 6-6-6 girl," she raps boldly during "Hurricane Girl," the particularly blunt title track from her just-released,  mind-blowingly good E.P. Hurricane Girl.  Her often rapid-fire delivery especially calls to mind Die Antwoord's Yolandi Visser, though her knack for mixing rap and actual singing is more along the lines of Princess Superstar.  You add to that a dash of Nicki Minaj's self-confident attitude and a touch of Robyn's warm vocal style and you have yourself quite the dynamic star in the making.  But I don't think that Adi will be a star in the making for much longer, as she's poised to have a major breakthrough soon with Hurricane Girl, which is sure to garner her even more accolades than Shit Just Got Real and ensure that she's popular among more than just bloggers.  I recently conducted an E-mail interview with her to discuss her approach to music-making and her many influences, among other things.
[NOTE: Adi's answers were in blue when we received them and we decided to leave them that way in order to better capture her personality.]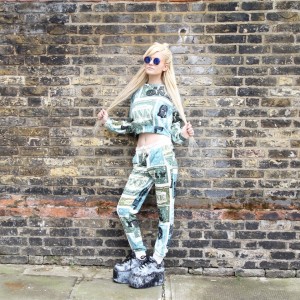 You grew up in Jerusalem – were you also born there?


Yep. I was born and raised in Jerusalem and moved to Tel Aviv at the age of 23 (only two years ago). I feel like Jerusalem is part of who I am – the city has an inner conflict between its residents and it has lots of different influences which you can easily hear in my music.
How important was music in your household, growing up? Were your parents musicians?


My parents really love music and my Mom also played several instruments like drums (!), piano and accordion. She's also an amazing singer, so I was pretty much growing up with music around me. My Daddy introduced me to a lot of classic rock music and that's why I've decided to play an electric guitar.
I understand your brother got you into electronica. Who are some of the artists he played for you? Which were your favorites?
My brother was really into lots of house and techno throughout the years. I remember names like Danny Tenaglia, Sash! and more but I never really found myself into that type of music. I got into electronica when I realized it's possible to create actual songs, in its traditional meaning, that would have that electronic vibe and atmosphere.

There aren't many artists who can sing and rap as well as you. The only one I can think of off the top of my head right now is Example. Does having such a rare ability usually impress people or do people find it confusing or even intimidating?
Most of them are quite amazed to find out that I'm doing all of it… but it feels natural to me.
Who are your influences in terms of singers?


From Frank Ocean, Stevie Wonder, Destiny's Child to Skin, Missy Elliott, Thom Yorke, James Blake, Grimes and many more.
Which rap artists have influenced you?
lots.. Danny Brown, Earl Sweatshirt, Tyler the Creator, Missy Elliott, Angel Haze, Nicky Minaj, Pete Rock, Master P and many more.
Who taught you how to produce music? (Or did you teach yourself?)
I had this weird inner feeling that I could produce even before I touched any production platform. I learned sound and production at a school called Muzik in Israel, but the minute I understood how the platform worked – it just happened fluently and naturally. I feel like producing is my essence.
Are there certain computer programs for producing that you like to use, like Pro Tools or Acid Pro? Or do you do things the traditional way without computers? 
I'm using Ableton for both producing and playing live and I'm in love with it. It's so fun and easy to work with… it completely changed my whole workflow and made it much more intuitive.
Am I right to assume that you also program all of the electronic beats and sounds in your music yourself?
Yep I'm producing and programming all my music. I love producing and I really enjoy the fact that I can create a beat and than straight away record my vocals on it.
Who are some of the electronic artists and producers who've influenced you?
Hudson Mohawke, Sa – Ra, diplo, Rusty, Lunice, Flying Lotus, Switch and many more.
What is your favorite Radiohead album? (I know it's the predictable one to choose, but I'd have to go with OK Computer myself.)
It's hard to choose between Kid A and Amnesiac.
Did you write all of the songs on Hurricane Girl alone or did you have any co-writers who worked with you?
I'm working on my music by myself – so yeah, I wrote, composed and produced all of the songs on Hurricane Girl ep.
Could you tell us what inspired the different songs on Hurricane Girl?
I've been through a very hard time in this last year so the ep kind of represents what I was going through..
lots of anger and sadness, alongside feeling alone. On the other hand there are a lot of fun elements and I think it represents what I've been going through – this roller coaster of emotions, lots of highs and lows.
Have you made any music videos for the songs on Hurricane Girl? If not, do you plan to at some point?
Yes I did 3 music videos which are supposed to be out soon for the songs "Falling", "Hurricane Girl" and "Work It".
Is there a certain song on Hurricane Girl that is being promoted as a single?
Yep. The first single will be Falling and I'm working on a video for it as well. The second one is Was It You? Which is personally my favourite of the EP.
Will Hurricane Girl be available here in the United States? If so, how will you be releasing it – for download only or will there be CDs or vinyl available?
Sure! It's available on iTunes and Amazon already, and I'm gonna print also physical copies and a few vinyls! Really excited about it.
Do you DJ with records using turntables or do you DJ with a laptop (or both)? If you DJ with a laptop, what program do you use for that?


I DJ using cds.. and a CDJ 2000:) 
I really enjoy having the physical aspect of djing and even though it feels quite old school to walk around with cds and lists of songs – I still quite like it.
I see that you're on Facebook, Instagram, Twitter, tumblr and Soundcloud. Is there one site where you do more interacting with your fans than the others? Or do you have a favorite site? I'm assuming that Soundcloud is the most important to you, since it allows you to let people hear your music, but which of the other sites do you feel is most beneficial to your career?
Well I'm really into all of them, but I think Facebook is my main addiction 🙂 I enjoy spending time on social networks and I find it quite inspiring – I can communicate with my fans and also get lots of inspiration from other artists and art.
On Instagram, you posted a photo of a girl with the word FRESH tattooed on the inside of her mouth. Is that your tattoo? If not, do you have any other tattoos? If so, do you have others, too? (I have 14 myself.)
it's not me 🙂 
I do have 2 tattoos.. they are quite new.. I did both of them together, one on each hand.. one of them is a heart and the other one is a diamond. I wasn't into tattoos most of my life but lately I got into it.. and I really like hands tattoos.. so I now kinda wanna have lots of them! haha
Tattoos have become more popular than ever here in the States. People are even getting them on their forearms and hands and neck – places they can't just cover up with a shirt. It seems everybody just accepts them now. How are tattoos perceived in Israel? Are they very popular?
Israel isn't that different from the US regarding tattoos. it gets more more recognition here and there are a lot of tattooed people all around so it's not unusual in any way… it depends of course where and who.. there are a lot of religious people that would never tattoo themselves.
You have quite a few photos on Instagram – what do you take them with? (For example, an iPhone or a Droid or a traditional camera that isn't part of a phone?)


Most of them I took with my iphone but most of my live gig pics were taken by a photographer friend who's using a Canon 60D.
STREAM HURRICANE GIRL HERE:
I was very impressed with your photos. How long have you been taking photographs? I mean, did you just recently start taking them regularly or were you always into photography when you were growing up?
I was always into photography and I'm quite sure that if I wasn't a producer – musician I would choose to be a photographer. I used to take lots of photos ever since I remember myself and I was really into lomo and using films.
I'm really into all the aspects of visual art – photography, video, graphic design, etc. that's why I'm so involved in all my music videos and designing of cover and such. I feel it represents me as a person and as an artist so it has to feel accurate.
What are your thoughts about Spotify and other streaming services like Pandora? There's been a lot of controversy ever since Spotify became available here in the States. Some musicians say that Spotify doesn't pay them enough, that they pay them so little that it's insulting. Meanwhile, other musicians feel like it's better to get that small amount of money than to get nothing if people download their music illegally. What do you think?
I think we should stop fighting the change the world is going through cause it's gonna happen whether we like it or not. that's how nature works… I believe the most effective thing to do is to understand the change and try to think of exciting new ways to get people to buy your music and come to your shows. I mean… musicians and artists today have to think outside the box in order to survive and I must say I find it quite exciting:) so… in general – I don't have any problem with Spotify, Pandora or whatever. I'm more about thinking forward.
Some artists here feel like piracy actually helps promote their music, which ends up making them money because then more people come to their concerts and buy their T-shirts, etc. What do you think about that?
I totally agree and I think we all know that musicians today don't earn money from selling music – they earn money from people that came to their gigs so the more people listen to your music – the better.
CONNECT WITH ADI:
Soundcloud: https://soundcloud.com/adiulmansky
Facebook: https://www.facebook.com/AdiUlmansky
Twitter: https://twitter.com/AdiUlmansky
Instagram: http://instagram.com/adiulmansky
Much thanks to Adi for taking the time to answer our questions. 'Tis much appreciated.
Now, we highly recommend that everyone check out Hurricane Girl via Adi's Soundcloud player  above and fall in love with it and go buy it on Amazon or iTunes!  (It's currently only $2.99 on Amazon!)