by Michael McCarthy
On June 9th at the Wolf Den in Mohegan Sun in Connecticut I was finally able to catch hair metal/classic rock legends Mr. Big live after wanting to see them in concert for roughly 25 years.  Needless to say, I had high hopes.  If they were great, I probably would've been slightly disappointed after having imagined how spectacular they'd be live for so many years.  Fortunately, they were excellent, the band hitting a home run with each and every song.  Talk about knocking the ball out of the park.  They were so awesome my jaw kept dropping all throughout the show.  When I wasn't singing along, that is.  Mr. Big's bassist Billy Sheehan was first noticed when he was in David Lee Roth's band during the Eat 'Em and Smile and Skyscraper albums, the only David Lee Roth albums to achieve massive success.  Roth's guitarist at the time was none other than Steve Vai, who everyone knows to be a guitar god.  Well, Sheehan was as mind-blowing with the bass as Steve Vai was with the guitar.  Playing with his fingers, as opposed to with a pick like most rock bassists, Sheehan was actually better than Van Halen's Michael Anthony, which is probably why Roth hired him.  Now, Michael Anthony is a killer bassist, who I believe also plays with his fingers, and he's one of my favorite bassists of all time.  But Sheehan is
Mr. Big's bassist Billy Sheehan was first noticed when he was in David Lee Roth's band during the Eat 'Em and Smile and Skyscraper albums, the only David Lee Roth albums to achieve massive success.  Roth's guitarist at the time was none other than Steve Vai, who everyone knows to be a guitar god.  Well, Sheehan was as mind-blowing with the bass as Steve Vai was with the guitar.  Playing with his fingers, as opposed to with a pick like most rock bassists, Sheehan was actually better than Van Halen's Michael Anthony, which is probably why Roth hired him.  Now, Michael Anthony is a killer bassist, who I believe also plays with his fingers, and he's one of my favorite bassists of all time.  But Sheehan is like a bassist from another planet.  Watching him is like seeing a supernatural God play an instrument from the future!  The guy's fingers are all over the bass at all times, firing off notes from all over the fret board faster than you can count to ten; he's a guitar wizard in every sense of the word.  And for the past 25 years or so he's been blowing people's minds in Mr. Big, who were viewed as a supergroup when they started off.  Guitarist Paul Gilbert was already a famous shredder as a member of the band Racer X and was known for being as talented as Steve Vai.  Meanwhile, vocalist Eric Martin was already a well-known solo artist and the frontman of The Eric Martin Band.  And drummer Pat Torpey had already played for many artists, from Ted Nugent to The Knack.  Suffice to say, all four members were already on the map, and successful at that, prior to forming Mr. Big, which was named after a Free song the band eventually covered. Not surprisingly, Mr. Big blew minds with their self-titled debut and they've continued to do so ever since.  I wondered if they would be as awe-inspiring in concert 25 years later and the answer is a resounding yes.  I sat there with my eyes routinely fixed on Sheehan's fingers, the way they move around the fretboard is as wonderful as Rush's Geddy Lee's playing.  In fact, I'd go so far as to say Sheehan, who clearly is inspired by Lee, is even better.  But enough about Sheehan.  Eric Martin's vocals were as smooth and potent as they are on Mr. Big's albums and Paul Gilbert's playing was equally out of this world.  The band has released several
Not surprisingly, Mr. Big blew minds with their self-titled debut and they've continued to do so ever since.  I wondered if they would be as awe-inspiring in concert 25 years later and the answer is a resounding yes.  I sat there with my eyes routinely fixed on Sheehan's fingers, the way they move around the fretboard is as wonderful as Rush's Geddy Lee's playing.  In fact, I'd go so far as to say Sheehan, who clearly is inspired by Lee, is even better.  But enough about Sheehan.  Eric Martin's vocals were as smooth and potent as they are on Mr. Big's albums and Paul Gilbert's playing was equally out of this world.  The band has released several Japan only live albums after each of their tours there and I'd never bought any because I tend to prefer studio records, but after seeing them live last week I'm finally going to lay down the 35 dollars to buy one.  Yes, that's right, Japanese CDs are $35 on average, this supposedly being because more people rent and rip CDs than actually buy them.
Drummer Pat Torpey has Parkinson's, so another drummer, Matt Starr, pounded the skins for everything except "Just Take My Heart," the sole song that Torpey sat behind the kit for.  But Torpey was on stage for most of the set, playing tambourine and additional percussion and singing background vocals.  I was surprised that they didn't explain that he has Parkinson's so people would know why he only played drums on one song.  If I didn't know better, I would've simply thought that the band didn't think he was skillful enough to be their live drummer anymore.  I would've walked away feeling a little disappointed that he didn't play drums throughout the set. But since I knew about his condition, I was proud of the band for still having him contribute as much as possible and even prouder for Torpey himself for doing so when most ill players would've stayed home and just collected royalty checks off of the band's massive 1992 hit "To Be With You" and the almost as popular "Just Take My Heart."  (The funny thing is, "To Be With You" was kind of a fluke as it is a simple acoustic song that doesn't show the band's full potential, being that it doesn't call for any virtuosity.  It does, however, show the band's expert songwriting.)  Both songs were highlights of the show last week, which focused on the band's Atlantic Records self-titled album, Lean into It, Hey Man and Bump Ahead.  To be sure, I also like the band's most recent albums, but those four albums were the soundtrack of my life during the late eighties and early nineties so they'll always hold a special space in my heart.  It worked out nicely for me, too, because I knew the lyrics by heart and was able to sing along, something over half the audience was doing.  The band did perform the two singles they've released from their forthcoming album, Defying Gravity, "Everybody Needs a Little Trouble" and "1992," the later of which finds the band bragging about being big in 1992 in a tongue-in-cheek manner.  Other songs in the set included "Take Cover," "Addicted to that Rush," "Daddy, Brother, Lover, Little Boy" and "Undertow."  It should also be mentioned that the band performed a full 90 minute set, whereas most artists who play the Wolf Den take the lazy way out and only play the 70 minutes the casino supposedly requires them to.  (I'm talking to you, Vince Neil, whose last show at the Wolf Den was a major disappointment.)  Their set included killer bass and guitar solos, something I'd hoped they'd do since Sheehan and Gilbert's playing commands it, whereas with most Wolf Den shows I'm always hoping that bands will skip the solos and just play more songs.
Ultimately, Mr. Big's show proved to be one of the best concerts I've ever been to in my life and I've seen roughly 150 of them.
I apologize for not having any photos to accompany this review.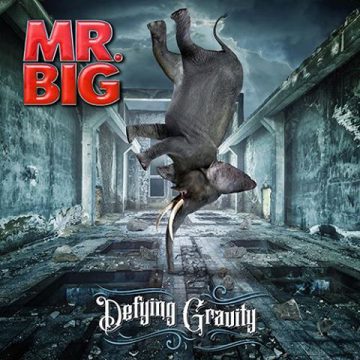 Mr. Big's new album, Defying Gravity, will be released on 7/21/17.