About Us
BIO: MICHAEL MCCARTHY
Michael McCarthy was born in Lowell, Massachusetts, birthplace of Jack Kerouac. He was raised in the next-door suburb of Dracut by his parents, Paul and Charleen. He has one sister, Melissa, and one brother, Matthew.
Michael fell in love with writing during his high school years, first contributing fiction to Joshua Bernard's horror zine Death By Tire Iron and later creating his own horror zine, The End. Michael and Joshua also collaborated on a comic book about mutants called Raiders.
During the years immediately following high school, Michael spent much of his time writing screenplays, sometimes churning out as many as four a year. Frustrated that he wasn't having any luck selling them, he decided to get back into the zine business in 1995 when he created the music zine ANT, The Only Cool Magazine That Bites. Initially, it was a zine devoted to hair bands, as he wasn't terribly impressed by the whole grunge thing. But, gradually, Michael started liking more and more other types of music and covering artists like Bif Naked and Limblifter. Unfortunately, the hair metal police weren't happy about their inclusion and, frustrated and running out of money, Michael decided to stop publishing ANT in late 1997.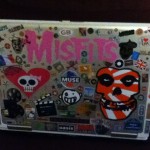 Luckily, ANT had garnered Michael praise from several writers and editors, including Anne Leighton of Hit Parader, Scott Heflon of Lollipop and Gerri Miller of Metal Edge. Soon Michael found himself writing for LiveWire magazine, contributing features as well as a column entitled Movies, Media & Mayhem, which would eventually be published in OUI magazine as well. He also found the time to contribute features and a world music column entitled Import Zone to Lollipop magazine. Meanwhile, he co-created, edited and wrote for Cinezine, a movie E-zine that would go on to gain a large international readership. Cinezine would lead to collaborating with Film Threat magazine on their first E-zine, Film Threat Weekly.
With LiveWire and Lollipop going out of business, and E-zines dying as websites became all the rage, Michael decided to return his focus to fiction, writing more screenplays and his first novel. In 2003 he moved to Los Angeles, California in hopes of kickstarting his screenwriting career. Sadly, he was constantly sidelined by health problems and moved back to Massachusetts three years later accordingly. He has since written five new screenplays, a second novel and a memoir of his time in Los Angeles.
During January of 2012, Michael decided to give entertainment journalism another go and began writing Asian music reviews for Joshua Bernard's OTAKU website. He has since contributed over 250 reviews and continues to write for the site. http://otaku.collectiondx.com/music/reviews
In early 2013, Michael and Joshua decided to collaborate on Love Is Pop so Michael would have an outlet to review non-Asian music.
Michael enjoys television shows almost as much as music, some of his favorites being Shameless, Dexter, Breaking Bad and The Walking Dead. He's also quite fond of spending time with his cat, Mister White.
You can contact Michael at cinema365@gmail.com and follow Michael on Twitter at https://twitter.com/paris365.