"The Dollyrots are a punk rock band but their CDs are very pop." – from their bio on their Facebook info. And after listening to their new Christmas EP, I'm inclined to agree. The Los Angeles duo's energy and tempos are very punk rock, but the hooks are so contagious that you could also consider them pop. (The duo consists of vocalist/bassist Kelly Ogden and guitarist/vocalist Luis Cabezas.)
The EP begins with their cover of the classic "Santa Baby," a typically slow song, but they've kicked it up several gears, turning it into what is sure to be one of the most irresistible and vibrant Christmas tunes you'll hear this season. Seriously, imagine if the Energizer Bunny not only had brand new batteries but drank ten espressos and that'll give you an idea as to just how energetic and fast they've rendered it. In fact, their version clocks in at 2:02, about half as long as most "Santa Baby" renditions are.
Three Christmas originals that The Dollyrots wrote themselves follow. The first is "Messed Up Xmas," another high gear tune that's so infectious you'll be drooling all over your Santa beard, your jaw on the floor, as you listen to Luis' killer guitar hooks and Kelly's delicious vocals, which seem to split the difference between Joan Jett and Belinda Carlisle; very punk but pretty, too. "It's Christmas what should I buy you / It's Christmas what will I get you / I asked all of my messed up friends / They gave me the best suggestions / Oh yeah," goes the first chorus.
"Because I'm Santa" follows and it's insanely catchy, beginning with a fat Nirvana-esque guitar lick that sucks you write in. "I'm a bad man / With a white beard / In a red suit," Kelly sings. Occasionally we hear a male voice going "Ho, ho, ho," so it would seem she's not really calling herself Santa but slicing — and dicing — him apart. All in good fun though!
The Dollyrots apparently love to deliver twisted lyrics, and it's never more evident than during "I Saw Mommy Biting Santa Claus," their version of "I Saw Mommy Kissing Santa Claus." I don't have the lyrics of the original committed to memory, but I'm pretty sure they've completely re-written them for this version, which they're calling an original even though the music is essentially the same; they just do it harder and faster.
You should slip this one onto a Christmas mix CD and play during your Christmas celebration and see if anyone notices the difference. If they do, I suspect they'll be more amused than offended. Then again, some people can get offended by anything these days.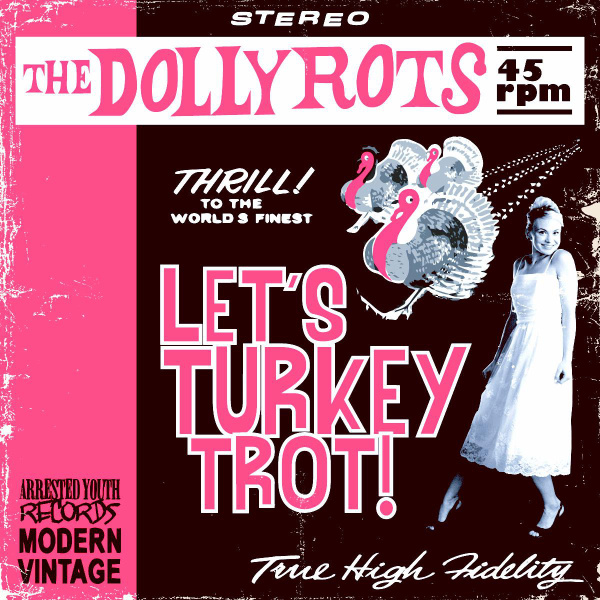 The EP concludes with "Let's Turkey Trot," which is a cover, though nobody here at Love is Pop HQ had ever heard of it before. But Google quickly revealed that it was a Little Eva single. We're not sure what year it came out though; Kelly sings "just like Little Eva back in '63," giving us the impression that it was released in '63, but one of the items that came up during our Google search indicated that it was a 1965 single. Perhaps it was released originally in 1963 and then re-released in '65? Not that this matters, as we're not trying to sell you on the original but The Dollyrots' vigorous rendition. In any case, to our ears, this version sounds like a mix of doo-wop and surf rock, though The Dollyrots have obviously injected it with punk rock vibes as well.
So, there you have it, all five songs on A Dollyrots Christmas EP are fantastic winners. Whether you're looking for some kickin' new Christmas music, or simply seeking Christmas music that doesn't suck, this is essential. Especially since the duo is letting you pay what you want for it (link below).
From the band's press release:
Just in time to get you in the spirit the Dollyrots are releasing all five of their playful and punk holiday songs as a pay-what-you-want/name your own price download. Release includes their versions of "Santa Baby" and "Let's Turkey Trot" as well as Dollyrots originals "Messed Up Christmas," "Because I'm Santa" and "I Saw Mommy Biting Santa Claus."
Get the EP here:
https://thedollyrots.bandcamp.com/album/a-dollyrots-christmas-ep
The band is also giving away presents to 12 random fans through their Facebook page via the "12 Days Of Dollyrots". Prizes come courtesy of the duo's supporters and include a guitar from Gibson, gear from Iron Fist Clothing, and much more. Fans can enter daily by simply "liking" each item's post.
The Dollyrots also just released the mischievous and fiery new music video for the song "Get Weird," directed by Los Angeles-based writer/producer Ian Macleod.  The video has held the #2 spot on Diffuser.FM's Top 10 Video Countdown for the past 2 weeks as voted by fans. Watch "Get Weird" here: http://youtu.be/xZnfIrY2tGg
Expect to hear 2015 tour news soon.
www.thedollyrots.com
http://www.facebook.com/thedollyrots
http://www.twitter.com/thedollyrots
http://instagram.com/thedollyrots